Orkiestra Samanta ‎– Kurs Do Domu (2002)
Orkiestra Samanta ‎– Kurs Do Domu (2002)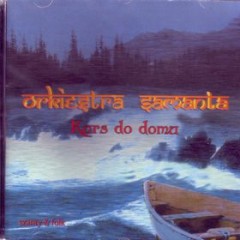 1 	Skrzypki 	4:23
2 	Stary Johnny 	3:29
3 	Stary Żaglowiec 	4:20
4 	Wiało 	4:15
5 	Wspomnienie 	3:55
6 	Morska Przygoda 	3:20
7 	Irlandzki Taniec 	2:58
8 	Ciągnij W Górę 	5:32
9 	Kurs Do Domu 	4:20
10 	Alabama 	3:55
11 	Piliśmy 	4:09
12 	Żeglarz Cyganem 	4:33
13 	Żegluj Łajbo 	3:37

Paweł "Alex" Aleksanderek - śpiew, gitara
Alina Korobczak - skrzypce
Paweł "Puzon" Puzanowski - gitara basowa
Rafał "Zielak" Zieliński - charango, gitara, mandolina
+
Bartosz "Bongos" Konopka - chórki
Ireneusz "Messalina" Wójcicki – chórki
Michał Lasota – perkusja
Wojciech "Broda"Orawski – mandolina
Robert "Tubas" Tubek - quena, zamponas, tin whistle, fletnia pana

Orkiestra Samanta to jedna z kapel, które od prostego szantowego grania przechodzą do folk-rocka. Płyta zawiera przeróbkę kawałka bretońskiego z nowym, morskim tekstem. Właściwie to chyba najlepszy utwór na płycie i myśle że w tym kierunku zespół powinien się rozwijać. Mówię tu o piosence "Skrzypki".
Z własnymi utworami jest bardzo różnie. Niestety niekiedy zespół popada w manierę charakterystyczną dla kapel z nurty harcersko-turystycznego. Sztandarowym przykładem może tu być utwór "Wspomnienie". Nie mam nic przeciwko takim piosenkom, ale w porównaniu z innymi kompozycjami brzmi to nieco naiwnie.
Jak już jestem przy zastrzeżeniach, to "Irlandzki taniec" kojarzy się ze wszystkim, z Brathankami włącznie, ale nie z irlandzkim tańcem. Nie wszystko jest na szczęście takie złe. Jest parę fajnych utworów, takich jak "Wiało", czy tytułowy "Kurs do domu". Choćby dla nich warto posłuchać płyty.
Piosenka "Alabama" ma kilka fajnych patentów, a nieco enigmatyczny utwór "Żeglarz Cyganem" może się pochwycić ciekawą partią skrzypiec. Zastanawiam się tylko, czy zespół nie pospieszył się z pierwszą płytą. Może powinni być nieco bardziej krytyczni w doborze napisanego przez siebie repertuaru. Czegoś tu jeszcze brakuje, ale posłuchać można. ---Taclem, folkowa.art.pl
download (mp3 @160 kbs):
yandex 4shared mega mediafire uloz.to cloudmailru ge.tt