Necrostrigis - Wilkołaki Księżycowego Pentagramu (2013)
Necrostrigis - Wilkołaki Księżycowego Pentagramu (2013)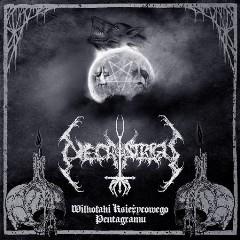 Werewolves Side
1 	Werewolves Of Moonlit Pentagram 	5:33
2 	Barbarian Ritual Of Transgression (Dark Woods Of Necrorituals Part II) 	4:40
3 	Secrets Of The Black Legend 	4:18
4 	Wolfish Rite Of Mutilation 	5:16

Moon Pentagram Side
5 	Arise From Abyss Of Bloody Fear	5:11
6 	The Vampiric Empire Of Unholy Blood 	5:47
7 	Temple Of Murderous Shadows 	6:05
8 	Gathering In A Winter Howl	4:14
9 	The Third Of The Storms (Evoked Damnation) 	3:00

Drums, Vocals – Wolfvamphyr
Guitar, Bass – Neimad Hellheimm
Keyboards – Grimspirit 

Człowiek ani się nie obejrzał i w końcu dostał do recenzji pełnowymiarowy debiut Necrostrigis. Kaseta od pewnego czasu jest niemiłosiernie przeze mnie piłowana, a ja właśnie siedzę i dumam jak tu Was zachęcić, lub zniechęcić do zaopatrzenia się w nią.
Nie wiem dlaczego, ale pierwsze co mi się nasuwa to, że w żadnym razie po ten materiał nie powinni sięgać fani Northern Plague. I ja się z Was nie nabijam, ja robię to z dobroci serca (he he). Wasze pikawy przy takiej ilości nagromadzonego brudu, braku selektywności w brzmieniu, mogłyby po prostu nie wytrzymać. Ilość negatywnych emocji przekazywanych przez ten dość prosty (a to kolejny minus przecież, bo nie ma zakrętasów) black metal, powaliłaby Was na deski. Zostańcie więc przy wojnie Waszych pupili. Co dla jednych wadą, dla innych zaletą. Dodałbym jeszcze od siebie zimne, czy majestatyczne (nomenklatura w tym wypadku jest mniej istotna) w swoim wydźwięku klawisze, które budują dodatkowy klimat tego materiału. Tego plumkania tutaj jest zdecydowanie tyle, ile właśnie powinno być. No i oczywiście plujący jadem wokal, świetnie wpasowujący się w dźwięki, które dane nam tu słyszeć. Co mi się prywatnie nie podoba, to elementy, które moim zdaniem są nieprzemyślane, lub aż za proste. Za przykład niech posłuży wałek numer jeden i jego początek. Dla mnie falstart. Trafia do mnie natomiast "Zjednoczeni zimowym wyciem". Jedni powiedzą, że to gówniane wycie, inni że kicz, a mi takie zakończenie materiału pasuje. Jest jeszcze jeden utwór, już tak zupełnie na koniec. "The third of the storms", który jest… ---Ef, chaosvault.com
'Wilkołaki Księżycowego Pentagramu' translates as 'Werewolves Of Moonlit Pentagram' and is the debut full-length from Necrostrigis, a Polish underground Black Metal force fuelled by the vision of drummer / vocalist Wolfvamphyr, who enlists the services of Neimad Hellheimm on strings. Surely we have some keys in there, too, or do my ears deceive me badly? (Hint: they don't.)
There are eight songs on the vinyl edition, with the Hellhammer cover from the original tape version omitted (which is probably no bad thing). The music is slightly more polished than what we got on the brilliant 'Relics Of Blood Rites Sorcery' record, but still very much of the raw and ugly variety. I find that this newest release isn't quite possessed of the same charm as the aforementioned 12'' EP but, having said that, it's still a fine serving of harsh, mostly mid-paced, screeching, Carpathian (wolves and woodland vibe very evident) Black Metal in its own right.
All in all, this is a very, very good record with a stellar sound, painful-to-listen-to rasps and some lush melodic parts that do not seem in the least bit contrived or cheesy. Not quite essential, perhaps, but pretty damned close. ---blackmetalreviews.com
download (mp3 @320 kbs):