Księżyc - Rabbit Eclipse (2015)
Księżyc - Rabbit Eclipse (2015)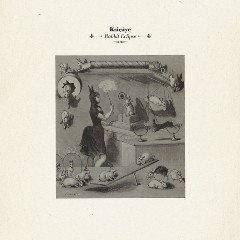 1 	Kapkowa 	7:18
2 	Mglista 	3:25
3 	Flażoletowa 	9:42
4 	Walczyk III 	4:37
5 	Syreny 	16:29

Agata Harz - vocals, objects
Katarzyna Smoluk-Moczydłowska - vocals, keyboards, objects
Lechosław Polak - accordion, keyboards, synthesizers
Remigiusz Mazur Hanaj - tapes, hurdy-gurdy, violin
Robert Niziński - clarinet, keyboards, objects
Paweł Romańczuk - Fidel, Stössel-Laute, objects 

Księżyc znowu w pełni.W pełni sił twórczych, w pełnym pięcioosobowym składzie, z pierwszym od blisko 20 lat pełnowymiarowym materiałem, który wprawia w osłupienie i zachwyt swoją odrębnością. Odwrotnie niż Księżyc-ciało niebieskie, Księżyc-zespół świeci całkowicie własnym blaskiem.
Już na poziomie nazewnictwa jest to kaliber formatu yassowej Miłości – nie tylko ze względu na polskie litery (w odróżnieniu od nazwy Skalpel zrozumiałej nawet dla cudzoziemca i skądinąd błyskotliwej, zwłaszcza biorąc pod uwagę modus operandi wrocławskiego duetu), ale i z powodu słów, które owe litery tworzą. To są jednak wyrazy wagi ciężkiej. Na poziomie muzycznym jest podobnie.
Grupa wróciła jak gdyby nigdy nic. Jak gdyby członkowie zespołu przez ostatnie dwie dekady zamiast patrzeć na zewnątrz, zaglądali raczej do środka. Żadnego śpiewania po angielsku, żadnego koniunkturalizmu. Nowy materiał, podobnie jak doskonały debiutancki longplay z 1996 roku, ma oczywiście inspiracje. Ale nie ma punktu odniesienia albo sam sobie jest takim punktem – tak bardzo stoi z boku wszystkiego!
Niektóre z wpływów muzycy Księżyca wymieniają w wywiadach: Meredith Monk, Steve Reich, ale też Psychic TV i Autechre oraz sudańska niania i muzykalne babcie z Kresów jednej z członkiń grupy. Inne inspiracje – ambient, słowiański folklor, muzykę średniowieczną i "rytualną" – dodają bezradni recenzenci. Kobiece wokale, instrumenty akustyczne i analogowe, a także kieliszki, koraliki, rurki i wszelaki złom. Na papierze takie słowa tylko szeleszczą. Za to w głośnikach… --- Maciej Kaczmarski, nowamuzyka.pl
Rabbit Eclipse is the second full-length recording from the legendary Księżyc following on from their self titled debut from 1996.
The Moon never went away. The 2013 the Penultimate Press re-issue of Księżyc's timeless debut exposed the band to a large new audience resulting in a return to live performance and the subsequent development of new material.
Rabbit Eclipse was recorded in Warsaw throughout May to September 2015 within the idyllic Palladian palace Królikarnia (The Rabbit House). All original members gathered to conjure the peculiar hybrid of the the ancient and the contemporary unique to the band.
With more expanded forms, Rabbit Eclipse presents a rich and subtle environment of beguiling narratives hanging in suspended tension. This opens up an entire new phase in the cycle of the band where an enchanting discrete musical continuum of rich and subtle sound excursions are enveloped in a mysterious melancholia.
Rabbit Eclipse is another exemplary presentation from one of Poland's most idiosyncratic and respected outfits. ---wsm.serpent.pl
download (mp3 @320 kbs):