Magnus - I Was Watching My Death (1992)
Magnus - I Was Watching My Death (1992)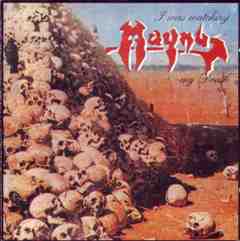 1 	Psychoses 	3:48
2 	Opresor 	4:04
3 	The Dictator 	3:51
4 	Gods Of The Crime 	3:22
5 	Hackenkreuz 	4:04
6 	Terminator 	4:02
7 	Sneering Wisper 	4:40
8 	I Was Watching My Death 	3:21
9 	That Is The Reason I'd Like You To Die... 	3:04
10 	A Way To The Cross 	3:04
11 	Ragnarök 	2:46

Bass – Grzegorz Zarzycki
Drums – Jaras
Guitar – Guzz, Python
Vocals – Rob Bandit

Ponad półtora dekady temu mieliśmy w kraju dwa zespoły, które powinny były zaistnieć na światowym rynku, ale niestety nie dane im to było i dość szybko skończyły swój żywot. Pierwszym z nich był Armagedon, a drugim Magnus.
To właśnie ten drugi z nich prezentował ciekawszą muzykę, pomimo, że chyba był nieco mniej zachwalany. "I Was Watching My Death" to ogniście zagrany thrash/death, w którym aż roi się od solówek, szybkich, ciętych riffów i arcyciekawych przejść perkusji. Rozbrzmiewają tu echa Morbid Angel, Napalm Death, Vader oraz Sodom, gdyż pomimo swojej techniczności, sporo motywów jest powtarzanych, a muzycy Magnus nie stronią od ucieczki w prostsze rytmy. Efekt końcowy jest taki, że dostaliśmy naprawdę zróżnicowany, ale i zarazem świetnie zagrany materiał.
Niestety świat nie jest taki piękny. Dobry wizerunek zostaje mocno nadszarpnięty przez dość marnej jakości growling, w którym wokalista dość często ucieka się do burczenia. Słychać, że ta sztuka nie została dobrze opanowana, gdyż bardzo często ów growling przypomina niechlujny thrashowy wokal, bądźteż nawet core'owy. Za sprawą gardłowego muzyka traci tu często deathowy charakter. Prawdziwym jednak mankamentem jest słabiutkie brzmienie. Wszystkie instrumenty są schowane w tle i jedyne co słyszymy na pierwszym planie to wokal i solówki.
Niestety dwa elementy wystarczyły, aby dość skutecznie zniechęcić słuchacza do częstszego sięgania po "I Was Watching My Death". Szkoda, bo muzycznie jest to naprawdę materiał światowej klasy, który gdyby był dobrze wyprodukowany mógłby zyskać uznanie za granicą. Magnus tymczasem przepadł na rynku, gdyż krajowe warunki nie pozwoliły młodym muzykom na wypromowanie się. Zostaje jedynie wracać nam do omawianej płyty i delektować się pysznym death metalem. ---Harlequin, darkplanet.pl
It sometimes appears that one CD (or MC see later) stuck my mind totally, blocking my HiFi for weeks. Having a collection of over 7000+ titles, one item has to have something mindblowing if it gets played over and over again.
Magnus is one example of it. They started as Power Metal band, heavily influenced by Hirax and that kind in 1987. Later they recorded the "Gods Of The Crime" demo in 1991, which already showed the fantastic style of this band. They progressed more towards Death Metal with heavy hints of Thrash. Comparable to no-one ! And that's what makes them totally over the top.
Not one single big label from the western countries was interested in getting this gem, only a small indi-label "Blackend Rec." from Switzerland (who also released Misery from Italy, a band with strong Samael connections) took the opportunity and released the "I Was Watching My Death" CD in 1992.
What a dream, what a massacre, what a musical piece of Polish Death Metal art. No Vader cloning (only small influence on the guitar sound), no Morbid Angel cloning, just pure old-school DeathThrash Metal. The CD consists mainly of re-recorded songs from the "Gods Of the Crime" demo plus some new ones in perfect sound quality (thanks to the Izabelin studios in Warsaw). It maks me puke to see tons of worthless Death Metal bands on big labels, while Magnus had to stay totally in the Underground outside Poland (like playing at Metalmania festival in Katowice). Just look how Blackend Rec. fucked up the logo on the CD-cover...
I guess (only a guess) Carnage Rec. re-released the "I Was Watchig My Death" CD under the name of "The Gods Of The Crime" in 1992 on MC-format for the Polish market. Songs differ from the releases though.
When you ever get the chance to grab your greedy fingers on pure Death Metal, totally over the top musicianship, killer image (just count the nails on the picture from vocalist Rob Bandit, haha...) get this CD (or the MC-version of the demo or the Re-release) under all circumstances.
One note: They released the "Alcoholic Suicide" MC-only by Metal Mind Prod. in 1994, where they turned more towards Slayer meets Motörhead. A good release, but not as outstanding as this last CD. ---peterott, metal-archives.com
download (mp3 @320 kbs):
yandex mediafire ulozto gett bayfiles