Bob One - Jeden (2008)
Bob One - Jeden (2008)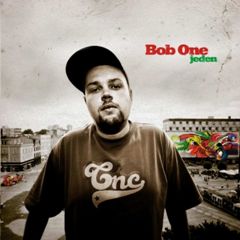 1 	Boom    (Featuring – MC Moe)	3:46
2 	Żyję W Kraju 	4:24
3 	Lojalny Skład   (Featuring – Grizzlee, Miodu)	4:01
4 	Top-A-Top 	4:16
5 	Możesz Wszystko  (Featuring – Junior Stress)	4:04
6 	W Górę 	4:10
7 	Nie Ma Czasu 	3:52
8 	Ogień 	3:14
9 	Znana 	3:43
10 	Plastik 	3:01
11 	Nie Pytaj 	3:06
12 	Stodoła 	3:07
13 	Jeden Krok 	2:37
14 	Duma    (Featuring – Jarex)	3:42
15 	Nie Pytaj    (Remix – Kadubra)	3:26
16 	Boom    (Remix – Ba-Lan)	4:04

Bob One (Bogumił Morawski) - primary artist, main performer

Debiutancka płyta Bob One'a - "Jeden". Bob One to jeden z najbardziej rozpoznawalnych głosów polskiej sceny reggae, dancehall. Chociaż jest to pierwszy album artysty, on sam debiutował już w 2001 roku z kolektywem Rainbow Hi-Fi, a następnie w soundsystemie Rub Pulse. W 2005 roku wydał pierwszy singiel – Salam, który stał się powerplayem w radiu BIS. Poza solowymi dokonaniami współpracuje z Kadubrą i Wszystkimi Wschodami Słońca.
Krążek zawiera 16 utworów utrzymanych w klimacie nowoczesnego dancehallu z elementami hip hopu, reggae, dubu i wycieczkami w bardziej elektroniczne rejony. Album to połączenie mocnego, bezkompromisowego przekazu z dźwiękami, które na długo pozostają w głowie. Na płycie gościnnie pojawiają się Miodu (Jamal), Grizlee (Eastwest Rockers, Jamal), Jarex (Bakshish), Junior Stress oraz reprezentant libańskiej sceny - MC Moe.
Produkcją płyty zajął się jeden z najbardziej cenionych składów producenckich na polskiej scenie reggae - duet JuniorBwoy, w skład którego wchodzą muzycy zespołu Vavamuffin - Mothashipp i Jahcob Junior. Na płycie znalazły się również tracki autorstwa Magiery, Mouse Studio, Łukasza Mroza oraz Piotrka Krakowskiego oraz autorskie remiksy Kadubry i stołecznego składu Ba-Lan Soundsystem.
Płyta została nagrana w KingStone Studio na warszawskim Tarchominie, gdzie swoje albumy nagrywali m.in. Vavamuffin czy Eastwest Rockers. ---wsm.serpent.pl
download (mp3 @320 kbs):
yandex mediafire ulozto gett bayfiles