Aretha Franklin – You (1975)
Aretha Franklin – You (1975)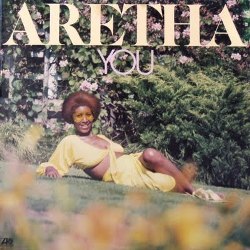 1.   "Mr D.J. (5 For The D.J.)" (Aretha Franklin)
2.   "It Only Happens (When I Look At You)" (Ken Gold, Michael Denne)
3.   "I'm Not Strong Enough To Love You Again" (Frank Johnson)
4.   "Walk Softly" (Van McCoy)
5.   "You Make My Life" (Bettye Crutcher, Frederick Knight)
6.   "Without You" (Randy Stewart, Mack Rice)
7.   "The Sha-La Bandit" (Jerry Ferguson, Wade Davis)
8.   "You" (Jerry Butler, Marvin Yancy, Randy Stewart)		play
9.   "You Got All The Aces" (Ronnie Shannon)			play
10.  "As Long As You Are There" (Carolyn Franklin)

Personnel:		
Harry Bluestone - concert master of string section
Margaret Branch - background vocals
Bud Brisbois - trumpet on "It Only Happens (When I Look At You)"
Brenda Bryant - background vocals
Gary Coleman - percussion
Scott Edwards - bass
Aretha Franklin - vocals
Jay Graden - guitar
Ed Greene - drums
Bobbye Hall – congas
Jim Horn - flute on "It Only Happens (When I Look At You)"
Cissy Houston - background vocals
Clarence McDonald - keyboards
Tony Newton - bass
Ray Parker - guitar
Lee Ritenour - guitar
Sylvester Rivers - keyboards
Tom Scott - saxophone on "Without You"
Pam Vincent - background vocals
David T. Walker - guitar
Ernie Watts - saxophone on "The Sha-La Bandit"

You is an Aretha Franklin album, released in 1975. It was a commercial failure, stalling at #83 on Billboard's main album chart. The album's only single to chart, "Mr. D.J.", stalled at #53 on Billboard's Hot 100. This recording has been out of print since the early 1980s and has never been issued on compact disc.
Aretha Louise Franklin (born March 25, 1942) is an American singer, songwriter, and pianist. Although known for her soul recordings and referred to as The Queen of Soul, Franklin is also adept at jazz, blues, R&B, gospel music, and rock. Rolling Stone magazine ranked her atop its list of The Greatest Singers of All Time as well as the ninth greatest artist of all time. She has won 18 competitive Grammys and two honorary Grammys. She has 20 No.1 singles on the Billboard R&B Singles Chart and two No.1 hits on the Billboard Hot 100: "Respect" (1967) and "I Knew You Were Waiting (For Me)" (1987), a duet with George Michael. Since 1961, she has scored a total of 45 Top 40 hits on the Billboard Hot 100. She also has the most million-selling singles of any female artist. Between 1967 and 1982 she had 10 No.1 R&B albums—more than any other female artist. In 1987, Franklin became the first female artist to be inducted into the Rock and Roll Hall of Fame. She was the only featured singer at the 2009 presidential inauguration of Barack Obama.
You – album muzyczny Arethy Franklin z 1975 roku wydany przez Atlantic Records. Aretha Louise Franklin (ur. 25 marca 1942 w Memphis w USA) – afroamerykańska piosenkarka, obdarzona tytułem Queen of Soul (ang. Królowa Soulu).
Swym głębokim, ciepłym głosem i zdolnością interpretacji zwiększyła popularność gatunku soul. Artystka śpiewała też w innych stylach, począwszy od tanecznego popu, gospel do wokalnego jazzu. W 1987 Aretha Franklin została wprowadzona do Rock and Roll Hall of Fame, a jej piosenka Respect ma numer 5 na liście 500 utworów wszech czasów magazynu Rolling Stone. W zestawieniu 100 najlepszych wokalistów wszech czasów sporządzonym przez magazyn Rolling Stone zajęła 1 miejsce.
Przez lata z Arethą pracowała matka Whitney Houston - Cissy Houston, śpiewając w chórkach. Franklin jest matką chrzestną Whitney Houston. Wywarła ogromny wpływ na wokalistkę, kształtując jej manierę i sposób śpiewania. Wystąpiła w kilku filmach, m.in. obrazie lat 80. pt. Blues Brothers i jego kontynuacji z 2000 roku.
download (mp3 @192 kbs):
yandex 4shared mega mediafire cloudmailru
Last Updated (Friday, 17 August 2018 13:05)