Britney Spears – Femme Fatale (2011)
Britney Spears – Femme Fatale (2011)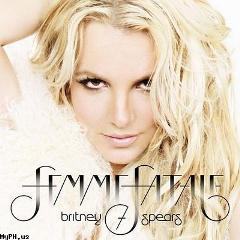 1 	Till The World Ends 	3:57
2 	Hold It Against Me 	3:48
3 	Inside Out 	3:38
4 	I Wanna Go 	3:30						play
5 	How I Roll 	3:36
6 	(Drop Dead) Beautiful     Feat. – Sabi	3:36
7 	Seal It With A Kiss 	3:26
8 	Big Fat Bass    Feat. – Will.I.Am	4:44
09 Trouble For Me    		3:19            play
10 	Trip To Your Heart 	3:33
11 	Gasoline 	3:08
12 	Criminal 	3:45
+
13 	Up n' Down 	3:42
14 	He About To Lose Me 	3:48
15 	Selfish 	3:43
16 	Don't Keep Me Waiting 	3:21

Britney Spears is pop music's stealth avant-gardist. For years, critics have dismissed her as a cipher with a wisp of a voice. But from the minute she burst on the scene — heralded by the keyboard power chords of ". . . Baby One More Time" — her music has steered bubblegum into weirder, woollier territory. "Toxic" was a mélange of Bollywood and spy-movie guitar; "Piece of Me" was an essay on 21st-century tabloid infamy crooned over 22nd-century club rhythms. Then there's this year's "Hold It Against Me," which dissolves into a furious dubstep breakdown — easily the most assaultive beat on the Hot 100 right now.
Femme Fatale may be Britney's best album; certainly it's her strangest. Conceptually it's straightforward: a party record packed with sex and sadness. Max Martin and Dr. Luke, the world's two biggest hitmakers, are responsible for seven of 12 songs: big melodies and bigger Eurodisco thumps. But other producers go nuts, tossing the kitchen sink at Britney. The Bloodshy-helmed "How I Roll" is sputtering, oddly beautiful techno. In "Big Fat Bass," Will.i.am turns Britney into a cyborg obsessed with low-end. ("The bass is getting bigger!" she exults.) On nearly every track, Britney's voice is twisted, shredded, processed, roboticized. Maybe this is because she doesn't have much of a voice; it's certainly because she, more than almost any other pop diva, is simply game. Femme fatale? Not so much. But say this for Britney: She's an adventuress. --- Jody Rosen, rollingstone.com
"Femme Fatale" największej obecnie ikony pop kultury - Britney Spears to hołd złożony odważnym, pewnym siebie, bezkompromisowym, lubiącym dobrą zabawę i flirt przedstawicielom obojga płci. Płyta jednak nie jest koncept albumem, a zamiarem Spears było, by muzyka broniła się sama. Przez ostatnie dwa lata Britney wytrwale pracowała nad brzmieniem płyty, by teraz śmiało móc stwierdzić, że jest to jej, jak do tej pory najlepszy album, prawdziwe odzwierciedlenie miejsca, w którym obecnie się ona znajduje - zarówno pod względem osobistym jak i zawodowym.
Za produkcję ukazującego się nakładem Jive / Sony Music albumu, odpowiedzialni są Max Martin i Dr Luke. Współcześnie Spears nie ma równych sobie. W ciągu ostatnich ponad 10 lat wydawała hit za hitem, sprzedając łącznie blisko 70 milionów albumów na całym świecie. Poza Spears niewielu artystów może się pochwalić debiutem pięciu albumów na pierwszym miejscu i 24 piosenkami w zestawieniu Top 40. Ostatnio ustanowiła również rekord sprzedaży swojego hitu - obecnego numeru 1 - Hold It Against Me. Reżyserem klipu do piosenki jest znany ze współpracy min. z Madonną - Jonas Akerlund.
download (mp3 @320 kbs):
yandex 4shared mega mediafire zalivalka cloudmailru uplea ge.tt
Last Updated (Sunday, 31 July 2016 21:14)