Michael Jackson - The Best Of (1972-2010)
Michael Jackson - The Best Of (1972-2010)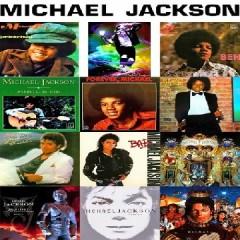 1972 - Ain't No Sunshine
1972 - Ben
1972 - Got To Be There
1972 - I Wanna Be Where You Are
1973 - Happy
1973 - Music And Me
1975 - One Day In Your Life
1975 - We're Almost There
1979 - Don't Stop Till You Get Enough
1979 - Get On The Floor
1979 - Girlfriend
1979 - I Can't Help
1979 - It's The Falling in Love
1979 - Off The Wall
1979 - Rock With You
1979 - She's Out Of My Life
1982 - Baby Be Mine
1982 - Carousel
1982 - Human Nature
1982 - P.Y.T. (Pretty Young Thing)
1982 - The Girl Is Mine (with Paul McCartney)
1984 - Farewell My Summer Love
1984 - Girl You're So Together
1987 - I Just Can't Stop Loving You
1987 - Liberian Girl
1991 - Remember The Time
1995 - You Are Not Alone
1997 - Blood On The Dance Floor
2010 - Hollywood Tonight

No single recording artist or entertainer has eclipsed what Michael Jackson accomplished throughout his career as an entertainer and an artist.
Michael Jackson was born on August 29th, 1958. Growing up as the eighth of ten children in Gary, Indiana, Jackson began his career at just seven years of age as the lead singer of the Jackson 5, breaking into stardom in 1969 after signing into Motown: the Jackson 5's first four singles all peaked at number one on the Billboard 100. But Michael wasn't done.
He soon pursued a solo career. 1979's Off The Wall produced four top ten hits (including "Don't Stop 'Til You Get Enough") and sold 20 million copies, establishing him as a household name. 1982's Thriller became the best selling album of all time, and was the first album to feature seven top 10 singles, including "Billie Jean" and "Beat It."
1983 saw an iconic performance at the Pasadena Civic Auditorium, and 1985 brought the collaboration single "We Are The World", which remains one of the best-selling singles of all time and raised nearly $65 million for famine relief.
With 1987 came Bad, which spawned five number one hits including "Man In The Mirror," "Bad," and "Dirty Diana." 1991 was accompanied with Jackson's 8th album Dangerous, which included hits "Black or White" and "Remember the Time." In 1993, Jackson performed at the Super Bowl XXVII halftime show.
Double-album HIStory was released in 1995, becoming the best selling multiple-disc album of all time, moving 20 million units, and included singles "Scream" (a duet with sister Janet Jackson), "You Are Not Alone" (which was incidentally also the first single to enter the Billboard Hot 100 at #1), and "Earth Song." 2001 brought Invicible, which hosted "You Rock My World."
He passed away in June 25th, 2009, at the age of 50 to much distress in the public eye and the pop music spectrum. His legacy, however, lives on, as some of his unreleased music is being put out posthumously (including single "Love Never Felt So Good" with Justin Timberlake).
Through sheer talent, he broke down racial barriers that denied black artists mainstream media exposure. His contributions to music, dance, videography, and fashion made him a global figure in popular culture for over four decades.
His success spawned 13 Grammys, 26 AMAs, over 400 million records sold, 13 solo #1 singles, and many, many more achievements.
Michael Jackson was most certainly the King of Pop. --- genius.com
download (mp3 @VBR kbs):
yandex 4shared mega mediafire uloz.to cloudmailru ge.tt