School of Seven Bells - Ghostory (2012)
School of Seven Bells - Ghostory (2012)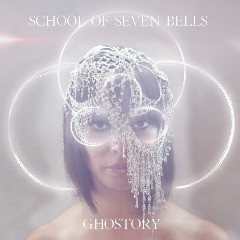 01 – The Night		play
02 – Love Play
03 – Lafaye
04 – Low Times
05 – Reappear		play
06 – Show Me Love
07 – Scavenger
08 – White Wind
09 – When You Sing

How many identical twins does one really need in their band? The departure of singer/keyboardist Claudia Deheza in late 2010 left School of Seven Bells featuring just the one sister in its line-up, Alejandra, alongside former Secret Machines man Benjamin Curtis. But Claudia's absence hasn't had a huge impact on this third album's sound: SVIIB has always been about the music rather than the members making it. It's refreshing indeed that, while the expression "the music does the talking" typically has the heart sinking, this pair's otherworldly soundscapes do exactly that.
Previously, SVIIB occasionally eschewed tunes in the name of textures, and the same is true on Ghostory. But despite these new songs requiring third and even fourth dates before you get to know them properly, they are well worth pursuing. It's hard to believe it was recorded in Brooklyn as, much like When Saints Go Machine's 2011 LP Konkylie, this collection captures the sound of medieval England finding glow sticks and making music to match. This is true trance music.
Staccato opener The Night demonstrates their new focus, with shades of New Order and elements sure to appeal to those missing Bat for Lashes' dramatic pop; atop the arrangement sits a stark, wanton lyric: "You've frozen me out… devour me." Their words were once abstract, another lick of paint to make the picture, but this song sets a new benchmark that Chairlift and other electronic shoegazing bands will happily aspire to.
It's a shame Love Play does away with this early momentum, its low frequencies thrumming like machines left on overnight; but as it fades so the album soars. From the chill-pop of Show Me Love to Low Times' epic coda, where Alejandra's vocal swoops alongside the synth line until it's difficult to distinguish between them, SVIIB's attention to detail is immaculate. Elsewhere, Scavenger's guitar recalls Simple Minds at their early 80s best, whilst its tune is one that Siouxsie and the Banshees would have been proud of.
Stadiums and the rockers that fill them might be an unexpected new influence, but like every good band SVIIB make these currents of inspiration their own to control. After all, similar stylistic traits haven't damaged the widespread appeal of Florence + the Machine – although, this is a great album for the few who didn't click with Florence's latest LP, reappropriating as it does shared genes in a rather more refined manner. For a band that once threatened to run out of ideas, Ghostory is a staggeringly beautiful success. ---Tom Hocknell, BBC Review
download (mp3 @320 kbs):
yandex 4shared mega mediafire uloz.to cloudmailru
Last Updated (Tuesday, 11 July 2017 09:56)