Ruben Studdard – Letters from Birmingham (2012)
Ruben Studdard – Letters from Birmingham (2012)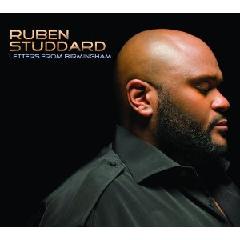 01 – Letter #1
02 – Turn U Out
03 – Love Skies
04 – Wear Me
05 – Letter #2
06 – Pure Imagination		play
07 – Do It Right (feat. Chrisette Michele)
08 – Today (Hallelujah!)
09 – Letter #3
10 – Twisted Love		play
11 – Rock Wit'cha (feat. K Michelle)
12 – All About U
13 – Letter #4
14 – Her 4 U
15 – What's the Reason
16 – June 28th (I'm Single)

By now, we've learned not to expect much from "American Idol" winners, almost all of whom seem to follow the same career trajectory: a hope-filled debut, a failed second album, a demotion to a minor label and, finally, twilight years (which, for "Idol" contestants, begin sometime around age 27), spent performing on the county fair circuit.
Ruben Studdard has a Luther Vandross voice in an Usher world, and he's struggled since his Season 2 win, never quite figuring out how to merge the two into something that sounds effortless.
His new disc, "Letters From Birmingham," isn't much help: It's an awkwardly executed concept album about relationships told, at least theoretically, through a series of romantic letters.
Any resemblance between "Letters From Birmingham" and Martin Luther King Jr.'s Letter from Birmingham Jail is neither coincidental nor, considering that the latter is a historic plea for social justice and the former is an album about Ruben Studdard's desire to make sexy time, appropriate.
"Birmingham" intersperses sung-spoken letters charting the deterioration of a relationship between moony slow jams and uptempo soul tracks decorated with handclaps and horns. The slow songs recall the '80s (where some of them, like a waterlogged but not unpleasant cover of Bobby Brown's "Rock Wit'cha," actually originated) and the brisker soul songs recall the '70s (like the sublime "Do It Right," which features Chrisette Michele, and recasts Studdard as an unlikely heir to Superfly).
"Birmingham" strains hardest during its nominally contemporary tracks, but at least many of its misses are interesting: "Pure Imagination" reinvents the "Willy Wonka & the Chocolate Factory" standard as a bedroom jam, complete with some of the most unintentionally unsexy lyrics in memory. "What you see will defy explanation," Studdard promises. What girl could resist? --- Allison Stewart, washingtonpost.com
download (mp3 @320 kbs):
yandex 4shared mega mediafire uloz.to cloudmailru
Last Updated (Monday, 03 July 2017 19:00)