Dschinghis Khan ‎– Corrida (1983)
Dschinghis Khan ‎– Corrida (1983)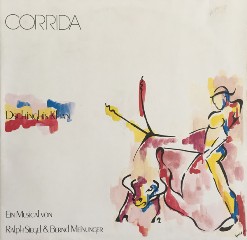 A1 	La Corrida (Opening) 	1:39
A2 	Oh Miguel 	3:25
A3 	Miguels Traum 	3:45
A4 	Eine Rose Für Maria Madalena 	4:04
A5 	Auf Der Strasse Nach Madrid 	4:35
A6 	Los Gitanos 	4:18
A7 	Juanita Elena 	3:58
B1 	Life Is Good - Life Is Scheen 	3:49
B2 	Einst Wird Kommen Der Tag 	3:56
B3 	El Diablo 	2:52
B4 	Dir Darf Nichts Gescheh'n Miguel 	3:44
B5 	Einzug In Die Plaza De Torros 	1:44
B6 	Corrida 	3:32
B7 	Olé Olé 	4:16
+
15. Rund Um Die Welt	4:02
16. Mexico		4:58
17. Moskau (Maxi)	8:27
18. Rocking Son Of Dschinghis Khan (Maxi)	6:15


Dschinghis Khan was a German pop band created in 1979 to compete in the Eurovision Song Contest. The name of the band is the German spelling of "Genghis Khan", and was chosen to fit the song of the same name written and produced by Ralph Siegel with lyrics by Bernd Meinunger.
Members of the group were:
    Steve Bender
    Wolfgang Heichel
    Henriette Heichel
    Leslie Mándoki
    Edina Pop
    Louis Hendrik Potgieter (1951-1996) 

Historia grupy zaczyna się w 1979 roku po sukcesie Ralfa Siegela), kierownika (lidera) "Jupiter Records", na "Mr. Grand Prix". Siegel postanawia stworzyć nową grupę - Dschinghis Khan, wykorzystując do "rozruchu" nową strategię, która powinna była zapewnić 100% powodzenia.
Tak się stało, pierwszy album zatytułowany "Dschinghis Khan", przyniósł "Juiter Records" kolosalne zyski, przekraczając wszystkie oczekiwania. Dschinghis Khan stał się znany na całym świecie. Do pierwszego albumu weszły same najlepsze piosenki: Dschinghis Khan, Moskau, Rocking Son of Dschinghis Khan (w Rosji jest znany jako Rock'n'Roll - Kazachok), Israel, Hadschi Halef Omar. W ślad za albumem jako single wydano angielskie wersje piosenek: Desert Land, Rocking Son Of Dschinghis Khan, Genghis Khan i Moscow.
W 1980 wychodzi nowy album "Rom", z czteroma bonus trakami z pierwszego albumu: Dschinghis Khan, Moskau(singiel wersja), Hadschi Halef Omar i Der Verräter. Do albumu weszły znane piosenki, takie jak: Rom i Machu Picchu. Album wywołał taki sam aplaus, jak i pierwszy. W ślad za nim wydano także single z angielską wersją: Rome, The Strangers, Sierra Nevada. Po wydaniu albumu z grupy odchodzi na skutek choroby Stiw Bender. 1981 rok zaowocował nowym albumem - "Wir Sitzen Alle Im Selben Boot"(My wszyscy siedzimy w jednej łódce). Oprócz Wir Sitzen Alle Im Selben Boot, Pistolero i Loreley na nim nie było nic dobrego. Po nim wydano single z angielską wersją Pistolero i Loreley.
W następnym roku był wydany album "Helden, Schurken und der Dudelmoser", który całkowicie zepsuł wrażenie o grupie. Na nim nie wydano nic wyróżniającego się. W 1983 roku był wydany singiel "Himalaya", ale on już nie uratował sytuacji. W tym samym roku wychodzi ostatni album - "Corrida", zawierający kilka niezłych piosenek. W 1985r Dschinghis Khan próbuje zmienić sytuację, wydając single "Mexico" i "Rund um die Welt", ale ostatnia próba skończyła się niepowodzeniem.
W 1986 roku grupa Dschinghis Khan oddzieliła się od "Jupiter Records" i wydała w Holandii nowy singiel "Give me a sign". Trochę później powstaje Dschinghis Khan Family, w skład, którego wchodziło troje z sześciu członków grupy. Oni wydają maxi-single: "Can't Stop Now", "Fang Mich auf", "The other side of fame" i "Wir gehor'n zusammen". Dschinghis Khan Family także się rozpadł. ---80s.pl
download (mp3 @320 kbs):
yandex mediafire ulozto gett bayfiles