King Crimson - Red (1974)
King Crimson - Red (1974)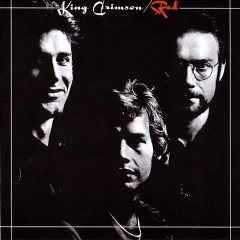 01. Red (Robert Fripp) – 6:16            play
02. Fallen Angel (Fripp, John Wetton, Richard Palmer-James) – 5:57
03. One More Red Nightmare (Fripp, Wetton) – 7:07
04. Providence (David Cross, Fripp, Wetton, Bill Bruford) – 8:05
05. Starless (Cross, Fripp, Wetton, Bruford, Palmer-James) – 12:14

Personnel:
- Robert Fripp - guitar, mellotron
- John Wetton - bass, vocals
- William (Bill) Bruford - drums, percussion
+
- David Cross - violin
- Mell Collins - soprano saxophone
- Ian McDonald - alto saxophone
- Robin Miller - oboe
- Marc Charig – cornet

King Crimson fell apart once more, seemingly for the last time, as David Cross walked away during the making of this album. It became Robert Fripp's last thoughts on this version of the band, a bit noiser overall but with some surprising sounds featured, mostly out of the group's past -- Mel Collins' and Ian McDonald's saxes, Marc Charig's cornet, and Robin Miller's oboe, thus providing a glimpse of what the 1972-era King Crimson might've sounded like handling the later group's repertory (which nearly happened). Indeed, Charig's cornet gets just about the best showcase it ever had on a King Crimson album, and the truth is that few intact groups could have gotten an album as good as Red together. The fact that it was put together by a band in its death throes makes it all the more impressive an achievement. Indeed, Red does improve in some respects on certain aspects of the previous album -- including "Starless," a cousin to the prior album's title track -- and only the lower quality of the vocal compositions keeps this from being as strongly recommended as its two predecessors. ---Bruce Eder, AllMusic Review
Jeszcze przed rozpoczęciem nagrań z zespołu odszedł David Cross, a zanim płyta ukazała się w sklepach, w październiku 1974 roku - grupa została rozwiązana przez Roberta Frippa, który chciał odpocząć od muzyki, a ponadto - zdaniem Johna Wettona - bał się, że jeśli wyruszy w trasę promującą "Red", King Crimson odniesie komercyjny sukces, a on straci kontrole nad zespołem. Rzeczywiście, album ma spory potencjał komercyjny, a w każdym razie jest bardziej przystępny od poprzednich. Wciąż jednak słychać, że grają tutaj ci sami ludzie, co na "Larks' Tongues in Aspic" i "Starless and Bible Black" - tylko tym razem mniej popisujący się swoimi umiejętnościami technicznymi.
Otwierający całość utwór tytułowy - ciężki, połamany rytmicznie kawałek instrumentalny, z spokojniejszą, mroczną częścią środkową. Drugi utwór, "Fallen Angel", tradycyjnie jest łagodniejszy - przynajmniej we zwrotkach, gdzie partii wokalnej Wettona towarzyszy tylko gitara akustyczna i obój. W refrenie następuje ciężkie przełamanie z przeszywającymi brzmieniami kornetu, nadającymi utworowi niesamowitego klimatu. Nieco bardziej pogodny jest "One More Red Nightmare", będący przede wszystkim popisem Billa Bruforda, ponadto zaskakujący chwytliwym refrenem, a czarujący zwłaszcza za sprawą dwóch saksofonowych solówek, zagranych przez byłego członka King Crimson, Iana McDonalda. Otwierający drugą stronę "Providence" to jedyny tym razem utwór będący improwizacją muzyków, zarejestrowaną podczas koncertu - 30 czerwca 1974 roku w, jak tytuł wskazuje, Providence. W zespole występował wtedy jeszcze Cross - to właśnie od jego partii skrzypiec rozpoczyna się owa improwizacja. Z czasem dołączają kolejni muzycy, grając coraz intensywniej - w drugiej połowie "Providence" nabiera wręcz metalowego ciężaru.
Najpiękniejszym i najwspanialszym utworem jest jednak finałowy "Starless", rozpoczynający się delikatnymi dźwiękami melotronu, gitary i saksofonu (znowu w wykonaniu McDonalda, ale też innego byłego muzyka grupy, Mela Collinsa), przywołującymi nastrój utworu "Epitaph". Pierwsza część utworu ma tradycyjną, zwrotkowo-refrenową strukturę. Po niecałych pięciu minutach następuje jednak przełamanie i rozpoczyna się część improwizowana, oparta na dwóch dźwiękach granych przez Frippa, z czasem nabierająca na ciężarze, pod koniec staje się wręcz agresywna. Ostatnia część utworu to szybkie solo saksofonowe, a na sam koniec wraca główny motyw z części pierwszej, zagrany jednak znacznie mocniej - piękny finał albumu. Ciężko zrozumieć dlaczego Fripp i Bruford nie chcieli nagrać tego utworu wcześniej - jego pierwotną wersję Wetton zaproponował już podczas nagrywania "Starless and Bible Black" (zresztą od niego wziął się tytuł tamtego longplaya). Wyszło jednak na dobre - lepszego zakończenia na pożegnalną płytę chyba nie udałoby się stworzyć.
Cóż można napisać na podsumowanie takiego albumu, jak "Red"? Że to jedna z najdoskonalszych pozycji w dyskografii King Crimson, a właściwie całej muzyki rockowej? Brzmi banalnie, ale właśnie te słowa najtrafniej obrazują ten album. ---Paweł Pałasz, pablosreviews.blogspot.com
download (mp3 @320 kbs):
Last Updated (Tuesday, 29 May 2018 16:06)