Richie Kotzen – I'm Coming Out (2011)
Richie Kotzen – I'm Coming Out (2011)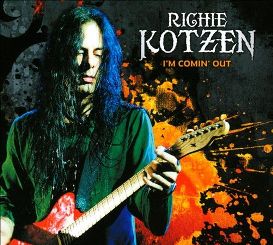 01. I'm Coming Out
02. Moonshine
03. No Reason
04. World Affair		play
05. Something To Say
06. What Makes a Man
07. Holy Man
08. Camoflage
09. What is
10. Locked Out
11. Cross the Line		play
12. I'm Loosing You
13. The Feelin's Gone
14. You Don't Know
15. I Don't Belong
16. My Addiction

Personnel: Richie Kotzen (vocals, guitars, mandolin, keyboards).

I'm Coming Out - 2011 compilation of 16 tracks from his first four Japan only solo albums. These albums have been officially released only in Japan.
Richie Kotzen (born February 3, 1970 in Reading, Pennsylvania) is an American guitarist, singer, and songwriter.
At a young age, Richie Kotzen was taken by music and first began playing piano at the age of five. At the age of seven he was inspired by the band KISS to learn the electric guitar. Relentlessly developing chops and his own unique voice on the guitar, he started his career in a band named Arthurs Museum. Kotzen was eventually discovered by Shrapnel Records' Mike Varney, and he recorded his first solo album by the age of 19. He created the video Rock Chops for REH video in 1989, highlighting many of his formative techniques, including using wide-intervals and fluid sweeping.
In 1991, Kotzen made his big break when he joined the rock band Poison at age 21, co-writing and performing on the album Native Tongue. This album produced two top twenty singles which Richie co-wrote, "Stand" and "Until You Suffer Some (Fire & Ice)". In late-1993, Rikki Rockett, the drummer of Poison, discovered that Kotzen was having a relationship with Rockett's former fiancee, Deanna Eve. Kotzen was bought out due to this incident. In 1999 Kotzen replaced Paul Gilbert as guitarist in the mainstream rock band Mr. Big. Kotzen maintained the band's success, performing on the Mr. Big record Get Over It, which sold more than 175,000 copies in its first two weeks in Japan, eventually reaching platinum status.[citation needed] Kotzen also contributed guitars to Mr. Big's subsequent release Actual Size. The record included the Kotzen song Shine, which debuted at number one on Japanese radio charts. Following the disbanding of Mr. Big, Kotzen released the solo album Change, in 2003. The title track, and the song Get A Life were featured in TV commercials throughout Japan.
In 2002 Kotzen bought a commercial building in Los Angeles and established a recording Studio/Production company. He has since been producing acclaimed solo albums and collaborating with various figures in rock (Gene Simmons), jazz, and fusion including jazz legend Stanley Clarke. In mid-2006 Kotzen was the opening act in Japan for The Rolling Stones on their Bigger Bang tour.
download (mp3 @VBR kbs):
Last Updated (Thursday, 29 November 2018 15:22)