Metallica – Six Feet Down Under (Part 1) [EP] (2010)
Metallica – Six Feet Down Under (Part 1) [EP] (2010)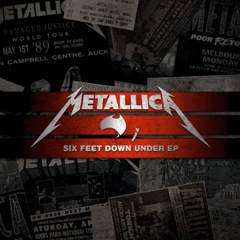 1.Eye of the Beholder 
2.And Justice For All 
3.Through the Never 
4.The Unforgiven           
5.Low Man's Lyric 
6.Devil's Dance 
7.Frantic 
8.Fight Fire With Fire

James Hetfield – vocals, guitar
Lars Ulrich – drums 
Kirk Hammett – lead guitar, backing vocals 
Robert Trujillo –bass, backing vocals

James Hetfield – vocals, guitar
Lars Ulrich – drums 
Kirk Hammett – lead guitar, backing vocals 
Robert Trujillo –bass, backing vocals
So Metallica need no introduction. The name alone is guaranteed to garner varied responses from all corners of the metal world, far and wide. The end of their Death Magnetic tour saw the band return to Australian shores for the first time in six years. Groan. Yes, it's a typical 5-6 touring cycle for this mighty metal machine and the land down under. As if the tour itself wasn't enough to get fans salivating at the mouth, but the band also decided to treat Aussie fans with a special tour EP, titled Six Feet Down Under, to mark the occasion.
But this is no ordinary EP, as we've come to expect from Metallica. This one was sourced from the fans for the fans. We all know by now that Metallica have been officially recording their live shows and making them available for sale on the internet. But once upon a day this band that thrived on tape trading in the early days provided a tapers section on their 1993 and had the tape trading world a buzz with bootlegs from all corners of the globe. So this EP consists of tracks from their previous Australian tours as recorded by fans. So the quality ain't that happening but the vibe and attitude shines through.
We're treated to tracks from the first ever and albeit brief Justice tour from May 1989 - Eye of the Beholder and …And Justice for All from their Melbourne stop of that tour. There's two from the band's huge Black album tour from March and April 1993 - Through the Never and The Unforgiven; two from their 1998 Load/Reload jaunt – Low Man's Lyric and Devil's Dance; and two from their Big Day Out/headline shows tour in 2004 - Frantic and Fight Fire With Fire.
The quality varies as bootleg recording technology improves but it's definitely one of the more unique EPs we've seen in quite some time. As I said before, it's by the fans for the fans, and that's the crux of this release. No doubt diehard fans will love it and rightly so. ---themetalforge.com
download (mp3 @320 kbs):
yandex mediafire ulozto cloudmailru gett
Last Updated (Wednesday, 01 August 2018 07:31)