The Prodigy - The Dirtchamber Sessions Volume One (1999)
The Prodigy - The Dirtchamber Sessions Volume One (1999)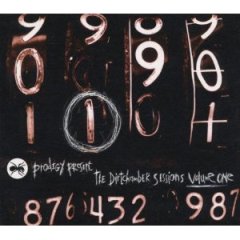 Track listing:
   1. Section 1 – 7:18
         1. Intro Beats - taken from Run-D.M.C.'s "Here We Go (Live at the Funhouse)".
         2. Rasmus, "Punk Shock" (1998) - is mislabeled as "Tonto's Release" in the CD booklet.
         3. Hardnoise, "Untitled" (1991)
         4. The Chemical Brothers, "Chemical Beats" (1995)
         5. Ultramagnetic MCs, "Kool Keith Housing Things" (1988)
         6. Lightnin' Rod featuring Jalal, "Sport" (1988)
         7. Ultramagnetic MCs, "Give the Drummer Some" (1988)
         8. Time Zone, "Wildstyle" (1983)
   2. Section 2 – 6:44
         1. Bomb the Bass, "Bug Powder Dust" (1994)
         2. Trouble Funk, "Pump Me Up" (1984) - is mislabeled as being by Grandmaster Flash 
            & The Furious Five.
         3. The Charlatans, "How High" (1997)
         4. The Prodigy, "Poison" (1995)
         5. Jane's Addiction, "Been Caught Stealing" (1990)
         6. Tim Dog featuring KRS-One, "I Get Wrecked" (1993)
   3. Section 3 – 6:03
         1. Babe Ruth, "The Mexican" (1972)
         2. The B-Boys, "Rock the House" (1983)
         3. The Chemical Brothers, "(The Best Part of) Breaking Up" (1996)
         4. Word of Mouth, "King Kut" (1985)
   4. Section 4 – 7:52                                                    
         1. DJ Mink, "Hey Hey Can You Relate" (Instrumental) (1990)
         2. The KLF, "What Time Is Love" (1988)
         3. Bones Breaks, "Funky Acid Makossa" (1988)
         4. Bones Breaks, "Shafted Off" (1988)
         5. Bones Breaks, "And the Break Goes Again" (1988)
         6. Meat Beat Manifesto, "Radio Babylon" (1990)
         7. Herbie Hancock, "Rockit" (1983)
         8. The 45 King, "900 Number" (1992)
         9. Propellerheads, "Spybreak!" (1997)
        10. Beastie Boys, "It's the New Style" (1986)
   5. Section 5 – 4:57                                                     play
         1. Sex Pistols, "New York" (1977)
         2. Fatboy Slim, "Punk to Funk" (1996)
         3. Medicine, "I'm Sick" (1997)
   6. Section 6 – 5:48
         1. D.S.T., "The Home of Hip Hop" (1985)
         2. JVC Force, "Strong Island" (1984)
         3. Primal Scream, "Kowalski" (1997)
         4. Beastie Boys, "Time to Get Ill" (1986)
         5. Barry White, "I'm Gonna Love You a Little More Babe" (1973)
         6. Public Enemy, "Public Enemy No. 1" (1987)
         7. The JB's, "Blow Your Head" (1974)
         8. T La Rock, "Breakin' Bells" (1993)
   7. Section 7 – 3:59                                                      play
         1. LL Cool J, "Get Down" (1987)
         2. Digital Underground, "The Humpty Dance" (1989)
         3. Uptown, "Dope on Plastic" (1989)
         4. Coldcut, "Beats and Pieces" (1987)
   8. Section 8 – 8:40
         1. London Funk Allstars, "Sure Shot" (1995)
         2. West Street Mob, "Break Dancin' (Electric Boogie)" (1983)
         3. Hijack, "Doomsday of Rap" (1988)
         4. Renegade Soundwave, "Ozone Breakdown" (1988)
         5. The Beginning of the End, "Funky Nassau" (1971)
         6. The Jimmy Castor Bunch, "It's Just Begun" (1972)

In 1998, and still reveling in the global success of The Fat Of The Land Liam Howlett called into The Breezeblock, a popular BBC Radio 1 show hosted by Mary Anne Hobbs. During his time there Liam performed a DJ set which sure him chopping and mixing several different artists and genres into an eclectic retro sounding performance. The set received immediate critical acclaim from the show's devoted listeners, and several fans set about releasing bootlegs of the show. In a bid to suppress the pirated copies from reaching a high level of distribution amongst the public, Liam decided to replicate the set in his studio. Sadly, not of all his samples were allowed to be used, as releasing a cd is obviously for profit as opposed to incorporating them into what was, originally, a one off set. Released in 1999, and while omitting several of the aforementioned samples (namely The Beatles' Sgt. Peppers Lonely Hearts Club Band) ended up becoming almost double in length. This is one of the most genre crossing, awe inspiring, ensembles of music I have ever come across; this is The Dirtchamber Sessions, Vol. 1.
This is an album that has one of the shortest attention spans I've ever heard (it cuts through about 30 different tracks in just under an hour), but that's not the strangest thing about this mix; it's the massive amount of variety of music contained in it that makes it stand out the most. In the process of putting together a collection of some of his most favorite tracks Liam has managed to go completely across the board in terms of varying sounds. To give you an idea of just how varied this album is; it's broken into eight sections, or tracks, with each spanning 5-8 minutes in length, and hidden in these segments are such varied genres as Hip Hop, Funk, Electro, Punk, Tech, and even some Rap to boot. In the first section alone, he plows through choice cuts from The Chemical Brothers (their genre defining classic 'Chemical Beats' to be precise), Rasmus, Time Zone and the Ultramagnetic MC's (cutting in their breakthrough hit 'Give The Drummer Some', which of course was earlier sampled by Liam for 'Smack My Bitch Up'). Things then take a turn into Rock territory for the second installment as The Charlatans (their entry into the fold is one of the more delightful additions to the album), and Jane's Addiction all vie for a chance in the spotlight, with Grandmaster Flash even peeking in from the sidelines.
Sound interesting so far" Just wait until the beckoning sounds of Flamenco guitars hit you as Babe Ruth's 'The Mexican' bursts onto the scene. Howlett then effortlessly mixes in The B-Boys, before pushing The Chem's jaw dropping scratch showcase '(The Best Part Of) Breaking Up' into the fray. Without giving you a chance to play genre catch up he quickly moves into the next segment and pulls 'Hey Hey Can You Relate' by DJ Mink out of the box and takes it for a walk across your speakers. Howlett never seems to lose either focus or pace on this or any of the joints put forth here, but what does seem to come across in his performance however is an almost sense of urgency, as if Liam quickly realizes there's another song that needs to be heard or another beat to throw into the pot. From here on in and all the way until the last note is wrung dry it becomes a who's who of the music community as Liam cuts and splices such artists as The Beastie Boys, Propellerheads, KLF, Public Enemy, himself ('Smack My Bitch Up' is briefly lifted up into the mix), Meat Beat manifesto, LL Cool J, Primal Scream, and yet still finds room to include almost an entire Sex Pistols track. To say this album is busy would be somewhat of an understatement.
This is one strange mix compilation, and while it is essentially a release by The Prodigy, it isn't an album to fuel the dance floor. This is an album that requires a nice quiet place, a good pair of headphones, an open mind and a sense of adventure. It's a musical journey, and also one of the greatest ways for a DJ to pay respect to all of his influences and peers. While it would be a hard task to find an individual who loves and appreciates every song on offer here, there genuinely is something for everyone to enjoy here. This is without a doubt one of the greatest mix tapes I have ever had the privilege of hearing. ---Deviant, sputnikmusic.com
Po ukazaniu się "Fat of The Land" poszczególni członkowie formacji zajmują się projektami solowymi. Maxim Reality, "eMCe" zespołu wydaje solową płytę "Hell's Kitchen", której bliżej do elektronicznych eksperymentów z rytmiką, stylistyce trip hopu, hip hopu i delikatnym wprowadzaniu elementów rocka, niż do próby odświeżenia punkowej energii poprzez użycie współczesnych metod nagrywania i samplingu, co miało miejsce na ostatnej płycie THE PRODIGY. Najbardziej charakterystyczny z zespołu Keith Flint realizuje się w projekcie o zabarwieniu hardcore'owym Flint. Kolejne dzieło, które powstało pod szyldem THE PRODIGY ukazuje się w 1999 roku i nosi tytuł "The Dirtchamber Sessions Volume One", prezentujący przegląd stylistyczny muzycznych fascynacji jego lidera, albowiem Liam Howlett zajmuje się karierą DJ'a i przez pewien okres czasu grywa w brytyjskich klubach. W okresie pewnej swoistej posuchy i stagnacji 'cudownego dziecka brytyjskiej electroniki' jedna z wyspiarskich stacji radiowych proponuje mu czas antenowy w swoim studio, na co się zgodza, choć nie bez oporów i tak oto rodzi się pomysł na sesję nagraniową "The Dirtchamber Sessions Volume One" , która jak na obecną chwilę nie doczekała się swojej kontynuacji... . Muzykę zawartą w jej ramach uznać można za pewną swoistą improwizację podzieloną na osiem sekcji złożonych z około pięćdziesięciu utworów, wśród których znajdziemy m. in. Chemical Brothers i Primal Scream, czyli niejako znajomych Howlett'a, z którymi ten spotykał się na imprezach w londyńskich klubach, Ultramagnetic MC's, czyli old schoolową, hip hopową formację, jeden z pierwszych zespołów jakie Howlett słuchał, Beastie Boys, których nikomu raczej nie trzeba przedstawiać, ale i rockowe Jane's Addiction i pionierów punk rocka Sex Pistols. Propozycje DJ'a Liam'a Howlett'a pochodzą z najróżniejszych półek muzycznych, jednak łączy on je w taki sposób, że stanowią jednorodną całość, nawet jeśli ścierają się ze sobą style wywodzące się z funk, punk-rocka i techno opartego na rytmie, pulsie basu, oraz atakujące gdzieś z tyłu, z dna tej muzycznej studni gitary i dźwięki prosto z komputera, czy też instrumenty dęte wprowadzanych gdzieś w tle latynoskich brzmień. ---wrestlefans.pl
download (mp3 @320 kbs):
Last Updated (Wednesday, 14 November 2018 17:25)