The Prodigy – Their Law – The Singles (2005)
The Prodigy – Their Law – The Singles (2005)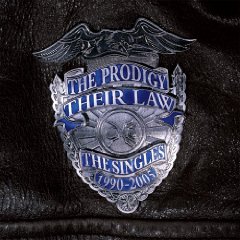 1-01 	Firestarter 	4:43
1-02 	Their Law 	5:36		play
1-03 	Breathe 	5:36		play
1-04 	Out Of Space 	5:02
1-05 	Smack My Bitch Up 	5:43
1-06 	Poison 	4:01
1-07 	Girls 	4:13
1-08 	Voodoo People 	3:40
1-09 	Charly 	5:23
1-10 	No Good (Start The Dance) 	6:20
1-11 	Spitfire 	3:27
1-12 	Jericho 	3:47
1-13 	Everybody In The Place 	5:10
1-14 	One Love 	5:25
1-15 	Hotride 	4:33
2-01 	Razor 	4:00
2-02 	Back 2 Skool 	5:02
2-03 	Voodoo People (Pendulum Remix) 	5:08
2-04 	Under My Wheels (Remix) 	3:15
2-05 	No Man Army 	4:10
2-06 	Molotov Bitch 	4:54
2-07 	Voodoo Beats 	3:54
2-08 	Out Of Space (Audio Bullys Remix) 	4:57
2-09 	The Way It Is (Live Remix) 	4:17
2-10 	We Are The Ruffest 	5:19
2-11 	Your Love 	6:03
2-12 	Spitfire (Live) 	4:12
2-13 	Their Law (Live) 	5:32
2-14 	Breathe (Live) 	6:40
2-15 	Serial Thrilla (Live) 	5:15
2-16 	Firestarter (Live) 	5:21

Their Law: The Singles 1990-2005 — album grupy The Prodigy zawierający największe przeboje zespołu, nagrane w latach 1990-2005.
The Prodigy – brytyjski zespół tworzący muzykę elektroniczną. Ich muzyka składa się z rozmaitych stylów, począwszy od rave we wczesnych latach 90., po dance, big beat i industrial z elementami punkowego wokalu w późniejszych latach. Obecnie zespół tworzą: Liam Howlett (kompozytor), Keith Flint (tancerz/frontman/wokalista) oraz Maxim Reality (wokalista/frontman). W latach 1990 – 2000 do zespołu należał tancerz Leeroy Thornhill, a we wczesnych latach istnienia The Prodigy występowała także wokalistka i tancerka Sharky. The Prodigy początkowo zaistnieli na undergroundowej scenie rave, na początku lat 90., ale już wkrótce osiągnęli światową sławę. Jedne z ich najbardziej znanych utworów to: "Out of Space", "Smack My Bitch Up", "No Good (Start the Dance)", "Breathe", "Firestarter", "Poison", "Spitfire", "Voodoo People", "Omen" oraz "Warrior Dance". W księdze Guinness 2000 Prodigy zostało wpisane przy dwóch rekordach (m.in. w kategorii najszybciej sprzedana ilość płyt).
Their Law: The Singles 1990–2005 is a singles collection from the UK band The Prodigy. It was released on 17 October 2005, and entered the UK album chart at #1 on 23 October.
The Prodigy are an English electronic dance music group formed by Liam Howlett in 1990 in Braintree, Essex. Along with Fatboy Slim, The Chemical Brothers and The Crystal Method, as well as other acts, members of the Prodigy have been credited as pioneers of the big beat genre which achieved mainstream popularity in the 1990s and 2000s. They have sold over 25 million records worldwide. The group's brand of big beat music makes use of various styles ranging from rave, hardcore techno, industrial and breakbeat in the early 1990s to electronic rock with punk vocal elements in later times. The current members include Liam Howlett (composer/keyboards), Keith Flint (dancer/vocalist) and Maxim (MC/vocalist). Leeroy Thornhill (dancer/very occasional live keyboards) was a member of the band from 1990 to 2000, as was a female dancer/vocalist called Sharky who left the group during their early period. The Prodigy first emerged on the underground rave scene in the early 1990s, and have since then achieved immense popularity and worldwide renown. Some of their most popular songs include "Charly", "Out of Space", "No Good (Start the Dance)", "Voodoo People", "Poison", "Firestarter", "Breathe", "Smack My Bitch Up", "Omen", "Spitfire", "Invaders Must Die" and "Warrior's Dance." The name displayed on album covers changed from "The Prodigy" to "Prodigy" between Music for the Jilted Generation and The Fat of the Land in 1997 and back again with the release of Always Outnumbered, Never Outgunned in 2004. However, Howlett has stated that the title has always been "The Prodigy." The change was made only to fit within the displayed logo, according to Howlett
download (mp3 @192 kbs):
Last Updated (Wednesday, 14 November 2018 18:18)