Time Life Music - The Rock 'n'Roll Era (2014)
Time Life Music - The Rock 'n'Roll Era (2014)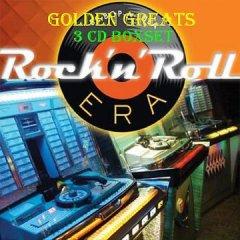 CD 1 - The Rock 'n' Roll Era - Golden Greats (1998)
1. Fats Domino - Blueberry Hill [02:23]
2. Eddie Cochran - Summertime Blues [02:01]
3. The Fleetwoods - Come Softly to Me [02:26]
4. The Ventures - Walk-Don't Run [02:05]
5. Dion - Runaround Sue [02:44]
6. Ernie K-Doe - Mother-in-Law [02:36]
7. Ricky Nelson - Travelin Man [02:23]
8. Gene Vincent - Be-Bop-a-Lula [02:36]
9. Maurice Williams and the Zodiacs - Stay [01:40]
10. The Silhouettes - Get a Job [02:48]
11. The Penguins - Earth Angel [02:58]
12. The Beach Boys - Surfin' U.S.A. [02:27]
Playing Time.........: 29:13

CD 2 - The Rock 'n' Roll Era - Keep On Rockin' (1998)
1. Bill Haley And His Comets - Rock Around the Clock [02:14]
2. Danny and the Juniors - At the Hop [02:32]
3. Chuck Berry - Johnny B. Goode [02:40]
4. Dell-Vikings - Come Go with Me [02:42]
5. Buddy Holly - Peggy Sue [02:32]
6. Champs - Tequila [02:12]
7. Dale Hawkings - Susie-Q [02:19]
8. The Monotones - Book of Love [02:21]
9. Lloyd Price - Stagger Lee [02:23]
10. Frankie Ford - Sea Cruise [02:44]
11. Tommy Roe - Sheila [02:04]
12. Five Satins - In the Still of the Night [03:04]
Playing Time.........: 29:52

CD 3 - The Rock 'n' Roll Era - Vintage Hits (1998)
1. The Diamonds - Little Darlin' [02:09]
2. Jerry Lee Lewis - Whole Lotta Shankin' Going On [02:53]
3. The Everly Brothers - Wake Up Little Susie [02:01]
4. Big Bopper - Chantilly Lace [02:23]
5. Johnny Preston - Running Bear [02:37]
6. Carl Perkins - Blue Suede Shoes [02:15]
7. The Impalas - Sorry (I Ran All the Way Home) [02:35]
8. Jimmy Jones - Handy Man [01:59]
9. Phil Phillips - Sea of Love [02:23]
10. Little Richard - Long Tall Sally [02:11]
11. The Platters - Smoke Gets in Your Eyes [02:40]
12. Ritchie Valens - La Bamba [02:06]
Playing Time.........: 28:18

The Rock'n'Roll Era was a 53-volume series issued by Time-Life during the late 1980s and early 1990s, spotlighting songs from the early years of the rock and roll era, primarily the pre-Beatles era of 1954-1964. The first major and successful rock music-intensive subscription music series released by Time-Life, songs on the series included music heard on mainstream contemporary hit radio stations of the late 1950s and early to mid-1960s.
The volumes in "The Rock'n'Roll Era" series covered a specific time period, including single years in some volumes and parts of a given decade in others.
As with many of Time-Life Records' multi-volume releases, the volumes were not issued in a logical, sequential order by date or era of the subject; that is, issuing volumes covering years in the 1950s before progressing into the 1960s.
download (mp3 @320 kbs):
Last Updated (Saturday, 06 January 2018 16:16)