Sam The Sham & The Pharaohs - 2 in 1 (2004)
Sam The Sham & The Pharaohs - 2 in 1 (2004)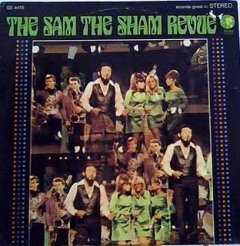 Revue Nefertiti
1. Black Sheep 
2. Struttin' 
3. I'm Not A Lover Anymore 
4. Leave My Kitten Alone 
5. Wanted Dead Or Alive 
6. You Can't Turn Me Off 
7. My Day's Gonna Come           play
8. The Cockfight 
9. Let It Eat 
10. Love Me Like Before 
11. Groovin' 


Ten Of Pentacles
1. Old MacDonald Had A Boogaloo Farm
2. Stand By Me
3. The Down Home Strut
4. I Passed It By
5. It's So Strange
6. Stagger Lee
7. Despair
8. If You Try To Take My Baby  play    
9. Yakety Yak
10. Poison Ivy
11. A Little Bitty Thing Called Love

Bonus tracks
1. I Wish It Were Me
2. Oh That's Good, No That's Bad
3. Take What You Can Get       play    
4. Banned In Boston
5. Money's My Problem
6. Let Our Love Light Shine
7. I Never Had No One
8. I Couldn't Spell

The quintessential Tex-Mex band of the 1960s, Sam The Sham And The Pharaohs hailed from Dallas, Texas where Domingo "Sam" Samudio was born in 1937 and raised. After chart success eluded them after recording Haunted House for the Dingo label in 1965 they landed a contract with MGM Records, home of such rock 'n' roll artists as Roy Orbison, The Animals, and Herman's Hermits.
Sam the Sham and The Pharaohs released four LPs and had many chart singles, such as their two biggest hits Wooly Bully, and Li'l Red Riding Hood. The driving organ of the infectious Wooly Bully defined the group sound for their first two albums. The Pharaohs on these two LPs consisted of Dave Martin (d. 8/2/87) on bass; Ray Stinnet, guitar; Jerry Patterson, drums; and Butch Gibson, saxophone. The third LP Li'l Red Riding Hood ushered in a change of personnel and a change in their musical direction. Travelling through New York, Sam recruited a band called the Gypsies to be the new Pharaohs. The lineup at this time consisted of Frank Carabetta, multi- instrumentalist; Tony Gerace, bass; William Martin (Billy) Bennett, drummer (d. 10/25/2000) and a guitarist named Andrew Kuha. Record company pressures to produce another formula hit single led to a period in which the group abandoned their hard rocking sound in favor of adaptations of nursery rhymes, cartoon characters, and other juvenile topics.
Personnel changes continued, and as the Sam The Sham Revue, Louis Vilardo of the original Gypsies replaced Billy Bennett on drums, and Ronnie (Spiderman) Jacobsen played bass. The group was augmented with a trio of female backup singers, Fran Curcio, Lorraine Gennaro, and Jane Anderson known as The Shamettes. The Shamettes released a couple singles on their own, one being a novelty response to Li'l Red Riding Hood, called (Hey There) Big Bad Wolf . The group In 1967 Sam released an LP as Sam The Sham, and in 1971 another blues-oriented LP under the name Sam Samudio, for which he won a Grammy award for Best Album Liner Notes. In 1982 it is Sam performing two self-penned songs in the film and on the soundtrack of The Border starring Jack Nicholson.
download (mp3 @320 kbs):
Last Updated (Thursday, 03 January 2019 21:32)