Marduk - Rom 5:12 (2007)
Marduk - Rom 5:12 (2007)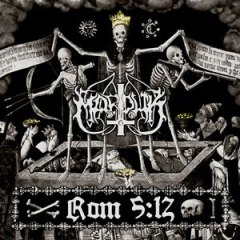 1. The Levelling Dust            play
2. Cold Mouth Prayer
3. Imago Mortis
4. Through The Belly Of Damnation
5. 1651
6. Limbs Of Worship
7. Accuser/Opposer
8. Vanity Of Vanities            play
9. Womb Of Perishableness
10. Voices From Avignon

Personnel:
Morgan Steinmeyer Hakansson - guitar; 
Mortuus - vocals; 
Magnus "Devo" Andersson – bass guitar; 
Emil Dragutinovic - drums; 
A. Gustafsson – drums

I admit, for the longest time, black metal has never really done much for me. While most of the genre I could easily just flat out ignore, there are a handful of bands that I really like and admire (Emperor comes to mind) but Marduk has always been at the very top of my list. Ever since I heard Panzer back in the day, I have followed this band quite closely. And while they have done some stellar work in the past, this is the album that made me think "Okay, this isn't just good anymore, this is fucking amazing.."
ROM 5:12 encapsulates everything I love about Marduk. There is really no messing about, on this release the band seemed extremely focused with a big emphasis on song writing quality. Production wise, this is the best sounding Marduk album ever in my opinion. While it sounds polished and clean, it's also dirty and raw. It's not sterile, it's full of dynamics and life, and it just sounds amazing. It fits the overall vibe of this album, and if I had to describe the album with one word, it would simply be "evil" - the album just oozes it, from every punctured sore and wound.
I know that sounds cliche, but it's true. That's what I get from this album - the riffs, the relentless drumming, the excellent vocals and outstanding lyrics. The riffs are crafted masterfully, sometimes simple, sometimes complex, but always there supporting the song, and playing to it's strengths. The lyrics are easily one of the highlights of the album. While being anti religious, it never retorts to childish ramblings in the vein of so many other black and death metal bands. They are extremely well written, thoughtful, poetic.
Thou fair one, behold these bones.
Thou learned one, see these empty skulls.
Thou wealthy one, consider this dust.

People sometimes complain about the slower tracks on this album, but I personally really enjoy those as well. They give another dimension to the album, and far more character. If this was just non stop speed, trust me, the fast songs wouldn't have the same impact anymore. After a while you just get numb to it. Here, it's not like that. You are given room to breathe between the chaos, and that in turn makes the chaos that much more powerful when it arrives. The intervals between the madness provide some nice peaks and valleys and most importantly, a whole lot of atmosphere.
All of that said, I firmly believe that the best track on here is "Accuser/Opposer", easily the most dynamic song on the album, and perhaps from the entire Marduk discography. In my eyes, an absolute masterpiece which to be honest, didn't really sink in at first, but when it did the effects were undeniable. Just absolutely untouchable in how good this song is written, arranged, and performed.
"I ate of Death to cleanse my flesh of God."
This isn't your run of the mill, moronic black metal album with constant blast beats and unintelligible lyrics. It's a well thought out, intelligent release, which also retains the integrity, power, and aggression of Marduk. Not to be missed. ---Daemonium_CC, metal-archives.com
Można rzec, że rok 2007 zapisze się w historii muzyki metalowej, jako nowy początek w rozwoju black metalu, stylu, który wielu tak zwanych "znawców" już kilka lat temu skazało na wymarcie. Nowe albumy Mayhem, Dimmu Borgir, Deathspell Omega, Rotting Christ czy koncertowe powroty Emperor i Immortal, pokazują, że ten gatunek wcale nie umarł. Ba! ma się najlepiej od dobrych paru lat. O wyraźnym progresie "czarciego metalu" świadczy też nowe wydawnictwo Marduk. Wydawało się, że ów zespół, po utracie tak dobrych muzyków, jak basista B. War i wokalista Legion, już się nie odrodzi. Wydany w 2004 roku "Plague Angel" poniekąd wydawał się zaprzeczać tej tezie, lecz z pewnością nie był to tak dobry krążek, jak poprzednie. Jednakże w kwietniu 2007 sklepy zaatakowała, dziesiąta już płyta szwedzkiej bestii, zatytułowana trochę dziwacznie "Rom 5:12".
Lider Szwedów, niesławny Morgan, wielokrotnie zapowiadał, że ich najnowsza płyta nie będzie jedynie wydawnictwem dla wiernych fanów Marduk, będzie to coś zupełnie wyjątkowego. Wielu muzyków (szczególnie w ekstremalnych odmianach metalu) wykazuje tendencję do przesady i niepotrzebnego wywyższania swoich dzieł ponad inne, jednakże tym razem Morgan miał rację. Najnowszy krążek tej szatańskiej hordy aż kipi złością. "Rom 5:12" to apokaliptyczny, bluźnierczy black metal na najwyższym poziomie. Członkowie tego zespołu w końcu zdali sobie sprawę z faktu, że niektóre ich albumy, przez nadmiar zbyt podobnych do siebie kawałków, często nudziły. Postanowili więc urozmaicić materiał i obok masakrująco szybkich utworów, znalazło się też miejsce na wolniejsze, bardziej atmosferyczne numery. Album rozpoczyna utwór "The Levelling Dust". Po trwającym kilka sekund charkocie wokalisty, słyszymy riff, który mógł zostać stworzony tylko przez rękę Morgana - zimny i w miarę melodyjny, choć zadziwiająco wolny w porównaniu z kawałkami znanymi na przykład z "Panzer Division Marduk", co jednak w żadnym wypadku nie jest wadą! Pierwszy utwór utrzymany jest głównie w średnich tempach, zupełnie pozbawiony blastów, a warstwa muzyczna momentami przypomina Bathory z okresu "Blood, Fire, Death", ergo jest to dość dziwne rozpoczęcie, jak na ten zespół. Następny utwór - "Cold Mouth Prayer " - to Marduk, jaki wszyscy znamy i lubimy najbardziej. Ultraszybkie, ostre jak brzytwa riffy, potężna perkusyjna nawałnica, niepokojąca, złowieszcza atmosfera i opętańcze skrzeczenie Mortuusa - tak właśnie powinien brzmieć black metal XXI wieku! Totalna miazga. Inne utwory w żadnym wypadku nie są gorsze, a każdy z nich czymś się wyróżnia, co z pewnością jest jedną z największych zalet tego krążka. Mocne wrażenie robi świetny "Imago Mortis", w którym pobrzmiewają echa norweskiego black metalu, spod znaku starego Satyricon czy Darkthrone. Raczej mało kto spodziewał się, że Marduk tak kapitalnie poradzi sobie z graniem w wolniejszych tempach.
Oczywiście nie brak też, wspomnianych już, ultraszybkich "crusherów". Taki "Through The Belly Of Damnation", "Limbs Of Worship" czy "Vanity Of Vanities" to istna orgia dla każdego fana ekstremalnie szybkiego grania. Jednakże, w przeciwieństwie do takiego "Panzer Division Marduk" nie jest to już jedynie wystrzał z lufy czołgu i do przodu. Każdy z tych kawałków jest zdecydowanie bardziej rozbudowany, mamy w nich zwolnienia, przejścia czy bardziej wyraziste melodie, przez co utwory te w żaden sposób się ze sobą nie zlewają, co było dość nagminne na poprzednich wydawnictwach Szwedów. Znalazło się nawet miejsce na całkiem niezłą gitarową solówkę w utworze "Womb Of Perishableness", co też jest pewnym novum dla tego zespołu. Warto zwrócić uwagę na instrumentalny "1651", stworzony przez Morgana wspólnie z członkami industrialno-ambientalnego projektu o nazwie Arditi - pozbawiony gitar, zupełnie inny od reszty, z charczącym gdzieś w tle Mortuusem.
Świetne jest też brzmienie płyty - gitary brzmią jak należy, idealnie nagrana jest gitara basowa, nie zagłuszają jej pozostałe instrumenty. Trochę gorzej na tym tle wypadają bębny, choć nie jest jakoś szczególnie źle, można się przyzwyczaić. Koniecznie też trzeba zwrócić uwagę na wokale Mortuusa, które są kapitalne! Skrzeczy, warczy, stęka i wydaje różne odgłosy, momentami przypominające wokal blackmetalowego maestro, czyli Attili Csihara!
Album ten pozbawiony jest w sumie większych wad. Szwedzkie diabły mogłyby co prawda postarać się o jeszcze większą różnorodność swych utworów, jeszcze bardziej poeksperymentować (szczególnie z ludźmi z Arditi), a także zdecydowanie poprawić brzmienie bębnów, jednakże na dzień dzisiejszy wydaje mi się, że "Rom 5:12" to zdecydowanie najlepsze dzieło Skandynawów i kandydat do blackmetalowej płyty roku. ---Cemetary Slut, rockmetal.pl
download (mp3 @320 kbs):
yandex mediafire ulozto cloudmailru gett
Last Updated (Wednesday, 27 June 2018 09:10)