Slipknot - All Hope Is Gone (2008)
Slipknot - All Hope Is Gone (2008)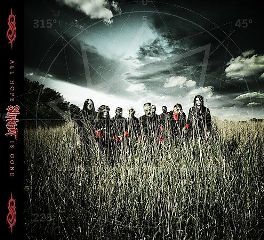 1. 	".execute."   	1:48
2. 	"Gematria (The Killing Name)"   	6:01
3. 	"Sulfur"   	4:37
4. 	"Psychosocial"   	4:43
5. 	"Dead Memories"   	4:28
6. 	"Vendetta"   	5:15
7. 	"Butcher's Hook"   	4:14                play
8. 	"Gehenna"   	6:53
9. 	"This Cold Black"   	4:40
10. "Wherein Lies Continue"   	5:36
11. "Snuff"   	4:36
12. "All Hope Is Gone"   	4:45
Bonus:
13. Child of Burning Time
14. Vermilion Pt.2                         play
15. 'Til We Die

Personnel:
Corey Taylor – vocals
Mick Thomson – guitars
Shawn Crahan – custom percussion, backing vocals
Craig Jones – keyboard, samples, media
Jim Root – guitars
Chris Fehn – custom percussion, backing vocals
Paul Gray – bass
Joey Jordison – drums, percussions
Sid Wilson – turntables

Having escaped the horror of nu-metal, Slipknot have quietly (well, you know what I mean) taken their place among metal's most acclaimed behemoths; the nearest thing today's world has to Metallica.
After myriad troubles, the masked mutant clowns regrouped in Iowa, dumped Rick Rubin and called in stadium producer Dave Fortman in what was announced would be their most aggressive work to date.
That promise is borne out on the astonishingly dense thrash of 'Gematria (The Killing Name)', which explodes out of a frantic spoken-word intro derived from vice-president Spiro Agnew's infamous 'effete corps' rant against Vietnam war protestors. But the target of All Hope Is Gone's sonic WMD seems to be everybody and everything; they scatter bile overUS policy, identikit emo kids and frontman Corey Taylor's troubled personal life . And yet, strangely, 'Dead Memories' – which echoes Metallica's 'Enter Sandman' – is so listenable it's almost conventional. Odder still, 'Snuff ' could pass for a power ballad.
Happily, Slipknot can pull in these directions and still maintain a new standard of bone-crunching intensity . There are louder metal bands in the world, for sure, but the Iowan nine-piece continue to make the most noise. ---Dan Martin, theguardian.com
download (mp3 @320 kbs):
yandex mediafire ulozto gett bayfiles
Last Updated (Sunday, 13 January 2019 23:37)