Whitesnake - Made In Japan (Deluxe Edition) [2013]
Whitesnake - Made In Japan (Deluxe Edition) [2013]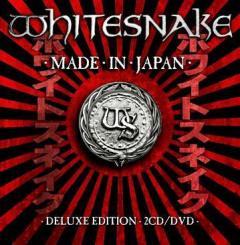 CD1
1. Best Years
2. Give Me All Your Love Tonight
3. Love Ain't No Stranger
4. Is This Love
5. Steal Your Heart Away
6. Forevermore
7. Six String Showdown
8. Love Will Set You Free
9. Drum Solo
10. Fool For Your Loving
11. Here I Go Again
12. Still Of The Night

CD2:
Sound Check Versions From The 2011 Japanese Tour

1. Love Will Set You Free
2. Steal Your Heart Away
3. Fare Thee Well (Acoustic Version)
4. One Of These Days (Acoustic Version)
5. Lay Down Your Love
6. Evil Ways
7. Good To Be Bad (Acoustic Version)
8. Tell Me How (Acoustic Video)

Line-up:
David Coverdale - Vocals
Doug Aldrich - Guitar & Vocals
Reb Beach - Guitar & Vocals
Michael Devin - Bass & Vocals
Brian Tichy - Drums & Vocals
Special Guest:
Brian Ruedy - Keyboards & Vocals

MADE IN JAPAN is set for release on April 23rd in North America and will be available in several formats: a deluxe 2CD/DVD edition, Blu-ray and a standalone DVD. The performance footage is shot in stunning HD in 5.1 and stereo and is taken from Whitesnake's co-headlining set at the "Loud Park" festival on October 11th, 2011 held at Saitama Super Arena in Japan during their "Forevermore World Tour." The performance was initially recorded only for Japanese TV and future Loud Park promotions, but after three songs were broadcasted on a Loud Park highlights program in Japan, Whitesnake received unprecedented requests for this performance to be made available to the general public.
MADE IN JAPAN contains songs from Whitesnake's most recent studio album, FOREVERMORE, as well as classic hits such as "Is This Love," "Still Of The Night" and "Here I Go Again." The bonus CD also includes never-before-heard outtakes and acoustic versions of material from the award-winning FOREVERMORE album that were recorded during soundchecks on the 2011 Japanese tour. --- heavymetaladdiction.com
Dawni i nowi fani zespołu czekali na to od dawna! Album zawiera rejestrację występu legendy rocka na festiwalu "Loud Park", który odbył się 15 października 2011r. w Saitama Super Arena w Japonii. Koncert był częścią światowej trasy "Forevermore" promującej wydany w 2011r. album pod tym samym tytułem. Już same pochodzące z niego utwory godne są najwyższej uwagi, a przecież w programie nie zabrakło takich hitów jak "Is This Love", "Still of The Night" i "Here I Go Again". Zespół pojawił się na scenie w składzie David Coverdale, Doug Aldrich, Reb Beach, Michael Devin, Brian Tichy i gościnnie Brian Ruedy.
Na dodatkowym CD zamieszczono niepublikowane nigdy dotąd wersje utworów zarejestrowane podczas prób dźwięku przed koncertami w Japonii. --- rockserwis.pl
download (mp3 @320 kbs):
Last Updated (Tuesday, 02 April 2019 19:54)