Nightwish – Walking In The Air – The Greatest Ballads (2011)
Nightwish – Walking In The Air: The Greatest Ballads (2011)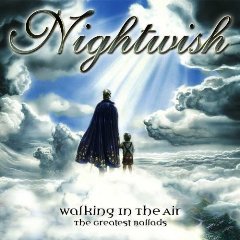 01. Walking in the Air (Theme from ''The Snowman'') 
02. Angels Fall First 
03. Sleepwalker 		play
04. Sleeping Sun 
05. Dead Boy's Poem 
06. Deep Silent Complete 
07. Feel for You 
08. The Phantom of the Opera 
09. Ocean Soul 
10. Lagoon 
11. Swanheart 
12. Two for Tragedy 		play
13. A Return to the Sea 
14. Away 
15. Forever Tours

- Tarja Turunen - vocals
- Tuomas Holopainen - keyboards
- Emppu Vuorinen - guitars
- Sami Vänskä; Marco Hietala - bass
- Jukka Nevalainen - drums

I almost feel ashamed of being so positively surprised by this compilation, or the band in general. NIGHTWISH is a hugely popular Finnish Prog Metal band, led by keyboardist-composer Tuomas Holopainen (now current for his concept album "The Life and Times of Scrooge") and employing already a third female vocalist. The notoriously sacked original soprano Tarja Turunen is now doing a solo career. The 15 songs on this CD are all done with Tarja, representing the albums Angels Fall First (1997), Oceanborn (1998), Wishmaster (2000) and Century Child (2002) by 2-4 songs each, plus a couple of smaller releases.
So, why ashamed? And why it took so long before I had a closer look at this band (long time ago I had borrowed their album, no idea which one, without getting interested)? Partly it's about prejudices for both the Metal genre and the popularity. You know, "Not my thing!" But perhaps a compilation of ballads was needed; two days ago I borrowed also Once (2004) of which I enjoy a few tracks while the more metallic tracks left me cold, as expected.
I bet many of these songs have been heavily played on radio - mostly on channels that I don't listen to - such as the title track originating from the Snowman animation, 'Sleeping Sun', one of their earliest and biggest hits, and... Actually, apart from these two, all were new songs to me. There may be a tiny element of kitch around here and there, but I do like this music. Of the terms ballad and Metal, the former is perhaps more defining for this selection, and I admit I have always liked a certain type of Hard Rock / Heavy ballad (by Scorpions, Deep Purple, Black Sabbath, etc), so after all it comes as no big surprise that I have some pleasure out of this compilation. Tarja is a gorgeous vocalist, and the band sound is fine. The Metal element is present but it's not stubbornly dominant, as it could be in the drumming for example.
A good, VERY good set of excellently produced melodic and symphonically flavoured Metal ballads. No more, no less. ---Matti, progarchives.com
Nightwish – fińska grupa muzyczna założona w 1996. Ich muzyka składa się z połączenia ostrych gitarowych riffów, wyraźnego dźwięku klawiszy oraz kobiecego, operowego głosu Tarji Turunen (pięć pierwszych albumów) a następnie Anette Olzon. Muzykę graną przez zespół definiuje się jako połączenie metalu symfonicznego, power metalu oraz (za czasów współpracy z Tarją Turunen) opery. Grupę cechują poetyckie teksty utworów nawiązujące m.in. do świata astralnego i fantasy, w większości napisane przez instrumentalistę zespołu – Tuomasa Holopainena. Nazwa Nightwish wzięła się od tytułu jednej z piosenek wydanych na pierwszym demo zespołu. Mówi się też, że wymyślił ją Tuomas równo o północy, podczas ogniska z przyjaciółmi. W roku 2000 zespół wystartował w preselekcjach do Konkurs Piosenki Eurowizji z utworem Sleepwalker. Zajęli trzecie miejsce i nie pojechali na finał, mimo iż w głosowaniu publiczności zwyciężyli ogromną przewagą głosów.
download (mp3 @320 kbs):
Last Updated (Sunday, 16 September 2018 08:28)