Machine Head – Unto The Locust (2011)
Machine Head – Unto The Locust (2011)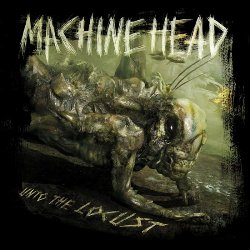 01 – I Am Hell (Sonata in C#)
02 – Be Still and Know
03 – Locust
04 – This Is the End
05 – Darkness Within
06 – Pearls Before the Swine
07 – Who We Are
08 – The Sentinel (Judas Priest Cover)
09 – Witch Hunt (Rush Cover)				play
10 – Darkness Within [acoustic]				play

Personnel:
    Robb Flynn – lead vocals, guitar
    Dave McClain – drums
    Adam Duce – bass, backing vocals
    Phil Demmel – guitar

On Burn My Eyes, Machine Head's 1994 debut album, there featured a song with the not entirely user-friendly title of Real Eyes, Realize, Real Lies. Essentially a two-and-three-quarter-minute guitar riff, the track was rendered intriguing by the fact that its lyrics comprised soundbites recorded from the darker thoroughfares of America's meanest streets: voices of the poor bemoaning police brutality, police radios alerting squad cars to explosions of gang violence, and gangbangers telling reporters why it was they hated other gangbangers who were, for all intents and purposes, identical to themselves. At the time, the song was startling: metal but not as it was known; urban rather than suburban; street and actually rather cool. Who knew?
Without mellowing one single beat-per-minute, a generation on and Machine Head's once-fringe thrash has moved to the centre ground to such a degree that in December the quartet will headline a show at London's Wembley Arena. And while the years between their first album and Unto the Locust haven't linked together entirely seamlessly – the group endured a particularly unconvincing middle-period – the ferocity and precision displayed throughout this release's seven tracks offers proof that, since their inception, Machine Head and others like them have dragged metal's mainstream to them rather than them having made concessions to it. That fare as mean and ugly and unsparing as this can bask in the sunlight is heartening indeed.
Unto the Locust is a quite terrific release, and one which shows that while its creators can thrash as well as any – the forensic This Is the End offers ample evidence of this – this is set is more than a one-dimensional dog and pony show. Tracks such as the subtle (you read that correctly) Darkness Within, and the climactic and contagious, even life-affirming, Who We Are display a band that have learned much about tonality; that, and the plain fact that power is nothing without control. Even so, Unto the Locust isn't likely to be confused with Metallica – it has no crossover appeal. But for metalheads who like their music sharp and executed without recourse to compromise, then this is a contender for genre album of the year. ---Ian Winwood, bbc.co.uk
Najnowszy album amerykańskiego zespołu o statusie młodej legendy thrash metalu, czyli Machine Head, w wielkim stylu kończy kilkuletnią przerwę w prezentowaniu szerszej publiczności studyjnego materiału. Po raz kolejny muzycy pod wodzą charyzmatycznego Roba Flynna udowadniają, że potrafią tworzyć chwytliwą, melodyjną, a do tego ciężką i agresywną muzykę bez jakichkolwiek kompleksów. Po raz trzeci z rzędu pokazują fanom i krytykom, że nie należy ich lekceważyć.
Zanim odezwą się malkontenckie głosy z końca sali, punktując, że "Unto The Locust" składa się tylko z siedmiu kompozycji, dodam, że te siedem utworów wypełnia prawie pięćdziesiąt minut. Z tym nie można polemizować. Ponadto kawałki są zróżnicowane, pełne niespodzianek, jak chociażby obecność dziecięcego chóru, kończącego muzyczną całość z ostatnimi dźwiękami płyty. Wydaje się to kompletnie nie przystawać do reszty, ale o dziwo - wypada poprawnie. Co prawda, podniosła chóralna wstawka rozpoczynająca przygodę z najnowszym wydawnictwem Machine Head wydaje się zwiastować gotycki album w miejsce soczystej porcji amerykańskiego thrashu, ale nic bardziej mylnego. Powoli otwierający się "I Am Hell", służący również jako pierwszy kawałek w tegorocznej setliście koncertowej, wreszcie uderza szybkimi, intensywnymi riffami i świetnie technicznie brzmiącą perkusją. Temu wszystkiemu towarzyszą liczne zmiany tempa, które nie pozwalają słuchaczowi ani na chwilę się znudzić. Rzeczywiście, warto zwrócić uwagę na bębny - ich głębokie brzmienie wydaje się odpowiednie, a często triggerowana podwójna stopa może się podobać. Od czasu do czasu jest okazja do tego, żeby posłuchać "suchej" gry bębnów, brzmiącej wtedy bardzo mechanicznie. Nie jestem do końca przekonany, czy to zamierzony efekt, ponieważ sam wolę bardziej naturalne brzmienie.
Zdarzają się też momenty irytujące, jak dla przykładu bardzo wysoko zagrane interludium, poprzedzające solo w "I Am Hell". Zaskakuje tam również niemal hardcore'owy breakdown i akustyczna wstawka ze smyczkami. Zaś długa instrumentalna partia kończąca utwór jest akurat bardzo charakterystyczna dla tego zespołu - fani rozbudowanych riffów, wydłużanych i zapętlanych w nieskończoność, będą z pewnością wniebowzięci. Szczęśliwie, nie brak przyjemnych dla ucha momentów. Wyjątkowo zgrabnie wypadają zwłaszcza początkowe dźwięki "Be Still And Know" oraz "Locust".
Ogólnie rzecz ujmując, gitarowe melodie i partie solowe wyraźnie odcinają się od ciężkich, potężnych riffów, dobrze współgrając z perkusyjnymi przebitkami. Rob Flynn miło zaskakuje skalą swojego głosu, wykorzystując go do granic możliwości, od melodyjnego czystego śpiewu przez krzyk w średnim rejestrze aż do growlu - jednak tego ostatniego używa najrzadziej. Utwory takie, jak "Darkness Within" czy "Locust", bez trudu zapadają w pamięć, głównie dzięki solidnemu brzmieniu i długim kilkuminutowym kompozycjom, pełnym, tak jak wspominałem, niespodzianek i zwrotów akcji. Warto zaznaczyć, że stosunkowo częste akustyczne partie wypaczają nieco obraz albumu. Nie jawi się on jako standardowy pocisk przeciwpancerny, bardziej jak nowoczesna rakieta powietrze-powietrze, która poza samym potężnym wybuchem wywołuje jeszcze kilka innych efektów.
Nie jestem zaskoczony całościowym obrazem tej płyty ani sukcesem, który odnosi, biorąc pod uwagę, że "Through The Ashes Of Empires" zapoczątkowała serię udanych wydawnictw zespołu, kontynuowaną przez "The Blackening" i wreszcie "Unto The Locust". Na koniec mam jedna jedyną sugestię: być może nagrywanie kolejnego epickiego i podniosłego albumu nie jest konieczne. Następca tej płyty Machine Head powinien być po prostu kwintesencją umiejętności zespołu, bez zbędnych udziwnień. ---Kuba Jaworudzki, metalside.pl
download (mp3 @VBR kbs):
yandex mediafire ulozto cloudmailru gett
Last Updated (Sunday, 24 June 2018 20:35)