T.Rex – T.Rex (1970/2004)
T.Rex – T.Rex (1970/2004)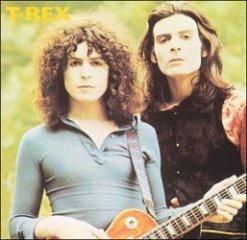 01. The Children Of Rarn – 0:52
02. Jewel – 2:46
03. The Visit – 1:54
04. Childe – 1:36
05. The Time Of Love Is Now – 2:41
06. Diamond Meadows – 1:58
07. Root Of Star – 2:31
08. Beltane Walk – 2:25
09. Is It Love? – 2:33
10. One Inch Rock – 2:25							play
11. Summer Deep – 1:42
12. Seagull Woman – 2:18
13. Suneye – 2:04
14. The Wizard – 8:50
15. The Children Of Rarn (Reprise) – 0:35
Bonuses:
16. Ride A White Swan (Single 'A' Side) - 2:28		play
17. Summertime Blues (Single 'B' Side) - 2:41
18. Poem - 0:33
19. The Visit (Take 4) - 1:56
20. Diamond Meadows (Take 6) - 1:55
21. One Inch Rock - 2:25
22. Seagull Woman - 2:19
23. The Wizard - 8:32
24. The Children Of Rarn - 0:40

- Marc Bolan - vocals, guitar, bass, organ
- Mickey Finn - bass, drums, pixiephone, vocals
+
- Tony Visconti - piano, string arrangements
- Howard Kaylan - background vocals
- Mark Volman - background vocals

This magical album for Marc Bolan and his newly christened band T. Rex is a wonderful timepiece from the 1970's. It is the perfect mix of Bolan's fanciful imagination, his lyrical poetry, and producer Tony Visconti's string arrangements. It would be the album that launched the T. Rex craze in Britain for the next three years.
The "T. Rex" album marked the transition from Bolan's gentle Tolkien inspired Tyrannosaurus Rex acoustic days to the Electric Warrior, the king of fashion conscious, mascara heavy Glam Rock. Many early fans were quite disappointed with the change, as their homegrown favorite had now become the darling of the teenage set. The single "Ride a White Swan" from this time (that should be included on this CD) paved the way for the T. Rex hit machine, and was a staple in Bolan's live set until his all-too-early death in 1977. It was a huge hit in the UK and has been covered numerous times since Bolan's death.
The album opens with the short intro "The Children Of Rarn," Bolan's own piece of mythology that bridges the divide between Tyrannosaurus Rex to T. Rex beautifully. Interestingly enough, Marc had created a whole 20 minute piece around this track ("The Children of Rarn Suite") that didn't see the light of day until Tony Visconti released a version back in 1978. It could have been a wonderful concept piece. The songs that follow on the album are simply beautiful works of poetry set to music. Highlights are "Jewel," "The Visit," "Summer Deep," and "Diamond Meadows" (most recently heard in the movie "Velvet Goldmine").
While each T. Rex album is near and dear to my heart, this probably isn't the best place to start if you're interested in Marc Bolan and his band. The album of choice for a starting point would be "Electric Warrior," followed by "The Slider," then this album. Once you're under Bolan's spell, you're hooked! ---James Choma, amazon.com
For years, Marc Bolan's legacy was inextricably linked with glam: boogie-rock riffs, colossal platforms, eyeliner, feather boas, and that goddamned top hat. After his death, in 1977, at just 29 years of age, Bolan was assured of the status of rock'n'roll saint; forever immortal, not growing old and (more) embarrassing. And, for the next generation of glam-rockers, hair-metal acts, and Brit-pop botherers, his specter loomed eternal: "Get it On" the kind of rock-staple anthem that influenced millions of bedroom superstars and garage-band gods.
But history is anything but a locked vault, and, in the 2000s, a funny thing happened. As hair-metal and swaggering hard-rock receded into middle-age, and Axl Rose —Bolan's wealthiest acolyte— labored away, comically, at one multi-multi-million-dollar albatross, Bolan began to influence a new generation in ways that would've once been unexpected.
Bolan's first four albums —1968's My People Were Fair and Had Sky in Their Hair... But Now They're Content to Wear Stars on Their Brows, 1968's Prophets, Seers & Sages: The Angels of the Ages, 1969's Unicorn, and 1970's A Beard of Stars— weren't released as T.Rex, the band Bolan fronted in his era of ridiculous celebrity, but as Tyrannosaurus Rex. And Bolan wasn't some swaggering, cocksure rock-god wielding his phallic axe wildly, but an earnest hippy babbling Tolkienian poetry, pushing a platform of vegetarianism and Eastern mysticism, and strumming a beaten-up acoustic guitar. --- Anthony Carew, About.com Guide
download (mp3 @320 kbs):
yandex mediafire ulozto gett bayfiles
Last Updated (Tuesday, 29 January 2019 17:21)