Wishbone Ash - Coat Of Arms (2020)
Wishbone Ash - Coat Of Arms (2020)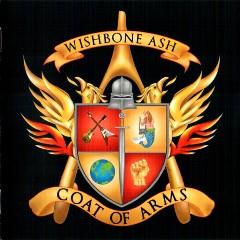 1. We Stand As One (4:15)
2. Coat of Arms (7:55)
3. Empty Man (5:16)
4. Floreana (5:14)
5. Drive (4:55)
6. It's Only You I See (7:35)
7. Too Cool for AC (4:51)
8. Back in the Day (4:46)
9. Deja Vu (4:07)
10. When the Love Is Shared (4:21)
11. Personal Halloween (5:37)

Bass – Bob Skeat
Drums – Joe Crabtree
Guitar – Mark Abrahams
Guitar, Mandolin, Vocals, Backing Vocals – Andy Powell 
+
Alto Saxophone – Tom Greenwood
Baritone Saxophone, Tenor Saxophone – Pete FraserPercussion
Trombone – Carol Jarvis
Trumpet – Hugh Davis
Mellotron – Tom Greenwood

Today, the musical world witnesses the rebirth of many legendary Rock bands from the past, names that are important to the genre's history, even when the readers could not know them. And WISHBONE ASH's name could not be as notorious as LED ZEPELLIN, THE WHO, BEATLES or ROLLING STONES, but the band's importance to Hard Rock and Heavy Metal can't be explained by simple words. And the quartet is back for another round, with their latest release, "Coat of Arms".
Their musical work can be described as a Hard Rock/Classic Rock with a Bluesy touch and fine harmonies. But this band is famous and notorious for the extensive use of harmony twin lead guitars, their inheritance for names as THIN LIZZY, JUDAS PRIEST and IRON MAIDEN (yes, they're true pioneers of such thing into Hard Rock), and it's amazing how their music pulses with life and energy, and even when brought to the present, it sounds fresh and new. It seems that "Coat of Arms" isn't a type of 'retired musician's album', but a great release, an album that shows that the band is ready for fight, and for higher flights.
The sound quality of "Coat of Arms" is really amazing. It sounds modern, clean and with everything defined, but there's a feeling of a 'rehearsal-like' recording, something organic, filling the songs. It can be said that the band had chosen simple instrumental tunes for the recording sessions, and it's the WISHBONE ASH DNA as well,
On the album, there are 11 inspired songs, all of them bringing an excellent, but the heavy and melodic "We Stand as One" (the excellent guitar duets create great melodies, and the weight is amazing), the Bluesy/Southern Rock touch on the harmonies of "Coat of Arms" and "Empty Man" (very good vocals on both songs, and it's amazing to hear Andy singing in such way after all these years), the tender and deeper melodic insight of "Floreana", the easy and funny approach used on the harmonies of "Too Cool for AC" (a good Country Rock touch, and a solid work from bass guitar and drums), the pure Rock 'n' Roll song "Back in the Day", and the 70's feeling that fills "When the Love is Shared" are the best ones.
Of course, "Coat of Arms" can't be said as a classic of the band, but WISHBONE ASH made an album that is filled with their best classic features. And listen to it as loud as you can! ---Metal Mark, metal-temple.com
W październiku 2019 roku zespół Wishbone Ash skończył 50 lat. Pod koniec bieżącego roku minie pół wieku od premiery pierwszej płyty tej formacji. Robi wrażenie? Musi! Być może kwartet ten nigdy nie wszedł do rockowej ekstraklasy, jeśli weźmiemy pod uwagę tylko popularność wśród fanów rocka, ale przecież to właśnie Wishbone Ash, obok Lynyrd Skynyrd i Allmanów, można uznać za pionierów rocka z wykorzystaniem dwóch gitar prowadzących. Przy czym z tej trójki to właśnie WA najodważniej szli w muzykę progresywną, nagrywając zresztą jeden z najgenialniejszych albumów w tym gatunku – płytę Argus. I choć dla wielu liczą się tylko pierwsze cztery albumy, nagrane przez oryginalny skład Turner-Powell-Turner-Upton, grupa wciąż wydaje nową muzykę w swoich kolejnych wcieleniach. Od lat ostatnim łącznikiem z tym oryginalnym Wishbone Ash jest gitarzysta i wokalista Andy Powell. Jego obecni pomocnicy dołączali do zespołu co dziesięć lat – basista Bob Skeat w 1997, perkusista Joe Crabtree w 2007, a drugi gitarzysta Mark Abrahams w 2017 roku. Dla tego ostatniego Coat of Arms – 23. płyta studyjna Wishbone Ash – to debiut studyjny w szeregach formacji. I trzeba przyznać, że tego wydawnictwa nikt wstydzić się nie musi.
Na pierwszy singiel wybrano otwierające płytę nagranie We Stand As One i chyba był to wybór całkiem niezły, bo to absolutnie jeden z najbardziej chwytliwych numerów w zestawie, a przy tym brzmiący tak, że fani starego, klasycznego Wishbone Ash z pewnością nie doznają wielkiego szoku. To udane wprowadzenie do tego albumu. W sumie na nowej płycie formacji znajdziemy 11 kompozycji i na pewno nie wszystkie się wyróżniają czy natychmiast wpadają w ucho. Ale o kilku z nich z pewnością warto wspomnieć. Kompozycja tytułowa to najdłuższy utwór na płycie, klasyczny numer Wishbone Ash z brzmieniem nie do pomylenia z jakimkolwiek innym zespołem, choć to przecież zaledwie ¼ oryginalnego składu, który odpowiadał za największe klasyki w dorobku grupy. Empty Man ma niemal folkową lekkość i taneczność, zaś w Drive zespół gra tak klasycznie rockowo, że bardziej się nie da. Mamy też trochę fragmentów mniej dynamicznych i intensywnych, jak choćby Deja Vu z niezwykle spokojnym, wysmakowanym początkiem, w którym pojawia się melodia niczym z kilkusetletniego, dostojnego tańca prezentowanego na dawnych dworach wśród wyższych sfer. Muszę też wspomnieć o drugiej ze zdecydowanie najdłuższych kompozycji na krążku, It's Only You I See. Dobrze, że jest tu też coś takiego, w zupełnie innym stylu, klimatycznego, spokojnego, subtelnego. Kiedy wchodzi gitarowy przerywnik, wiadomo już, że to muszą być oni. I potwierdza się po raz kolejny, że ten zespół najlepiej sprawdza się właśnie w długich numerach, bo to dwa najdłuższe kawałki na albumie są moimi ulubionymi. I zaczynam żałować, że ta płyta nie składa się po prostu wyłącznie z 6-7 tego typu kompozycji o podobnej długości, rozwijających się tak udanie jak te dwie.
Coat of Arms to płyta, która nie pozostawia żadnych wątpliwości, kto ją nagrał. Z zespołami o takim stażu często jest tak, że nagrywają w kolejnych składach nowe płyty, które nierzadko są świetne, ale zazwyczaj nie brzmią jak te najbardziej znane krążki tych zespołów. Tu dobrym przykładem jest Uriah Heep, które przeżywa trzecią albo czwartą młodość, ale bądźmy szczerzy – ich nowe albumy to jest muzycznie jednak nieco inna bajka niż płyty nagrane z Byronem i z pewnością nie dałoby rady wziąć ich ostatnich krążków za coś nagranego w latach 70. Tu przynajmniej w przypadku kilku kompozycji spokojnie moglibyśmy pomylić się i założyć, że są to utwory z płyty Wishbone Ash właśnie ze wspomnianej dekady. I wcale nie jest to zarzut pod adresem grupy. Tu nie ma eksperymentów, ale wcale ich nie oczekiwałem. Ten zespół eksperymentował w swojej przeszłości sporo razy i czasami nie wychodziło to zbyt dobrze. Pewnie niektórzy fani do dziś wzdrygają się na myśl o płytach z muzyką elektroniczną. Największym minusem tej płyty jest dla mnie jej długość. Wiem, że zespół dawno nie wydawał nowej muzyki, ale mam wrażenie, że stare dobre trzy kwadranse w zupełności by wystarczyły. To nie znaczy, że są tu jakieś ewidentne wpadki, ale myślę, że bez takich utworów jak Floreana, Personal Halloween czy When the Love Is Shared (niezłe, ale chyba nie wykorzystuje potencjału na coś jeszcze lepszego) spokojnie byśmy przeżyli. Poważniejszych zarzutów jednak brak. ---Bizon, muzycznyzbawicielswiata.blogspot.com
download (mp3 @320 kbs):
yandex mediafire ulozto gett bayfiles