Naglfar – Teras (2012)
Naglfar – Teras (2012)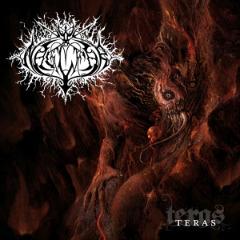 01 – Teras
02 – Pale Horse		play
03 – III Death Dimension Phantasma		play
04 – The Monolith
05 – An Extension of His Arm and Will
06 – Bring Out Your Dead
07 – Come Perdition
08 – Invoc(H)ate
09 – The Dying Flame of Existence
10 - Tired Bones

Kristoffer "Wrath" Olivius – vocals 
Andreas Nilsson – guitars 
Marcus "Vargher" Norman – bass, guitar, keyboards 

Naglfar are a Swedish black metal band who have been active since 1992. Téras is their sixth studio album and their first in five years. The band draws their name from that of a ship that figures in Norse mythology, a ship made of the nails of the dead that will carry the hordes that will do battle with the gods during Ragnarok. As might be expected, Naglfar draw a great deal of their influences from the Poetic Edda and Prose Edda, major sources of Norse mythology originally penned in the 13th century.
In terms of sheer misanthropic venom, Téras is somewhat toned down from their previous releases, especially Pariah. While the record still contains plenty of acidic, abrasive black metal elements, including the harsh buzzing tones and Kristoffer "Wrath" Olivius' boiling-in-pitch vocals. But there is a catchiness to this album, a cruel mercy that infuses it, giving their melodic black metal a slightly hookier edge.
Naglfar have lost very few sharp edges to gain a great deal of balance, and with it, a broader appeal. The hammering blast beats and acid-scoured riffs are set atop a more solid and well-defined melodic backbone. This solid structural base combined with Naglfar's extremely skillful execution make this album a stand-out success.
Dirk Verbueren is listed as a session drummer for the album, and is most closely associated with Soilwork as their permanent drummer. He has also served as a session drummer for a number of bands, including Aborted, and was also recently recorded on Devin Townsend's Deconstruction. He brings a hammer-and-tongs intensity to the forge of Naglfar's percussion, lending the album its forward drive.
"Monolith" is towering and grandiose, slowing to nearly a dirge as it lumbers forward with a grim stateliness. "Bring Out Your Dead" sweeps back a forth, tossing the listener around with the mercilessness of a storm at sea, then reeling them back in with a fantastically hooky chorus. "Invoc(H)ate" is probably closest to their earlier work in terms of the sheer, unmitigated venom, but even this track comes across as more polished, more carefully cut and set.
Some fans may be disappointed by Naglfar's new-found slickness, but ultimately I think it serves their sound and they have put together a solid, strong, cohesive effort with Téras. --- heavymetal.about.com
download (mp3 @320 kbs):
Last Updated (Saturday, 25 August 2018 19:43)