Jeff Scott Soto ‎– Retribution (2017)
Jeff Scott Soto ‎– Retribution (2017)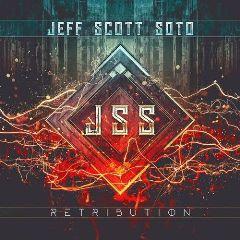 1 	Retribution 	
2 	Inside/Outside 	
3 	Rage Of The Year 	
4 	Reign Again 	
5 	Feels Like Forever 	
6 	Last Time 	
7 	Bullet For My Baby 	
8 	Song For Joey 	
9 	Breakout 	
10 	Feel Like Forever (Acoustic Version) 	
11 	Dedicate To You 	
12 	Autumn 

Jeff Scott Soto – Vocals, Keyboards
Howie Simon – Guitar & Bass (except on "Reign Again" and "Song For Joey")
Edu Cominato – Drums
August Zadra – Guitar on "Reign Again"
Stephen Sturm – Guitar on "Reign Again"
Carlos Costa – Bass on "Reign Again"
Paul Mendonca – Guitar, Keyboards & Bass on "Song For Joey"

Some musicians, as time passes by, become legendary names in the Metal/Rock scene, and when you see/hear their names, you come to think that a new work from them is something that you must hear at any cost. To all those who know the name of Jeff Scott Soto have in mind that he is one of the finest singers in the scene since he appeared in the 80s. Like Midas, his touch makes every album sound precious as gold. His new solo album, "Retribution", is a proof of my words.
Musically, "Retribution" musical style is that we are used to hear from Jeff: that eclectic form of Hard Rock with tons of musical weight and with that aesthetics from the 80s. Obviously, you can feel a modern feeling permeating all the songs, but it's just a mark of all Jeff's musical works: he never dwells in the past, and always search for the best. On "Retribution", you'll find a great work, because he is a great creative moment.
Produced by Jeff Scott Soto and Howie Simon, "Retribution" has a very good sound quality. It's clear as it must be, but always with that heavy and modern aesthetics that hooks us all to the album. All the tunes from the musical instruments are excellent, and although Jeff's voice is the core of the work, all is sounding great and fine.
"Retribution" is really an excellent album, showing wonderful songs. The modern and heavy vibe from "Retribution" (excellent work from bass guitar and drums), the accessible Hard Rock feeling from "Inside/Outside" (excellent chorus and guitars), the abrasive and strong weight of "Rage of the Year", the funky/bluesy essence of the tender melodies of "Reign Again", the introspective melodic lines of the ballad "Feels Like Forever" (where the versatility of Jeff's voice can be heard fully), the eclecticism heard on the harmonies of "Bullet for My Baby", the charming tempos and riffs of "Breakout" and "Dedicate to You" can be pointed as the album's finest moments. On the Japanese version, a special bonus: the acoustic version for "Feels Like Forever", as beautiful and strong as the electric version.
Jeff's music is like wine: it tastes better the older it gets, so listen to "Retribution" time and time again, because it is an addiction! ---Marcos "Big Daddy" Garcia, metal-temple.com
Jeff Scott Soto is a busy man these days. Not only that he enriched the excellent Sons Of Apollo album with his brilliant voice, he also recorded a new solo album entitled "Retribution".
We don't need to beat around the bush; Jeff Scott Soto belongs to the best singers in today's rock world. His voice has a unique timbre and a lot of feel. It was guitar wizard Yngwie Malmsteen who immediately recognized Soto's talent, hiring the singer for his first two solo records. With such a superb start Soto was involved in Talisman, the Trans-Siberian Orchestra, and some more, always also keeping an eye on his solo career.
"Retribution" is already the sixth record with his name being on the front cover. As not expected different also this longplayer comes with powerful songs, sometimes more metallic and mostly terrific hardrock.
The singer has an excellent feeling for great melodies that he weaves into each of the eleven new tracks. Never becoming too trivial and soft Soto manages to combine a down to earth approach with catchy melodies that easily find their way into your mind.
Numbers such as "Rage of the Year" and "Breakout" really create a wow-effect, including the risk of getting addicted to them. I mentioned the feel that comes with Soto's voice and there is no better song than the soulful "Feel Like Forever" transporting emotions right into your heart.
Of you're a fan of warm and heavy rock music there's no way to skirt around "Retribution". Jeff Scott Soto's new longplayer fires on all cylinders and belongs to best hardrock releases this year. ---markusheavymusicblog.com
download (mp3 @320 kbs):