The Black Keys - John Peel Show 2003-05-07
The Black Keys - John Peel Show 2003-05-07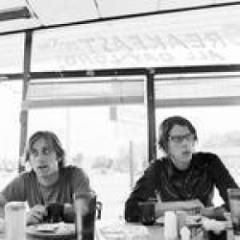 Plus System - 'Na Na Na (12")' (EvolutionPlus)
    Luciano - 'Love and Devotion (7")' (PowPow)
    The Cranebuilders - 'You Can't Get at Her (EP- Just Idleness)' (Ten People Tall)
    The Black Keys - 'Set You Free' (Peel Session)
    The Soul Lifters - 'Hot, Funky and Sweaty (7")' (Funk45)
    Glenn Phillips - 'Angel Sparks (LP- Angel Sparks)' (Gaff Music)
    Henry Fiat's Open Sore - 'Wanted: Petite Female Born 1972 (EP- Patmos Or Bust)' (Wrench)
    Jindri - 'Jatt Hanio (LP- Jindri)' (Kizmet)
    Of Arrowe Hill - 'Grandmother's Steps (LP- The Spring Hill Penny Dreadful & Other Tales of Morbid Curiosity)' (Must...Destroy)
    Agent Cooper - 'EVA 01 (LP- We Are)' (UnGleich)
    The Black Keys - 'Hard Row ' (Peel Session)
    Carroll Gibbons - 'I'm Stepping Out With A Memory Tonight' (Columbia) - Pig's Big 78
    Smylyssina - 'We Can Fake It (LP- We Can Fix It Remixes)' (Vertical Form)
    Gary Numan - 'Hybrid (LP- Hybrid)' (Jagged Halo)
    Caruso - 'Anna's Dream (EP- You Heard Me)' (Pickled Egg)
    Black, Rock n Ron - 'That's How I'm Living (12")' (Next Plateau)
    The Crimea - 'White Russian Galaxy' (Double Dragon)
    The Black Keys - 'No Trust' (Peel Session)
    Cowcube - 'Sprite'
    Stakka - 'Metalaw (EP- Clockwork)' (Underfire)
    Calamateur - 'Bad Day (EP- Autocity)' (Timshel)
    Beenie Man - 'Bring it On (7")' (South Rakkas Crew)
    The Gay - 'Fishin' Jim (7")' (Mint)
    Laura Cantrell - 'Queen of the Coast (LP- Not The Tremblin' Kind)' (Spit )
    The Black Keys - 'The Moan' (Peel Session)
    Appliance - 'Fruits of the Sea (LP- Are You Earthed?)' (Mute)
    Spectre - 'Brain Damage (LP- Combat Dub)' (Bangarang)

The Black Keys are an American rock duo consisting of vocalist/guitarist Dan Auerbach and drummer/producer Patrick Carney. The band was formed in Akron, Ohio, in 2001. As of October 2011, the band has sold over 2 million albums in the U.S.A.
Peel was an early supporter of the Black Keys, playing their first three albums often during the last two years of his shows. In 2003, the band recorded two sessions, including one from Peel Acres, and also performed a live set in Brighton that was broadcast on the show. Introducing them at the event, JP recalled their earlier visit to his home: "They seemed we thought a little reserved, you know. But afterwards, when they'd finished and we'd finished and the wine started flowing, we got into one of those things – that kind of, 'Hey, but have you heard the b-side?', that kind of stuff, and 'Oh, there's a track on the LP' – and frankly we wished they'd stayed all week."
On his 24 December 2003 show, after playing their debut Festive Fifty entry, Peel mentioned that he had sent the band Christmas cards. The following year, the Black Keys were traveling to record a further Peel session when they heard of the DJ's death.
During the band's set on the John Peel Stage at the 2010 Glastonbury Festival, Auerbach paid tribute to the DJ, telling the crowd: We never had anybody like John Peel in the States. You people are really lucky.
download (mp3 @128 kbs):
yandex mediafire uloz.to mega 4shared cloudmailru gett
Last Updated (Friday, 10 November 2017 15:25)