Kevin Bowe And The Okemah Prophets - Natchez Trace (2012)
Kevin Bowe And The Okemah Prophets - Natchez Trace (2012)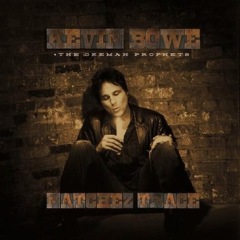 01. Fallen Satellites (2:56)
02. Long Goodbye (3:16)
03. In Too Deep (3:31)
04. Power Trip (2:45)
05. Never Don't Stay (2:59)
06. Everybody Lies (2:58)
07. Haven't You Heard (3:50)
08. Waitin' For The Wheel (3:15)
09. My Favorite Pain (4:21)
10. Just Restless (3:43)
11. I Found Out (3:38)
12. LA Dogs (3:42)
13. Devil's Garden (3:33)
14. Gutters Of Paradise (3:24)
15. Nature's Way (2:39)
16. Every Little Bit Hurts (4:23)
17. I Found Out (Pg Mix) (3:37)

Backing Vocals – Cynthia Johnson (tracks: 10)
Bass – Steve Price
Drums – Peter Anderson
Guitar – Kevin Bowe
Vocals – Kevin Bowe

In 1999, Minneapolis, Minn., singer/songwriter Kevin Bowe and his band the Okemah Prophets released the compelling Americana album Restoration. At the time, a lot of roots rock fans thought Restoration was the beginning of something that would end up seeing Bowe at the forefront of the Americana music scene.
As Bowe would tell you himself, however, when it came to advancing his own career, he was his own worst enemy. That's because he was having too much success writing songs for artists like Jonny Lang, Kenny Wayne Shepherd, Shannon Curfman and others – including several songs he wrote for Etta James that were included on James' Grammy award-winning album, Let's Roll. And even though Bowe released a couple of good follow-up albums (one studio and one live recording) some of the better material included songs he'd written for other people. And it was obvious to fans that neither album had all of Bowe's undivided attention. He was just too busy – and too happy – with his songwriting career.
Sometime around 2007, Bowe decided he once again needed to create an album for himself. That idea came to full fruition with the release of his masterful new album Natchez Trace on Bowe's own Okemah record label on June 8, 2012. Natchez Trace is personal, reflective, and doesn't include any tracks Bowe has written for other artists.
To help make Natchez Trace happen, Bowe reached out to many of his industry connections. "Fallen Satellites" sets the tone and features longtime collaborator Alison Scott on harmony vocals. The sad and beautiful "Long Goodbye" includes Johnny Solomon and Molly Moore (Communist Daughter) on backing vocals, and his wife, Ruth, on piano. On "Never Don't Stay," a song Bowe wrote for his wife, he gets a little help from Phil Solem (Rembrandts) on backing vocals.
But Bowe's connections reach well beyond the Minnesota Borders. "In Too Deep" is underscored by the haunting and cool sounds of Bob Dylan's violinist, Scarlet Rivera. "Everybody Lies" is a rocker co-written by Paul Westerberg (The Replacements) and features Nels Cline (Wilco) on guitar. Bowe sings, "I really dig your record man, I play it all the time." That, of course, plays right into the title, "Everybody Lies."
The slightly odd but incredibly catchy 80's-styled rocker "Power Trip" is the only song here where Bowe provides all the vocals and instrumentation himself.
Of course, Natchez Trace is more about displaying Bowe's songwriting skills across a wide-range of musical styles than it is about showing off his music industry connections. "Haven't You Heard" has a rootsy sound that fans of Restoration will no doubt find familiar. "Waitin' for the Wheel" is an up-tempo country number that is so good and sounds so familiar you're sure it's a cover. It also features Andy Dee on lap steel and Chuck Prophet on lead guitar.
"My Favorite Pain" is simply one of the best songs of 2012 and is sure to give you goosebumps. Once again, Dee is on lap steel but this time is joined by John Ely on pedal steel. Bowe sings, "It started off slowly. In the back of my mind." From there, the song builds into a gripping alt-country number. In a first for Bowe, the tune even features him whistling the melody near the end of the song.
"Just Restless" is a roots rocker co-written by Duane Jarvis and John Brannen and showcases Bruce McCabe (Hoopsnakes, Jonny Lang) on piano. After a rare, excellent, and explicit version of John Lennon's rocker "I Found Out," Bowe plays what he calls the "LA Suite." The trio of songs – "LA Dogs," "Devil's Garden" and "Gutters of Paradise" – each display some of the best songwriting here and harken back to the early days of Bowe's solo career. You can find singer/songwriter Freedy Johnston on harmony vocals on each of the three tunes. Bowe also gets a little help from Chris and Curt Kirkwood (Meat Puppets) on "Devil's Garden."
After a second cover, Spirit's "Nature's Way," Bowe closes the long list original songs with one of his best, the intimate country tune "Every Little Bit Hurts" before ending with a "clean" reprise of "I Found Out."
Bowe doesn't care what anyone else thinks about Natchez Trace; he wrote it for himself and nobody else. Ironically, however, whether he likes it or not, Natchez Trace will no doubt continue to feed Bowe more business as a songwriter. That's because he has successfully created set of excellent songs that display his vast music industry connections and, more importantly, once again demonstrate his songwriting skills in genres ranging from rock to folk to blues to country. --- Karl Leslie, nodepression.com
download (mp3 @VBR kbs):
Last Updated (Monday, 28 May 2018 08:06)