Paul Gilbert – Vibrato (2012)
Paul Gilbert – Vibrato (2012)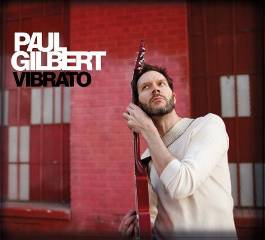 01. Enemies (In Jail)
02. Rain And Thunder And Lightning
03. Vibrato
04. Put It On The Char
05. Bivalve Blues
06. Blue Rondo a la Turk
07. Atmosphere On The Moon
08. The Pronghorn
09. Roundabout
10. I Want To Be Loved
11. Go Down

Personnel
    Paul Gilbert – songwriting, guitar, production, vocals
    Jeff Bowders – drums
    Emi Gilbert – keyboards, vocals
    Thomas Lang – drums
    Kelly Lemieux – bass
    Craig Martini – bass, vocals
    Tony Spinner – guitar, vocals

Paul Gilbert spent the best part of 2011 patiently waiting his turn, sharing the spotlight with Billy Sheehan, Pat Torpey and Eric Martin in a reformed Mr. Big. It always felt like an awkward compromise, the nominal tracks quickly became makeweights as fervid crowds waited for the next preposterous virtuoso moment or extended individual showcase. Vibrato, Gilbert's 12th solo album, might not bear his former band's influence, but it does see the fleet fingered guitarist getting back to mixing extended instrumentals with actual honest to goodness pop songs: melodies, recurring hooks, the whole shebang – albeit with three minute solos.
"Take a regular note and mould it all around", Gilbert is describing the joy of employing vibrato on the album's titular track, but he could well be stating his own career credo. Famed for taking simple notes and traditional scales and mutating them into unimaginable new strains, Gilbert tragically disappoints on Vibrato. Less muscular and frenzied than 2010's Fuzz Universe, Gilbert appears strapped for mind warping new ideas, and happy to ironically dither. He's still more than capable; album opener "Enemies [In Jail]" manages to turn complex and unashamedly jazzy barrages into background noise for overly knowing jokes and a flippant attitude.
No amount of frightful dexterity can shake Vibrato's nagging feeling of familiarity. "Rain and Thunder and Lightening" is smoothly handled, but its delicate chimes and tightly knotted spirals conform too readily to expectation, while the soulful ooze of "Bivalve Blues" sits aside from Gilbert's relentless noodling. He's ungodly tight, but his playing feels like a detached technical exercise rather than sorrowful exploration of mood. Vibrato is not without its charms. Playfully paced, the album builds to a spritely mid-album high with the instrumental "Blue Rondo a la Turk" – a track that mixes darting samba with slick jazz, before ending with coy Broadway aplomb - think Eric Johnson for the Super Nintendo generation with a splattering of shred thrown in for good measure.
These fleeting highs are met by crashing lows. The populist jibe "Atmosphere On The Moon" takes pot shots at young artists, decrying auto-tune and encouraging artists to do it on their own. This might be a cutting satire and a welcome message, were Gilbert's music not so pedestrian. So many of the young artists he's decrying are bedroom producers manically manipulating sound, and inhumanely stretching the vocal chords to express greater depths of emotion – something desperately lacking on Vibrato. Gilbert could be a great DIY spokesman, someone who shows the value of meticulous study, but here he sounds like a lazy latter-day cynic.
The album ends with a live suite, which starts intriguingly enough with the muscular rumble of "Roundabout", but soon descends with the ironic blues march of "I Want To Be Loved" and a lazy AC/DC cover ("Go Down"). It's a distinctly half arsed and slapped together finale to an underwhelming LP. Gilbert is capable of greater things. There are frustrating glimpses of brilliance on tracks both bad and good ("I Want To Be Loved's" rollicking solo, and "Vibrato's" walking funk), but they're too few and far between. Vibrato should satisfy Gilbert's imbedded fan base, but it's about time he challenged his audience, and more importantly himself, abandoning the safety net of irony. --- David Hayter, guitarplanet.eu
download (mp3 @320 kbs):
Last Updated (Saturday, 20 October 2018 15:51)