The Poodles - Tour De Force (2013)
The Poodles - Tour De Force (2013)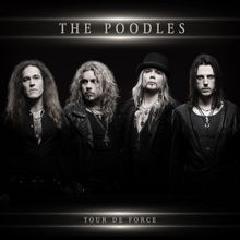 01 – Misery Loves Company
02 – Shut Up!
03 – Happily Ever After
04 – Viva Democracy
05 – Going Down
06 – Leaving the Past to Pass
07 – 40 Days and 40 Nights
08 – Kings & Fools
09 – Miracle
10 – Godspeed
11 – Now Is the Time
12 – Only Just Begun

Musicians:
    Jakob Samuel – Vocals
    Christian Lundqvist – Drums
    Pontus Egberg – Bass
    Henrik Bergqvist – Guitar

THE POODLES is a Glam / Hard Rock band from Stockholm in Sweden. They were formed in the fall of 2005. The debut album "Metal Will Stand Tall" was released in 2006, second effort "Sweet Trade" was released in 2007, third album "Clash of the Elements" in 2009, in 2011 album "Performocracy" and now coming in with the fifth album, "Tour de Force".
I have to share it with you that I was thrilled to review this new album as a fan of the band that has been enjoying the power and the energy of their songs. "En För Alla För En", came as a bonus, took me by surprise that I really liked. It is the official theme song for the Swedish hockey team which will be used when the 2013 World Championships of Ice Hockey visit Stockholm this month. This powerful sing-along result is collaboration between songwriters Anders Wikström (TREAT) and Fredrik Thomander (SCORPIONS, TREAT, GOTTHARD) and THE POODLES. First time I hear the band singing in Swedish. This is amazing lively track and melodic as hell! "40 Days And 40 Nights" is first single of the new album which greatly shows that THE POODLES are still in perfect form, Pop / Rock at its best. "Leaving The Past To Pass" is beautiful ballad, violin & piano with an amazing high climate, choir singing gently as backup. Opener "Misery Loves Company" is another highlight with plenty of power, nice guitars and cheerfulness (though the title), along with fine melodies. "Viva Democracy" is a killer, with low tuned guitars swinging its catchiness all around, love that track with a great build up. Henrik Bergqvist is a master at work, playing tremendous guitar solos and catchy riffs, Jakob Samuel has wonderful strapping voice, force, sensitive, melody and clear. His voice is special no doubt, always easy to recognise that it is Jakob's singing. "Happily Ever After" is another cheery dose groovy bass, sing along for the fans and a peak solo moment.
Worth to listen are also: "Now Is The Time" with much dynamism and easiness, "Godspeed" with fantastic stronger riffs and notable solos, melodic "Only Just Begun" with low tuned guitars, catchy "Miracle" with heavier riffs & following last is "Going Down" with several other crunchier slides of fun.
This album is a work of art with so many catchy melodies, power and the experience dripping right out of it. The engineering done is so good, I could notice every instrument and channel. Fans of matured Glam Metal and Hard Rock with ounces of melodies will wish to apprehend this one fast. --- Katarzyna Zakolska, metal-temple.com
download (mp3 @320 kbs):
yandex mega mediafire ulozto gett
Last Updated (Saturday, 10 November 2018 23:11)