Pretenders - The Best Of - Break Up The Concrete (2009)
Pretenders - The Best Of-Break Up The Concrete (2009)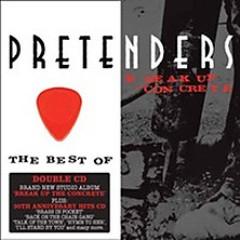 CD 1: The Best of

01. Talk of The Town 
02. Kid 
03. Back on The Chain Gang 
04. Brass in Pocket 
05. Message of Love 
06. Night in My Veins 
07. Don't Get Me Wrong 
08. Middle of The Road 
09. I'll Stand By You 
10. Stop You Sobbing 
11. Hymn to Her 
12. Precious 
13. Thumbelina 
14. Cuban Slide 
15. My City Was Gone 
16. Day After Day 
17. I Go To Sleep 
18. Thin Line Between Love And Hate 
19. Fools Must Die 
20. Up The Neck 
21. Miles 
22. Tattooed Love Boys

CD 2: Break Up the Concrete

01. Boots of Chinese Plastic 
02. The Nothing Maker 
03. Don't Lose Faith In Me
04. Don't Cut Your Hair 
05. Love's A Mystery 
06. The Last Ride 
07. Almost Perfect 
08. You Didn't Have To 
09. Rosalee 
10. Break Up The Concrete 
11. One Thing Never Changed

Musicians:
    Chrissie Hynde – rhythm guitar, vocals
    Jim Keltner – drums, background vocals
    Eric Heywood – pedal steel guitar, background vocals
    James Walbourne – guitar, piano, accordion, background vocals
    Nick Wilkinson – bass guitar, background vocals

Playing with a new Pretenders (on album at least), Chrissie Hynde is in fiery, fiery form on this, the group's ninth album. Released in the US late last year, it marked their return to the Top 40 for the first time in over 20 years. And it is easy to hear why. In many respects, it's as good as their first two albums.
With regular Pretenders James Walbourne on guitar and Nick Wilkinson on bass, Hynde is here augmented by Eric Heywood on pedal steel, and, replacing long serving Martin Chambers for this album only, drum legend Jim Keltner. Session drummer Keltner, who's played with everyone from John Lennon to Steely Dan, adds bite to the record with flawless, earthy playing.
There is no respite here. We are for a 36-minute old-fashioned ride. Classic rockabilly and with touches of Tex-Mex abound, and the Bo Diddley beat is dusted down and showcased.
But this is no hoary self-tribute. Hynde's forever acerbic, poignant and witty lyrics, combined with her unique voice make this sound positively modern. Almost Perfect, with killer lines "a lady who has two black eyes is not the best one to advise, she's already been told twice" and "employed, illegal, you're a whole film by Don Siegal" is a fine example of this.
The no-nonsense rockabilly of opener Boots Of Chinese Plastic, has all the rush of the late 70s power pop coursing through it, with a great chorus ("By the way you look fantastic/in your boots of Chinese plastic"). It is 2:31 of top quality stupidity that sets the tone for the next 10 tracks. The touching You Didn't Have To evokes Kid; Don't Lose Faith In Me, has a soulful, gospel influence.
Taking few chances, Breaking Up The Concrete has been coupled with a 22-track Best Of, making it even more desirable. Shimmering pop like Brass In Pocket or I'll Stand By You need little introduction, but to hear them again is akin to very good friends returning from afar. ---Daryl Easlea, bbc.co.uk
download (mp3 @VBR kbs):
yandex mediafire mega ulozto gett
Last Updated (Monday, 12 November 2018 20:54)