Seventh Key - I Will Survive (2013)
Seventh Key - I Will Survive (2013)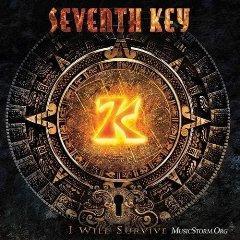 01. I Will Survive (05:58)
02. Lay It On The Line (04:35)
03. I See You There (04:55)
04. It's Just A State Of Mind (03:41)
05. Sea Of Dreams (03:55)
06. Time And Time Again (04:19)
07. When Love Sets You Free (04:22)
08. Down (04:38)
09. The Only One (05:14)
10. What Love's Supposed To Be (04:41)
11. I Want It All (05:11)

Billy Greer  - Bass, Lead Vocals
Mike Slamer - Guitars, Keyboards, Programming
Chet Wynd - Drums
+
David Ragsdale - Violin
Billy Trudel, Terry Brock, Bobby Capps, Barry "The Blade" Johnson - Background vocals
David Manion – Keyboards

A third Seventh Key album is something I thought I might not live to see, it having been nine years since the Raging Fire was released. However the former Streets pair of Billy Greer and ex-City Boy guitarist Mike Slamer have had busy schedules as a full-time member of Kansas one of the go to producers and songwriters in melodic rock.
The album opens in full on progressive manner with the title track with its organ intro and synthesiser solo. The Kansas comparisons are obvious, yet the chorus is straight out of their commercial years with John Elefante. Lay it On the Line continues the musically adventurous theme with a slight bluesy feel reminiscent of latter day Deep Purple, while the acoustic Sea of Dreams is another with a strong Kansas influence.
As usual Slamer's production is crisp, although there are surprisingly few guitar solos, and while the album gets gradually less proggy, there are always interesting twists here and there, with the exception of the rather repetitive Down.
Time and Time Again and When Love Sets You Free are more mainstream straight ahead melodic rock, while The Only One has a Springfield-esque pop rock feel and What Love's Supposed to be is a fine ballad. Finally, the album comes full circle with I Will Return, which is so similar in style and structure to the opener it is almost a variation on a theme.
Through it all the thought also occurs that Billy Greer is criminally underused as a singer in Kansas. A recommended album for fans of something a little bit less instant but with quality running through it. Hope it won't be another nine years for No 4! ---Andy Nathan, getreadytorock.me.uk
download (mp3 @320 kbs):
yandex mediafire mega ulozto gett bayfiles
Last Updated (Wednesday, 09 January 2019 20:02)