One Clueless Friend – From The Sea (2014)
One Clueless Friend – From The Sea (2014)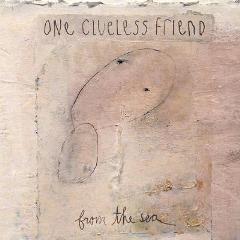 01. Clockwork 04:31
02. From The Sea 04:22
03. Crossing 04:45
04. Dad 03:31
05. Twisted 04:08
06. No Place Like Home 02:26
07. Pristine Eyes 04:25
08. Crimson Moon 06:07
09. Doll 03:55
10. Forrest's Edge 03:55
11. The Bones 02:46
12. China Face 05:14
13. Bird In Flight 04:11
14. Akureyri 04:57

Dick Kwakman (vioce and some other thingies)
Martijn van Waveren (production, bass & the rest)
Martijn de Wit (drums)

Pop rock songs from Nederland.

Volendam is bezig aan een imagoverandering. Waar AlascA en Case Mayfield zich al toonden met kwaliteitsmuziek vanuit het door palingzangers overheerste vissersdorp, is het nu One Clueless Friend die in de voetsporen van deze bands wilt treden. Saillant detail, One Clueless Friend, alias Dick Kwakman, geldt als inspirator voor Case Mayfield. Via King Forward Records komt deze Volendammer met From The Sea. De Engelstalige muziek zwemt tussen stijlen. Waar de americana (bijvoorbeeld 'Dad') overheerst, wordt in 'From The Sea' openlijk geflirt met de reggae en 'Crossing' krijgt een mooie rockmantel van Pink Floyd en Genesis over zich heen. In dat laatst genoemde nummer geeft dit een mooi contrast met de rustige inzet van One Clueless Friend.
One Clueless Friend heeft in From The Sea genoeg momenten waarop het weet te verrassen. De meeste singer/songwriters verdrinken in hun eigen eentonigheid. Dick Kwakman hoeft daar niet voor te vrezen. Waar de gitaar in 'Pristine Eyes' ruimte moet maken voor de piano, is 'China Face' haast Leonard Cohen-achtig.
One Clueless Friend is weer iets waar het dorp aan het IJsselmeer trots op mag zijn. Dick Kwakman heeft met From The Sea een mooie plaat weten te creëren, met liedjes waarmee die het niveau van het dorp ineens omhoog tillen. Mooi. Gewoon mooi. --- whiteroomreviews.nl
download (mp3 @320 kbs):
yandex mediafire mega ulozto gett
Last Updated (Wednesday, 03 October 2018 20:14)