The Rolling Stone Magazines 500 Greatest Songs Of All Time 001-085
The Rolling Stone Magazines 500 Greatest Songs Of All Time 001-085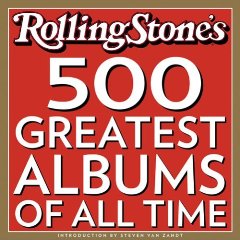 001 - Bob Dylan - Like A Rolling Stone.mp3
002 - Rolling Stones - (I Can't Get No) Satisfaction.mp3
003 - John Lennon - Imagine.mp3
004 - Marvin Gaye - Whats Going On.mp3
005 - Aretha Franklin - Respect.mp3
006 - The Beach Boys - Good Vibrations.mp3
007 - Chuck Berry - Johnny B. Goode.mp3
008 - The Beatles - Hey Jude.mp3
009 - Nirvana - Smells Like Teen Spirit.mp3
010 - Ray Charles - What'd I Say Parts I & Ii.mp3
011 - The Who - My Generation.mp3
012 - Sam Cooke - A Change Is Gonna Come.mp3
013 - The Beatles - Yesterday.mp3
014 - Bob Dylan - Blowin' In The Wind.mp3
015 - Clash - London Calling.mp3
016 - The Beatles - I Want To Hold Your Hand.mp3
017 - Jimi Hendrix - Purple Haze.mp3
018 - Chuck Berry - Maybellene.mp3
019 - Elvis Presley - Hound Dog.mp3
020 - The Beatles - Let It Be.mp3
021 - Bruce Springsteen - Born To Run.mp3
022 - The Ronettes - Be My Baby.mp3
023 - The Beatles - In My Life.mp3
024 - The Impressions - People Get Ready.mp3
025 - The Beach Boys - God Only Knows.mp3
026 - The Beatles - A Day In The Life.mp3
027 - Derek And The Dominos - Layla.mp3
028 - Otis Redding - (Sittin' On) The Dock Of The Bay.mp3
029 - The Beatles - Help.mp3
030 - Johnny Cash - I Walk The Line.mp3
031 - Led Zeppelin - Stairway To Heaven.mp3
032 - Rolling Stones - Sympathy For The Devil.mp3
033 - Ike And Tina Turner - River Deep Mountain High.mp3
034 - Righteous Brothers - You've Lost That Lovin' Feelin'.mp3
035 - The Doors - Light My Fire.mp3
036 - U2 - One.mp3
037 - Bob Marley - No Woman No Cry.mp3
038 - The Rolling Stones - Gimme Shelter.mp3
039 - Buddy Holly And The Crickets - That'll Be The Day.mp3
040 - Martha Reeves And The Vandellas - Dancing In The Streets.mp3
041 - The Band - The Weight.mp3
042 - The Kinks - Waterloo Sunset.mp3
043 - Little Richard - Tutti Frutti.mp3
044 - Ray Charles - Georgia On My Mind.mp3
045 - Elvis Presley - Heartbreak Hotel.mp3
046 - David Bowie - Heroes.mp3
047 - Simon & Garfunkel - Bridge Over Troubled Water.mp3
048 - The Jimi Hendrix Experience - All Along The Watchtower.mp3
049 - The Eagles - Hotel California.mp3
050 - Smokey Robinson & The Miracles - The Tracks Of My Tears.mp3
051 - Grandmaster Flash And The Furious Five - The Message.mp3
052 - Prince - When Doves Cry.mp3
053 - Sex Pistols - Anarchy In The U.K.mp3
054 - Percy Sledge - When A Man Loves A Woman.mp3
055 - The Kingsmen - Louie Louie.mp3
056 - Little Richard - Long Tall Sally.mp3
057 - Procol Harum - A Whiter Shade Of Pale.mp3
058 - Michael Jackson - Billie Jean.mp3
059 - Bob Dylan - The Times They Are A-Changin'.mp3
060 - Al Green - Let's Stay Together.mp3
061 - Jerry Lee Lewis - Whole Lotta Shakinâ´ Goingâ´ On.mp3
062 - Bo Diddley - Bo Diddley.mp3
063 - Buffalo Springfield - For What It's Worth.mp3
064 - The Beatles - She Loves You.mp3
065 - Cream - Sunshine Of Your Love.mp3
066 - Bob Marley And The Wailers - Redemption Song.mp3
067 - Elvis Presley - Jailhouse Rock.mp3
068 - Bob Dylan - Tangled Up In Blue.mp3
069 - Roy Orbison - Crying.mp3
070 - Dionne Warwick - Walk On By.mp3
071 - The Beach Boys - California Girls.mp3
072 - James Brown - Papa's Got A Brand New Bag.mp3
073 - Eddie Cochran - Summertime Blues.mp3
074 - Stevie Wonder - Superstition.mp3
075 - Led Zeppelin - Whole Lotta Love.mp3
076 - The Beatles - Strawberry Fields Forever.mp3
077 - Elvis Presley - Mystery Train.mp3
078 - James Brown - I Got You (I Feel Good).mp3
079 - The Byrds - Mr Tambourine Man.mp3
080 - Marvin Gaye - I Heard It Through The Grapevine.mp3
081 - Fats Domino - Blueberry Hill.mp3
082 - The Kinks - You Really Got Me.mp3
083 - The Beatles - Norwegian Wood (This Bird Has Flown).mp3
084 - The Police - Every Breath You Take.mp3
085 - Patsy Cline - Crazy.mp3

As I was on a ferry several days back, I was looking through their magazine section in the gift shop and stumbled across the Rolling Stone's "500 Greatest Songs of All Time" recent print. At the chance that this list would likely be an interesting, if not controversial one, I decided to purchase the magazine for the $11.99 charge.
The forward in the magazine is written by Jay-Z. Yippee. Not a good start.
I skipped the forward and moved on to the first page of the list. Lo and behold, instead of counting down from #500 all the way to numero uno, they started with number one: Like A Rolling Stone by Bob Dylan. I wasn't really expecting that, considering I expected Rolling Stone would build up the anticipation of getting to the top 10 songs the further you read into the magazine, eventually discovering the greatest song of all time as selected by their panel of "judges". Dun dun dun!! Oh the suspense!
Like A Rolling Stone is an amazing song. If you have not heard it, you should. If you don't like Bob Dylan, listen to one of the covers of the song. It truly is one of the greatest songs of all time, and has been covered by the likes of Jimi Hendrix, the Rolling Stones, and many other bands. It is the epitome of a rock-n-roll tune, written during the birth of rock-n-roll in 1965, and capturing all that was youthful and promising with this new style of music.
The only thing fishy about this song being chosen as the number one song of all time was the title, "Like A Rolling Stone", in relation to the name of the magazine that published this list. I won't spell it out for you, but it is too much of a coincidence to ignore. Perhaps Rolling Stone Magazine was tooting their own horn a little bit, but attempting to do it a little under the radar, like a subliminal message. Choosing 14 Rolling Stone's songs to scatter throughout this list, however, was rather obvious.
Anyway, that's enough with the conspiracy theories. The rest of the list is iffy at best, there are many flaws, in my opinion. The first flaw was omitting Stairway To Heaven from the top 10, even the top 20. One of the most epic rock songs of all time didn't crack this list until #31. Prior to reading this list, I would have placed that song, guaranteed, in the top 10. Clearly, Rolling Stone and their voters had different ideas. Also, another phenomenally epic tune which everybody has head-banged to once in their life is Bohemian Rhapsody by Queen. Another top 20 contender, or so I was foolish enough to think because it failed to even crack the top 100, charting in at #166.
You all remember the song American Pie? The 8-minute tribute to the grandfathers of rock-n-roll, by Don McLean? The song that had so many people wondering and deciphering for decades exactly what all the metaphors and references meant? The song that was covered by the likes of Madonna (very poorly, I might add) and gave Mr. McLean a number one hit on US charts for four weeks straight in 1971? You know, "Bye, bye Miss American Pie"? Yeah, that one! Well, it seems Rolling Stone does not remember this song, for it did not even chart in the top 500. When R. Kelly makes an appearance on this chart for his song Ignition and American Pie does not, I lose most, if not all respect for this "list" and the voters who contributed to it.
Other omissions I felt worthy of charting are Sultans of Swing by Dire Straits, Thunderstruck by AC/DC, ANYTHING from Pearl Jam's Ten album or Smashing Pumpkin's Siamese Dream album, Don't Stop Believing by Journey and of course, this blog's namesake, More Than A Feeling by Boston. None of those songs charted and of all those bands named, only AC/DC had any songs in the top 500.
Because of these omissions, I also feel a little ripped off by Rolling Stone. Again, with Jay-Z having not one, but two songs on this list (Big Pimpin' and 99 Problems), I have a hard time maintaining much respect for the magazine. I suppose it has to cater to the masses of music listeners, and there are people out there who think that Rihanna actually deserves to be at #412 with Umbrella and 50 Cent deserves to be at #448 with In Da Club, but I'm not one of those people. It is the 500 greatest songs of all time, isn't it?
I also feel slighted due to the fact that the Beatles had 23 songs on this list. I know they were amazing and music wouldn't supposedly be where it is today if not for them, yada yada yada, but 23 songs??
C'mon.
If Rolling Stone axed even half of those songs, they could have made room for other artists and/or songs that greatly deserved recognition on this list. I could then tolerate having 12 Beatles songs, but not 23. On a side note, the 23 songs do not include John Lennon or Paul McCartney's post-Beatles compositions; each had a song on this list with Imagine at #3 and Maybe I'm Amazed at #347.
All in all, this list is disappointing; however, there are a number of songs that deserve to be on this list and in the spots they're in. There're even a few that I was pleasantly surprised to be included such as M.I.A, Weezer, MGMT, Beck and OutKast. As it is pretty clear, this list is a list of "pop"-ular music without much recognition to anything that strays from the mainstream. It's sad to see, but I suppose that's the way it is. Rolling Stone isn't exactly an indie magazine anyway, as much they may pretend to be. If they were, this list would obviously be quite different. Mind you, who hasn't heard the song Planet Rock by Afrika Bambaataa and the Soul Sonic Force? 'Cause it placed at #240. It ranked "greater" than 260 other songs. 'Nuff said. --- morethanafeelingmusic.com
download (mp3 @192 kbs):
yandex mega uloz.to cloudmailru bayfiles
Last Updated (Saturday, 09 February 2019 20:43)