Graham Bonnet Band - The Book (2CD) [Japanese Edition] (2016)
Graham Bonnet Band - The Book (2CD) [Japanese Edition] (2016)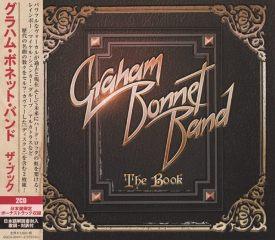 CD1: The Book
01. Into The Night
02. Welcome To My Home
03. Earth's Child (I Am Your Son)
04. Rider
05. Dead Man Walking
06. Strangest Day
07. The Dance
08. Where Were You?
09. The Book
10. Everybody Wants To Go There
11. California Air
12. The Dance (bonus' Acoustic)

CD2: Re-Recorded Classics
01. Eyes Of The World
02. All Night Long
03. Lost In Hollywood
04. Since You Been Gone
05. Night Games
06. S.O.S.
07. Assault Attack
08. Dancer
09. Desert Song
10. Island In The Sun
11. Hiroshima Mon Amour
12. God Blessed Video
13. Will You Be Home Tonight
14. Witchwood
15. Stand In Line
16. Here Comes The Night (Down Without A Fight)

Graham Bonnet - Vocals
Conrad Pesinato – Guitars
Beth-Ami Heavenstone – Bass
Jimmy Waldo – Keyboards
Mark Zonder – Drums

Graham Bonnet has had a busy past year or so, going on tour with his band, having his solo albums re-issued plus ones from his days in Alcatrazz and Blackthorne. Now we have this double CD delight, disc one is an all new studio album whilst the second disc features re-recorded classics from his past bands and solo work.
Opener 'Into The Night' could have come off Alcatrazz's 'Disturbing The Peace' album, especially as the driving riff sounds a little like 'God Blessed Video'. Graham Bonnet still has his distinctive rough edged vocal and the songs suit his singing style down to the ground. Lots of good hard rockers on here like 'Dead Man Walking' and 'Strangest Day' and no real offbeat lyrical themes (the Blue Boar service stops in the US have been sung about in the past!), although 'Everybody Has To Go There' mentions Main Street in the lyric, when it is about a UK seaside town.
The album is a real band effort as all bar one song are credited to all the band members, who include fellow Alcatrazz member Jimmy Waldo on keyboards and drummer Mark Zonder (Warlord/Fates Warning).
The re-recorded classics, as the disc is called, covers from Rainbow up to Impetrelli. Special mention to guitarist Conrado Pesinato who has some big shoes to fill here replicating songs originally featuring amongst others Ritchie Blackmore, Steve Vai and Yngwie Malmsteen. The Rainbow classics sound good, particularly 'Eyes Of The World'. Liking the slight guitar solo changes on the Alcatrazz classic 'God Blessed Video', although 'Will You Be Home Tonight' somehow lacks the passion of the original. Elsewhere his big solo hit 'Night Games' and MSG's 'Assault Attack' are other highlights.
Good to have Graham Bonnet back releasing new songs and these songs definitely hark back to his 80′s hard rock days of Alcatrazz. Fans of that band and hard rock in general will enjoy this one. ---Jason Ritchie, getreadytorock.me.uk
download (mp3 @320 kbs):
yandex mediafire uloz.to cloudmailru
Last Updated (Friday, 23 March 2018 22:53)