Little Richard – Here's Little Richard: 60th Anniversary Deluxe Edition (2017)
Little Richard – Here's Little Richard: 60th Anniversary Deluxe Edition (2017)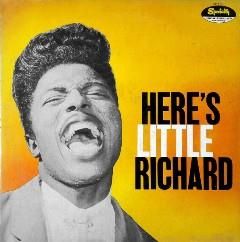 Disc: 1
  1. Tutti Frutti
  2. True, Fine Mama
  3. Can't Believe You Wanna Leave
  4. Ready Teddy
  5. Baby
  6. Slippin' and Slidin'
  7. Long Tall Sally (The Thing)
  8. Miss Ann
  9. Oh Why?
  10. Rip it Up
  11. Jenny Jenny
  12. She's Got It

Disc: 2
  1. Tutti Frutti (take 2)
  2. True Fine Mama (incomplete take)
  3. Can't Believe You Wanna Leave (take 6)*
  4. Can't Believe You Wanna Leave (take 8)
  5. Ready Teddy (take 1)*
  6. Ready Teddy (takes 2 & 3)*
  7. Baby (demo)
  8. Baby (take 1)
  9. Slippin' and Slidin' (demo)*
  10. Slippin' and Slidin' (piano & drums demo)
  11. Long Tall Sally (take 1)
  12. Long Tall Sally (take 6)
  13. Miss Ann (demo)
  14. Miss Ann (take 1)
  15. Miss Ann (take 6)
  16. Oh Why? (takes 3 & 4)*
  17. Oh Why? (take 9)
  18. Rip It Up (take 1)*
  19. Rip It Up (take 3)
  20. Rip It Up (take 4)*
  21. Rip It Up (take 6)*
  22. She's Got It (alternate version)

Little Richard's 1957 debut launched the career of a foundational figure in rock music, and featured some of the artist s best-loved hits, including Long Tall Sally, Ready Teddy, Jenny Jenny and Tutti-Frutti, a song which many consider to mark the birth of rock n roll. To celebrate the 60th anniversary of this classic record, Craft Recordings will reissue a deluxe, 2-CD edition, which includes a slew of demos, outtakes and previously unreleased tracks, as well as new liner notes by GRAMMY®-nominated music editor and journalist Chris Morris. --- Editorial Reviews, amazon.com
Little Richard will celebrate the 60th anniversary of his debut LP Here's Little Richard with a deluxe reissue that pairs the original 1957 album with a disc full of alternate takes and demos.
Eight of the 22 tracks found on Here's Little Richard (60th Anniversary Deluxe Edition)'s are unreleased, including never-before-heard takes on "Ready Teddy," "Rip It Up" and "Slippin' and Slidin'" from the original recording sessions.
One of the standouts is an electrifying alternate take of "Can't Believe You Wanna Leave," a deep-album cut that eventually came out as the B side to "Keep A-Knockin'." The previously unreleased version, premiering here, finds Richard overpowering his vocal mic (which is probably why it wasn't selected for the album version) but it's so raw and unwieldy when compared to the (only slightly more) subdued LP cut that it's a bonafide lost rock & roll gem.
Here's Little Richard placed Number 50 on Rolling Stone's list of the 500 Greatest Albums of All Time. ---Daniel Kreps, rollingstone.com
download (mp3 @320 kbs):