Macbeth - Neo-Gothic Propaganda (2014)
Macbeth - Neo-Gothic Propaganda (2014)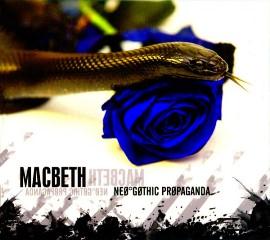 1 	Scent Of Winter 	
2 	Slow Motion Tragedies 	
3 	Void Of Light 	
4 	Last Night In Shanghai 	
5 	I Don't Care Of Being Just Like You 	
6 	Empire's Fall 	
7 	Dogma 	
8 	Opaque 	
9 	Little Spark 	
10 	The Archetype

Bass – Sem
Drums, Lyrics By – Fabrizio
Guitar – Max
Keyboards – A. Messieri
Music By – Fabrizio Cislaghi, Max Montagano
Vocals – Andreas, Morena

When you think of female-fronted Italian bands, probably the first name that would come to your mind is LACUNA COIL. You know the so-called Gothic Metal band fronted by an eye-candy brunette with a sultry voice in a contrasting duet with male vocals. Well, in fact, this also may apply to their Countrymen and sound-alike band that goes by the name MACBETH.
If this subgenre is your cup of tea, then you must surely be familiar with them. However, if you've never heard of them, MACBETH have been around for quite a while now and this is actually their fifth album to date.
Having totally grown out of this style long time ago, the material on this record seems quite repetitive yet still appealing. It's the kind of album you might easily get into but you'll end up ditching it quickly after a short while. Tracks like "Scent Of Winter" feature fairly catchy riffs and the typical "Goth" Metal female / male vocal duo between Morena and Andreas. I wonder, however, why the chorus reminds me of EURYHMICS's hit song "Sweet Dream". It's in "I Don't Care Of Being Just Like You" when the LACUNA COIL reminiscent Karma code style pops most. "Slow Motion Tragedies" features an eerie vocal performance by Morena which kind of made this song a little more edgy alongside its tight riffs. The occasional growls especially in "Little Spark" contributed a lot to the more aggressive feeling of the album and its overall heaviness.
To sum it up, "Neo-Gothic Propaganda" is definitely a solid effort by MACBETH that would definitely not disappoint their already-established fan base. ---Tuoksu Holopainen, metal-temple.com
download (mp3 @320 kbs):