Journey - Journey (1975)
Journey - Journey (1975)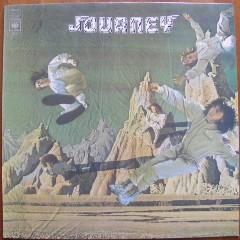 A1	Of A Lifetime	6:49
A2	In The Morning Day	4:24
A3	Kohoutek	6:47
B1	To Play Some Music	3:16
B2	Topaz	6:00
B3	In My Lonely Feeling / Conversations	4:59
B4	Mystery Mountain	4:26

Bass – Ross Valory
Drums – Aynsley Dunbar
Guitar – Neal Schon
Rhythm Guitar – George Tickner
Vocals, Keyboards – Gregg Rolie

Anyone who knows and likes Journey must know that this is not the usual Journey. The way Gregg Rolie started the band was not what people had in mind. Yet this is SO much better than Steve Perry's work with the band. Here, the band showcases more skill and seems to craft better songs. Plus, this is where Neal Schon really gets to show his musical virtuosity and fusion background.
Since this band's next two albums seem to gain some steam, this one is often overlooked. However, this is probably the best album they've created. Plus, in fact, this album has a lot of the blueprints for their next recordings. This one balances the fine line between fusion and pop/rock.
The first song is Once in a Lifetime, and you just know this is nothing like Journey's peak albums. It's very interesting because you'd expect their first song of their first album would kick off things in an energetic, fast sort of way. It doesn't. It is actually a dark, jazzy, sprawling, and slow 7-minute track that serves as a sort of preparation for everything on the dark road ahead. It is definitely a great start. In the Morning Day starts out sounding like a progressive Elton John song, with a catchy, poppy paino chorus and all. However, it then turns into a fast improv piece for the second half of the song. It has a lot of memorable moments overall.
Then there's Kohoutek. Wow. Such a great instrumental track. This is another 7-minute track, but so much better than Once in a Lifetime. It starts out with a light piano part, and it's just a bit unnerving. However, it builds up and gets pretty intense, especially for a Journey song. This song is considerably jazzier than most of the songs on here, only beaten by Topaz. After the slower sections, it then picks up the pace, and Neal Schon's distorted guitar work takes the cake here. Afterwards, there's a massive and undeniably amazing improv solo between Schon and Rolie as they're switching off between each other. Meanwhile, Prince keeps a good, steady pace in the back, and so do the rest of rhythm section. Then the song fades away and goes back to the light piano part to close the song.
Then all of the intensity finally lets up with the next track, To Play Some Music. This song could have been a pretty good fit with one of Steve Perry's Journey albums, particularly Infinity. This one is just a calmer, more laid back song about happy thoughts and playing music. It's also a solid track. Topaz goes right back into the intensity again, yet, like Kohoutek, doesn't go head-on. It still stays calm to begin with. However, when it starts getting faster, it's a crazy yet amazing jazz piece. A lot of the track feels like one big improv solo. Also, as I mentioned, it is definitely the jazziest song here. This could've been on a Brand X album if they wanted it to, although Prairie Prince isn't nearly as good as Phil Colins when it comes to drumming.
My Lonely Feeling sadly didn't measure up to my expectations. While it's an ok song, it actually lacks some feeling, despite the title. The improv part doesn't help too much, either. It's already been heard quite enough on this album, apparently with Kohoutek and Topaz. Luckily, Mystery Mountain helps redeem a bit of this with a solid ending to the album. It seems to add all of the elements of the previous songs and melds them, while also having it's own sense of energy. It's a great way to end the album with flavor and feeling.
While this isn't the most essential recording to come by, it's rare to have a band begin this well. While most arena rock bands didn't make very good debut albums, this band remains an exception. This is recommended for either fans of fusion, or people interested in knowing what Journey originally were until Steve Perry screwed them over. Very nice debut for a now well known band. --- Necrotica, sputnikmusic.com
Journey łykam prawie w całości. Ta słabo znana w naszym kraju kapela ma na koncie wiele wspaniałych utworów. Największe sukcesy grupa odnosiła po dołączeniu do niej znakomitego wokalisty jakim niewątpliwie jest Steve Perry (szczególnie lata osiemdziesiąte obfitowały w wielkie sukcesy). Jednak ten pojawił się w zespole dopiero w 1977 roku. Wcześniej Journey nagrali trzy albumy w tym znakomity debiut, który między innymi był dziełem byłych muzyków Santany…
Po nagraniu albumu Caravanserai z zespołu Santana odeszli, młodziutki gitarzysta Neal Schon oraz klawiszowiec Gregg Rolie, którzy w San Francisco postanowili założyć nową kapelę. Początkowo nazwali się Golden Gate Rhythm Section by później przemianować się na Journey. Właściwa nazwa grupy była wynikiem konkursu ogłoszonego w radio KSAN. Z setek propozycji słuchaczy muzycy wybrali właśnie Journey. W zespole znaleźli się także byli muzycy grupy Frumious Bandersnatch, George Tickner (gitara) oraz Ross Valory (bas). Skład uzupełnił perkusista Aynsley Dunbar.
Album otwiera arcyciekawy utwór zatytułowany Of A Lifetime. Rozpoczyna się pięknym, delikatnym tematem gitarowym, który towarzyszy nam przez niemal cały utwór. Po trzydziestu sekundach świetnie dołącza perkusja, bas i chwilę później organy. Należy w tym miejscu wspomnieć, że rolę wokalisty pełni na tym albumie Gregg Rolie. Mamy tu oczywiście jeszcze popisy Schona na gitarze oraz ciekawą partię Mooga. Intensywność utworu wzrasta z każdą sekundą jego trwania. Fajne, delikatnie śpiewane zwrotki, rozdzielone znakomitymi gitarowymi solówkami. Swego czasu dosłownie zajeździłem stronę pierwszą czarnego wydania. To za sprawą dwóch utworów, tego i zamykającego tę stronę (o czym za chwilę). Gdzieś nadal mam tego winyla lecz jest on w stanie niesłuchanym.
In the Morning Day jest już zdecydowanie spokojniejszą piosenką, przynajmniej na początku, taką w stylu późniejszego Journey. Po około dwóch minutach utwór zrywa się jednak do galopu, na pierwszy plan wysuwają się organy Gregga na których ten daje niezły popis. Drugi w kolejce jest oczywiście Neal, który także popisuje się solówką gitarową. Stronę pierwszą zamyka, wspomniany już wcześniej, kapitalny utwór instrumentalny. Jego tytuł brzmi Kohoutek. Tu zdecydowanie usłyszymy echa jazz-rockowego grania. Bardzo ładne wprowadzenie na pianinie elektronicznym, które może kojarzyć nam się troszeczkę z repertuarem Alan Parsons Project. Jednak po kilkunastu sekundach pojawiają się na chwilę gitary i perkusja, nieco zaostrzając tę kompozycję. Dalej wraca delikatny motyw pianina, ale od drugiej minuty kompozycja zdecydowanie przyspiesza i w swoim galopie przenosi nas w jazz-rockowe klimaty. Tu należą się brawa Dunbarowi, który w tym utworze wykonuje znakomitą pracę na perkusji. No i mamy tu także kapitalny pojedynek gitara kontra Moog. Ależ to brzmi. Schon znakomicie radzi sobie z gitarą, a w trakcie nagrywania tego albumu miał zaledwie dwadzieścia lat. Ale czemu ja się dziwię, był o wiele młodszy gdy grał z powodzeniem w zespole Santana. Utwór kończy się tak jak się zaczął. Znakomita pozycja.
Drugą stronę otwiera To Play Some Music, który był singlem promującym ten album (na drugiej stronie singla znalazła się kompozycja zatytułowana Topaz, która jest kolejną po To Play Some Music piosenką na albumie). W tym utworze dominują klawisze Roliego, ale ponownie znalazło się miejsce na solówkę Schona. To raczej utwór jakich wiele było w latach siedemdziesiątych. Poprawny, nic więcej.
Teraz wspomniany przed chwilą Topaz. To drugi utwór instrumentalny, który znalazł się na tej płycie. Rozpoczyna go delikatna partia gitary elektrycznej, której nieśmiało towarzyszą klawisze. Dalej utwór to przyspiesza to znowu zwalnia. Możemy tu odszukać paletę jazzowych zabarwień. Fajne partie gitar przeplatane klimatycznymi klawiszowymi wstawkami. Naprawdę ciekawie to brzmi. Oczywiście nie mogło zabraknąć tu miejsca na gitarowe popisy Schona. Znakomity, emocjonalny i zarazem namiętny w swojej wymowie. Mocny plus tej płyty.
In My Lonely Feeling/Conversations to dość spokojny numer. W większej swej części płynie, delikatnie niesiony organowymi brzmieniami Roliego, który również tu śpiewa. Przez cały czas trwania tej piosenki zgrabnie włącza się Schon ze swoją gitarą. W drugiej części utworu muzycy zdecydowanie przyspieszają i ponownie jasnym blaskiem świeci Neal i jego znakomite solo. Sam koniec to uspokojenie, które płynnie prowadzi nas do końca utworu.
Cały album zamyka Mystery Mountain. Fajny rockowy numer ze świetnym głosem Gregga. Na uwagę zasługuje sekcja rytmiczna, która gra tu główną rolę i napędza ten utwór. Oczywiście jak na całym albumie i w tym utworze nie mogło zabraknąć wszędobylskiej gitary Neala, która ponownie wycina tu ciekawe solo. Wielkim minusem tej pozycji jest jej zakończenie, które jest nagłe i jakby bez pomysłu. W szczycie popisu Schona utwór dość brutalnie zostaje wyciszony przez co pozostawia pewien niesmak. Tak czy inaczej jest to świetne zamknięcie tego albumu.
Trudno jest jednoznacznie określić muzykę, która znalazła się na tym albumie. Mamy tu typowy rock (bardziej w stylu amerykańskim) oraz sporo odniesień do jazzu. Niewątpliwie słychać na płycie wpływy Santany, co tylko dobrze świadczy o poziomie tego albumu, który niestety nie dokonał żadnej rewolucji na listach przebojów (najwyższa pozycja na liście Billboard to 138 miejsce). Niemniej to solidna dawka rockowego grania, do której wracam z wielką chęcią. Album zajmuje wysoką pozycję w moim osobistym rankingu dokonań grupy Journey. Znakomity debiut tej zacnej grupy. --- SzyMon, szymonmuzyk.blogspot.com
download (mp3 @320 kbs):
yandex mediafire ulozto gett solidfiles
Last Updated (Saturday, 13 February 2021 14:56)