Dave Matthews Band – Live at Wrigley Field [4CD Edition] (2011)
Dave Matthews Band – Live at Wrigley Field 2011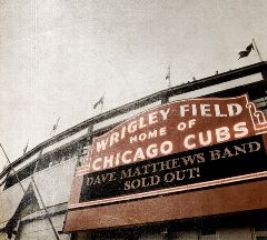 CD1:
01 – One Sweet World
02 – Pantala Naga Pampa Rapunzel
03 – Funny the Way It Is
04 – Lying in the Hands of God
05 – Crush
06 – Burning Down the House
07 – Proudest Monkey
08 – Satellite
09 – Shake Me Like a Monkey				play
10 – Write a Song

CD2:
01 – Dancing Nancies
02 – Why I Am
03 – You & Me
04 – Sister								play		
05 – Don't Drink the Water
06 – Everyday
07 – Ants Marching
08 – Needle and the Damage Done
09 – All Along the Watchtower

CD3:
01 – You Might Die Trying
02 – Stay or Leave						play		
03 – Seven
04 – Crash Into Me
05 – Good Good Time
06 – #41
07 – Tripping Billies
08 – Digging a Ditch
09 – Squirm
10 – Gravedigger
11 – Spaceman
12 – Stay (Wasting Time)

CD4:
01 – Can't Stop
02 – Grey Street
03 – Jimi Thing
04 – Time Bomb
05 – Two Step
06 – Christmas Song						play	
07 – Corn Bread
08 – The Last Stop

Dave Matthews Band
    Dave Matthews - guitars, lead vocals
    Boyd Tinsley - violins, backing vocals
    Stefan Lessard - bass
    Carter Beauford - drums, percussion, backing vocals

With Guests
    Jeff Coffin - saxophones
    Tim Reynolds - electric guitars
    Rashawn Ross - trumpet, backing vocals

Live at Wrigley Field, Dave Matthews Band's latest live album, will capture the band's Sept. 18, 2010 concert in Chicago. The album was recorded on the second night of a two night stint at the venue. Most notably, this performance was the last on the band's 2010 Summer tour, and 2011 touring hiatus. Dave Matthews Band is one of the most consistent and successful live bands around. After touring non-stop for the past 20 years, they decided to take a hiatus in 2011 by not embarking on their usual summer tour jaunts around the US. Instead, they took the opportunity to organise their own music festival - the Dave Matthews Band Caravan. They have so far announced four dates/venues: Bader Field, Atlantic City (24-26 June), Lakeside, Chicago (8-10 July), Governors Island, New York (26-28 August) and one of their favourite grounds, The Gorge, George (2-4 September).
The multi-day festival will see DMB headlining each night, with a host of great artists and bands playing throughout the day, such as The Flaming Lips, Michael Franti & Spearhead, Ben Folds, David Gray, Bela Fleck & The Flecktones and more. It is a great idea to organise their own festival because these are the only live shows DMB will play this year, and the artist lineup they have secured demonstrates how much clout they have. It is definitely going to be a crowd puller as the hardcore fans will need to get their fix of DMB satisfied. While they go on a break, the DMB factory keeps churning out live releases and the result is this live album, Live At Wrigley Field, recorded on 17th and 18th September last year.
This special Double Play box set is limited edition and it contains the 4CD album of both nights. The regular 2CD edition contains only the full 18th September 2010 show. The album is housed in a debossed box and it also contains a 24-page colour booklet and a silkscreened handbill. My handbill is numbered 1383/3000, so I assume there were only 3,000 sets manufactured. There is also "signature" on the bottom right corner of the handbill. I'm not sure whose signature that is, or if it is even a signature in the first place. This Double Play box set is sold out, so I'm one of the 3,000 people in the world who has it. Hope to see DMB live in concert again...
download (mp3 @320 kbs):
yandex mediafire uloz.to cloudmailru
Last Updated (Friday, 12 January 2018 22:15)