Bon Jovi ‎– Slippery When Wet (1986)
Bon Jovi ‎– Slippery When Wet (1986)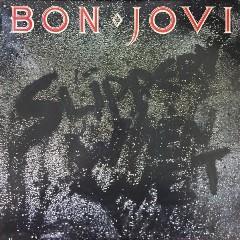 A1 	Let It Rock 	5:24
A2 	You Give Love A Bad Name 	3:44
A3 	Livin' On A Prayer 	4:10
A4 	Social Disease 	4:18
A5 	Wanted Dead Or Alive 	5:09
B1 	Raise Your Hands 	4:18
B2 	Without Love 	3:40
B3 	I'd Die For You 	4:31
B4 	Never Say Goodbye 	4:49
B5 	Wild In The Streets 	3:55

Acoustic Guitar, Electric Guitar, Synthesizer, Effects, Backing Vocals – Richie Sambora
Bass, Backing Vocals – Alec John Such
Drums, Percussion – Tico Torres
Keyboards [All], Noises [Various Noises], Backing Vocals – Dave Bryan
Lead Vocals, Backing Vocals – Jon Bon Jovi 

Slippery When Wet wasn't just a breakthrough album for Bon Jovi; it was a breakthrough for hair metal in general, marking the point where the genre officially entered the mainstream. Released in 1986, it presented a streamlined combination of pop, hard rock, and metal that appealed to everyone -- especially girls, whom traditional heavy metal often ignored. Slippery When Wet was more indebted to pop than metal, though, and the band made no attempt to hide its commercial ambition, even hiring an outside songwriter to co-write two of the album's biggest singles. The trick paid off as Slippery When Wet became the best-selling album of 1987, beating out contenders like Appetite for Destruction, The Joshua Tree, and Michael Jackson's Bad.
Part of the album's success could be attributed to Desmond Child, a behind-the-scenes songwriter who went on to write hits for Aerosmith, Michael Bolton, and Ricky Martin. With Child's help, Bon Jovi penned a pair of songs that would eventually define their career -- "Living on a Prayer" and "You Give Love a Bad Name" -- two teenage anthems that mixed Springsteen's blue-collar narratives with straightforward, guitar-driven hooks. The band's characters may have been down on their luck -- they worked dead-end jobs, pined for dangerous women, and occasionally rode steel horses -- but Bon Jovi never presented a problem that couldn't be cured by a good chorus, every one of which seemed to celebrate a glass-half-full mentality. Elsewhere, the group turned to nostalgia, using songs like "Never Say Goodbye" and "Wild in the Streets" to re-create (or fabricate) an untamed, sex-filled youth that undoubtedly appealed to the band's teen audience. Bon Jovi wasn't nearly as hard-edged as Mötley Crüe or technically proficient as Van Halen, but the guys smartly played to their strengths, shunning the extremes for an accessible, middle-of-the-road approach that wound up appealing to more fans than most of their peers. "It's alright if you have a good time," Jon Bon Jovi sang on Slippery When Wet's first track, "Let It Rock," and those words essentially served as a mantra for the entire hair metal genre, whose carefree, party-heavy attitude became the soundtrack for the rest of the '80s. ---Andrew Leahey, AllMusic Review
Przełom w karierze Bon Jovi – przełom w świecie muzyki popularnej. O losach zespołu decyduje oczywiście talent i łut szczęścia, który pozwoli gdzieś temu talentowi rozbłysnąć. Ale gdy szczęścia trochę brakuje, można wezwać fachowców.
W 1986 roku, w przypadku zespołu Bon Jovi, który nie przynosił swojej wytwórni spodziewanych zysków, wezwano speca od tworzenia wizerunku, Jonathana Kinga. Ten "oblukał bend i postanowił go przeformatować, pozycjonując nowy target". Którym to targetem była już nie tylko męska publiczność metalowa, ale i dziewczynki w wieku dojrzewania, mogące skusić się urodą Jona. Do tego doszła konsultacja muzyczna: za podrasowanie kompozycji grupy wziął się etatowy specjalista od przebojów, Desmond Child. Efekt? Siedemnaście milionów sprzedanych egzemplarzy. Musimy sobie uświadomić, że Slippery When Wet to rewolucja. Bon Jovi otworzył nim drzwi do świata pop zespołom używającym gitar. Fakt, zapoczątkowali falę pudel metalu, ale bez nich nie byłoby ani sukcesu Guns N' Roses, ani triumfalnego powrotu Aerosmith... A być może i czarnej Metalliki (Bob Rock – na Slippery jeszcze jako inżynier dźwięku).
Kompozycje dotknięte magiczną ręką Childa oczywiście najbardziej wyróżniają się w materiale. Szczególnie Livin' On A Prayer – z genialnym gitarowym motywem uzyskanym za pomocą talk box (modulacja dźwięku za pomocą rurki umieszczonej w ustach). Tu delikatny klawisz, tam chóralny zaśpiew i narastanie napięcia do porywającego refrenu... Niewiele ustępuje mu kolejny hit, You Give Love A Bad Name. Co nie znaczy, że chłopcy kiepsko radzili sobie sami. Wspaniała ballada Wanted Dead Or Alive weszła do klasyki, a dzięki wykonaniu na uroczystości MTV Awards trzy lata później zapoczątkowała serię koncertów Unplugged. Szkoda tylko, że z drugiej strony pojawiły się tu nudne lukrowane ballady, od których już nigdy się nie uwolnili (Never Say Goodbye) i banalne kompozycje, które po zdjęciu gitar mogłyby robić za drugi sort u Huey Lewis And The News. ---Bartek Koziczyński, terazmuzyka.pl
download (mp3 @320 kbs):