Doors - Live At The Isle Of Wight Festival 1970 (2018)
Doors - Live At The Isle Of Wight Festival 1970 (2018)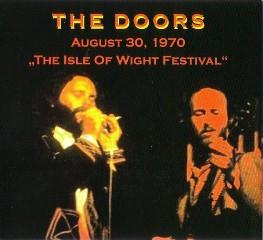 01. Roadhouse Blues 	05:09  
02. Introduction 	  00:13  
03. Back Door Man	 04:17  
04. Break On Through (To The Other Side)  04:46  
05. When The Music's Over  13:28  
06. Ship Of Fools  	07:17  
07. Light My Fire  	14:02
08. The End       15:52

Drums – John Densmore
Guitar – Robby Krieger
Keyboards – Ray Manzarek
Vocals – Jim Morrison

More than 50 years after their debut LP, the Doors remain one of the most intriguing, distinct and powerful bands to ever roam the earth. Even though their lifespan was short (just a little more than years with singer Jim Morrison), their legend and legacy have grown and thrived in the decades that followed. An array of live Doors recordings and video has made its way to fans over the years, but their ever-elusive Isle of Wight performance has been out of reach in its entirety until now.
The legendary British festival was held over five days in late August 1970, a year after Woodstock, and with a lineup of music legends ranging from the Who and Jimi Hendrix to Joni Mitchell and jazz great Miles Davis. The Doors were among the main draws of the festival, and their performance, as captured on Live at the Isle of Wight Festival 1970 (available as DVD and Blu-ray, as well as on CD), shows the band slightly fatigued but still delivering a powerful set to the 600,000 fans in attendance.
It's no wonder they looked and sounded tired at times. Not only was Morrison in the midst of an ongoing obscenity trial stemming from an infamous performance in Miami the previous year, but the band didn't hit the stage until 2AM. Still, the Doors put on a great, if slightly restrained, show. "Our set was subdued but very intense," keyboardist Ray Manzarek once said of the gig. "We played with a controlled fury, and Jim was in fine vocal form. He sang for all he was worth but moved nary a muscle. Dionysus had been shackled." This was the last Doors concert to be filmed. And while it doesn't document the band at its peak, they're a powerful presence onstage throughout this great collection.
The audio, remastered to 5.1 surround, was mixed from the original multi-track tapes by longtime Doors collaborator Bruce Botnick, who gives the new mix a sharp and clear upgrade that eclipses any of the bootlegs that have surfaced over the years. Powerful versions of classic like "Light My Fire," "When the Music's Over" and an especially swinging version of "Ship of Fools" grace the set, which focuses on the band's first two albums rather than its most recent offering, Morrison Hotel. ---ultimateclassicrock.com
download (mp3 @320 kbs):