Elvis Presley - Clambake (2006)
Elvis Presley - Clambake (2006)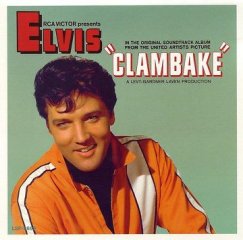 1. Guitar Man (2:21)
2. Clambake (2:39)
3. Who Needs Money (3:18)
4. A House That Has Everything (2:16)
5. Confidence (2:35)
6. Hey, Hey, Hey (2:34)
7. You Don't Know Me (2:31)
8. The Girl I Never Loved (1:55)
9. How Can You Lose What You Never Had (2:28)
10. Big Boss Man (2:54)
11. Singing Tree (2:19)
12. Just Call Me Lonesome (2:12)
13. You Don't Know Me (Movie Version) Take 20 (2:21)
14. Clambake (Reprise) Take 4 (0:26)
15. Clambake - Take 3B (2:42)
16. How Can You Lose What You Never Had - Takes 1, 2 (4:16)
17. You Don't Know Me (Movie Version) Take 3 (2:37)
18. Hey, Hey, Hey - Takes 3, 5, 6 (5:05)
19. The Girl I Never Loved - Takes 4, 5 (3:33)
20. Clambake - Takes 1, 5 (3:26)
21. A House That Has Everything - Takes 4, 5, 6 (4:00)
22. You Don't Know Me (Movie Version) Takes 7, 10 (3:15)
23. How Can You Lose What You Never Had - Take 3 (2:37)
24. Hey, Hey, Hey - Takes 7, 8 (4:13)
25. Clambake (Reprise) Takes 1, 2, 3 (2:46)

    Elvis Presley − vocals
    The Jordanaires − backing vocals
    Millie Kirkham, Dolores Edgin, June Page, Priscilla Hubbard − backing vocals
    Boots Randolph, Norm Ray − saxophone
    Pete Drake − pedal steel guitar
    Scotty Moore, Chip Young − electric guitar
    Jerry Reed − electric guitar on September 10
    Charlie McCoy − organ, harmonica
    Floyd Cramer, Hoyt Hawkins − piano, organ
    Bob Moore − double bass
    D. J. Fontana, Buddy Harman – drums

Here we have another later-movie-career Elvis entry which warrants reconsideration. By '67/'68, it seems that even the deepest fans placed a new Presley movie soundtrack not one of their highest priorities (although chart placements and approximate sales reports show that he didn't completely slip out of the public view). At the time of John Wesley Harding, Revolver, Sgt. Pepper, and the rest, the very first Rock and Roll Superstar kept grindin' out alot of pleasant ballads and rather tame uptempos, going absolutely nowhere.
There are some nice tracks supporting the tired formula flick. "The Girl I Never Loved" is an exquisite valentine - Elvis' voice is a little rough but the he handles it beautifully, creating a real art song. Another interesting cut is the medium philosophical beat ballad, "A House That Has Everything". Presley is not at his best here either, but it is not something to be dismissed.
The Ray Charles ballad, "You Don't Know Me", is also used effectively, but the later studio remake - used in place of the movie version on the soundtrack - is a stronger rendition.
A very interesting, very short, originally unused item is the "reprise" of the movie title tune, however done as a slow blues, with a presumptive Presley guitar giving it thrust. Why they couldn't expand on this nugget, who knows?
It's been written that one of the movie's co-stars mentioned that Elvis performed "Baby, What You Want Me To Do", at the cast party, albeit reluctantly. Maybe he had "the blues" in mind throughout the filming. Ofcourse he's been called one of the best blues singers in history.
The bonus songs are, ofcourse, Guitar Man, and Big Boss Man, very impressive modest sellers, interestingly enough, also in the blues vein. "Singing Tree" is an unusual beat ballad, featuring an excellent double-tracked vocal, and a panoramic piano. --- Phil S., amazon.com
download (mp3 @320 kbs):
Last Updated (Tuesday, 06 February 2018 16:38)