Eric Burdon & War - Royal Albert Hall, London 2008
Eric Burdon & War - Royal Albert Hall, London 2008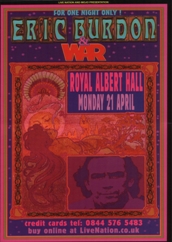 Set: 

War 
01 The World Is A Ghetto 
02 Cisco Kid 
03 Why Can't We Be Friends 
04 Low Rider 

Eric Burdon & War 
05 Spill The Wine 
06 Spirit 
07 Magic Mountain 
08 Vision Of Rassan 
09 Tobacco Road 
10 Blues For Memphis Slim (Mother Earth) 
11 Bare Back Ride 
12 Paint It Black Part 1 
13 Percussion & Drum Break 
14 Paint It Black Part 2 
15 House Of The Rising SUn 
16 Encore Break 
17 Don't Let Me Be Misunderstood Part 1 
18 Slippin' Into Darkness 
19 Don't Let Me Be Misunderstood Part 2 

Running time: 146m 

Lineup: 
Eric Burdon - Lead Vocals 
Lonnie Jordan - Lead Vocals / Keyboards 
Salvador Rodriguez - Drums / Vocals 
Fernando Harkless - Saxophone / Flute / Vocals 
Marcos Reyes - Percussion 
Stuart Ziff - Guitar / Vocals 
Francisco 'Pancho' Tomaselli - Bass / Vocals 
Mitch Kashmar - Harmonica / Vocals

The last time Eric Burdon & War played London, 38 years ago, they had a five-night residency at Ronnie Scott's and Jimi Hendrix jammed with them the day before he died. The former lead singer with The Animals and one of the most distinctive voices in rock, Burdon's move to the US in the late Sixties mirrored Hendrix's own relocation to the UK.
Under the management of former Animals bassist Chas Chandler, the guitarist hooked up with a white British rhythm section to form The Experience at the end of 1966. Following the break-up of the original line-up of The Animals, Burdon fronted the New Animals and plunged deep into the West Coast scene.
By 1969, he was, by his own admission, "an acid-drenched rock star, over the hill", holed up in Los Angeles and pondering a move back to his native Newcastle until producer Jerry Goldstein suggested he check out a black group called The Nightshift. With the Danish harmonica player Lee Oskar, they became War and formed an all-too-brief partnership with Burdon.
This one-off event, ostensibly timed to promote the release on CD of the two albums they recorded in 1970, didn't quite live up to expectations. Led by founder-member Lonnie Jordan, the current incarnation of War did justice to post-Burdon hits such as the groovy "The World is a Ghetto" and the irresistible "Low Rider".
Burdon joined 30 minutes in and instantly rolled back the years with the heady "Spill the Wine", the only hit the singer and War mustered up back in 1970. With the white-haired Burdon still in fine voice, the free-wheeling "Spirit" from Black Man's Burdon, their second album, worked fine.
When saxophonist Fernando Harkless and harmonica player Mitch Kashmar blasted in unison, the music sounded timeless, but the lengthy instrumental solos and percussion excursions were definite flashbacks to the hippie days.
Burdon read his once spontaneous, drug-infused stories off the autocue and there was a feeling that the singer, who briefly reunited with the original Animals in 1983 and has written two memoirs, has run out of options. Wailing his way through "House of the Rising Sun" broke another cardinal rule since, in 1970, Burdon & War never played his Animals hits. It was really a case of "We've Gotta Get Out of This Place". ---Pierre Perrone, independent.co.uk
download (mp3 @VBR kbs):
Last Updated (Tuesday, 13 February 2018 21:46)