Walter Trout – Blues for The Modern Daze (2012)
Walter Trout – Blues for The Modern Daze (2012)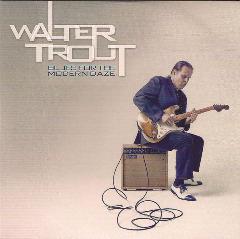 01 – Saw my mama cryin?
02 – Lonely
03 – The sky is fallin? down
04 – Blues for my baby
05 – You can?t go home again
06 – Recovery
07 – Turn off your tv
08 – Lifestyle of the rich and famous
09 – Never knew you well
10 – Puppet master
11 – Money rules the world
12 – All I want is you
13 – Brother?s keeper
14 – Blues for the modern daze
15 – Pray for rain

Personnel:
Walter Trout -Composer, Harmonica, Producer, Vocals, Vocals (Background)
Rob Rio – piano
Sam Avila, Deacon Jones  – Hammond B3
Rick Knapp – bass
Michael Leasure - Drums
Wally Bass, Eric Corne - Vocals (Background)

This, his 21st album, may just be Walter Trout's best. Living proof that age doesn't matter when you're talking about real music, Trout, now 61 years old, is laying it all on the line every time he picks up his guitar.
The album jumps back and forth between heartfelt, emotional and personal songs and Walter's view of the world around him. A life on the road will give you a clarity and perspective few people with day jobs will ever see. Trout calls out Facebook, our obsession with wealth and our tendency to bury our heads in the sand.
Oh, this one doesn't just succeed lyrically, musically it is a dynamo. Trout is playing with a cutting conviction as he blasts out solo after solo after solo. This one takes the listener on an emotional rollercoaster. Like a ride on a great coaster, when this one is done you want to jump off and get back in line for another go.
Walter Trout has written a masterpiece that needs to be checked out by all fans of hard rockin' blues. I am playing this one loud and often. --- Jeb Wright, classicrockrevisited.com
Zmieniony (Piątek, 11 Maj 2012 19:26)