Coco Montoya - Hard Truth (2017)
Coco Montoya - Hard Truth (2017)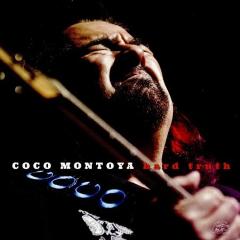 1. Before the Bullets Fly 3:13
2. I Want To Shout About It 3:40
3. Lost In The Bottle 4:48
4. Old Habits Are Hard To Break 5:36
5. I'll Find Someone Who Will 5:40
6. Devil Don't Sleep 5:03
7. The Moon Is Full 5:23
8. Hard As Hell 4:42
9. 'Bout To Make Me Leave Home (3:42)
10. Where Can A Man Go From Here? (5:02)
11. Truth Be Told (5:06)

Coco Montoya - Guitar and Vocals
Mike Finnigan - Keyboards
Billy Watts - Rhythm Guitar (Tracks 1, 5, 6, 8, 11)
Johnny Lee Schell - Rhythm Guitar (Tracks 2, 3, 4, 7, 9, 10), Slide Guitar (Track 6)
Bob Glaub - Bass
Tony Braunagel - Drums
Lee Roy Parnell - Slide Guitar (Track 3)
Background Vocals by: 
Teresa James, Deb Ryder and Billy Watts (Track 5)
Teresa James, Deb Ryder, Mike Finnigan and Billy Watts (Track 6)
Mike Finnigan and Billy Watts (Tracks 9, 11)

Listening to Coco Montoya's wailing, hard-edged guitar blaze away, you'd never guess that Montoya played primarily as a drummer for the late Albert Collins. Stimulated by an Albert King performance in 1969, with Collins as a mentor and main source of encouragement, Montoya took to the guitar (his second instrument since age 11) with a passion, honing his skills with John Mayall's (another great mentor) Bluesbreakers for a decade before launching his own solo career 24 years ago. This is his ninth solo effort as a bandleader.
Funny, just about every fifth new blues release I've picked up in the last few months has Tony Braunagel as producer. Here's Tony again with his stellar cast of LA-based musicians like Mike Finnegan on keys, Johnny Lee Schell and Billy Watts as rhythm guitarists, Bob Glaub on bass, Braunagel on drums and background vocalists ( solo artists in their own right) Deb Ryder and Teresa James. Lee Roy Parnell guests on "Lost in the Battle."
This marks Montoya's return to Alligator records, for whom he recorded between 2000 and 2007. What sets Montoya apart from other guitarists in this genre is the unpredictability of his spiraling solos combined with full bodied tone. His vocals carry equal fury and passion. Montoya is most often engaged in song interpretation rather than writing originals, of which there are two among the eleven songs. Highlights include his takes on Warren Haynes' "Before the Bullets Fly," Ronnie Earl's "I Want to Shout About It" and the Marshall Chapman /John Hiatt co-penned "Old Habits Are hard to Break." It's almost uncanny how much he sounds like Mayall in his phrasing when listening to some of these tunes.
As with all of his albums, Montoya nods to Albert Collins, here covering "The Moon Is Full." Montoya does this carefully. "One of the things Albert taught me is to interpret a song your own way." Montoya says. "He was never impressed with people who would imitate him note for note." Count on Coco to do it his way. Montoya's intensity carries throughout the album, recalling for me his intense, live performances where he often solos with his eyes closed, finding spirituality in his guitar playing, not unlike Carlos Santana.
Welcome back to Alligator, Carlos. Listen up and catch him live when you can. —Jim Hynes, elmoremagazine.com
download (mp3 @320 kbs):
yandex 4shared mega mediafire uloz.to cloudmailru uptobox ge.tt