Jimmy Rogers - Thats All Right - The Blues Collection Vol.54
Jimmy Rogers - Thats All Right - The Blues Collection Vol.54 (1995)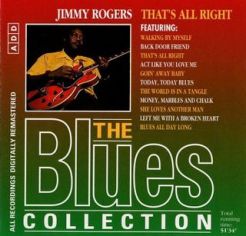 01. Jimmy Rogers - Goin Away Baby (2:42) 
02. Jimmy Rogers - Today, Today Blues (3:08) 
03. Jimmy Rogers - That\'s All Right (2:47) 
04. Jimmy Rogers - The World Is in a Tangle (2:58) 
05. Jimmy Rogers - Money, Marbles and Chalk (3:17) 
06. Jimmy Rogers - She Loves Another Man (2:52) 
07. Jimmy Rogers - Back Door Friend (3:10) 
08. Jimmy Rogers - Left Me with a Broken Heart (2:55) 
09. Jimmy Rogers - Blues All Day Long (3:04) 
10. Jimmy Rogers - Act Like You Love Me (2:57) 
11. Jimmy Rogers - Chicago Bound (2:41) 
12. Jimmy Rogers - Youre the One (2:30) 
13. Jimmy Rogers - Walking by Myself (2:48) 
14. Jimmy Rogers - My Baby Dont Love Me No More (2:18) 
15. Jimmy Rogers - This Has Never Been (2:51) 
16. Jimmy Rogers - My Last Meal (3:04) 
17. Jimmy Rogers - You Dont Know (2:42) 
18. Jimmy Rogers - Rock This House (2:49)

Bass – Big Crawford (tracks: 1 to 4, 6, 7), Willie Dixon (tracks: 9, 11 to 16, 18)
Drums – Cliff Rogers (tracks: 15), Elga Edmonds (tracks: 4, 6, to 11), Francis Clay (tracks: 14),
 Fred Below (tracks: 12, 13), George Hunter (3) (tracks: 17), S.P. Leary (tracks: 16, 18)
Guitar – Fred Robinson (tracks: 17), Luther Tucker (tracks: 17), Mighty Joe Young (tracks: 15),
 Muddy Waters (tracks: 1, 2, 8 to 11), Reggie Boyd (tracks: 16, 18), Robert Jr. Lockwood (tracks: 12, 13)
Guitar, Vocals – Jimmy Rogers
Harmonica – Little Walter (tracks: 1, 2, 3, 8 to 12, 17), Walter Horton (tracks: 13), Shakey Horton (tracks: 14)
Piano – Eddie Ware (tracks: 4, 6, 7), Henry Gray (tracks: 9, 11), Otis Spann (tracks: 13 to18)
Tenor Saxophone – Ernest Cotton (tracks: 4, 6), J.T. Brown (tracks: 7)

Guitarist Jimmy Rogers was the last living connection to the groundbreaking first Chicago band of Muddy Waters (informally dubbed the Headhunters for their penchant of dropping by other musicians' gigs and "cutting their heads" with a superior onstage performance). Instead of basking in worldwide veneration, he was merely a well-respected Chicago elder boasting a seminal 1950s Chess Records catalog, both behind Waters and on his own.
Born James A. Lane (Rogers was his stepdad's surname), the guitarist grew up all over: Mississippi, Atlanta, West Memphis, Memphis, and St. Louis. Actually, Rogers started out on harp as a teenager. Big Bill Broonzy, Joe Willie Wilkins, and Robert Jr. Lockwood all influenced Rogers, the latter two when he passed through Helena. Rogers settled in Chicago during the early '40s and began playing professionally around 1946, gigging with Sonny Boy Williamson, Sunnyland Slim, and Broonzy.
Rogers was playing harp with guitarist Blue Smitty when Muddy Waters joined them. When Smitty split, Little Walter was welcomed into the configuration, Rogers switched over to second guitar, and the entire postwar Chicago blues genre felt the stylistic earthquake that directly followed. Rogers made his recorded debut as a leader in 1947 for the tiny Ora-Nelle logo, then saw his efforts for Regal and Apollo lay unissued.
Those labels' monumental errors in judgment were the gain of Leonard Chess, who recognized the comparatively smooth-voiced Rogers's potential as a blues star in his own right. (He first played with Muddy Waters on an Aristocrat 78 in 1949 and remained his indispensable rhythm guitarist on wax into 1955.) With Walter and bassist Big Crawford laying down support, Rogers's debut Chess single in 1950, "That's All Right," has earned standard status after countless covers, but his version still reigns supreme.
Rogers's artistic quality was remarkably high while at Chess. "The World Is in a Tangle," "Money, Marbles and Chalk," "Back Door Friend," "Left Me with a Broken Heart," "Act like You Love Me," and the 1954 rockers "Sloppy Drunk" and "Chicago Bound" are essential early-'50s Chicago blues.
In 1955, Rogers left Muddy Waters to venture out as a bandleader, cutting another gem, "You're the One," for Chess. He made his only appearance on Billboard's R&B charts in early 1957 with the driving "Walking by Myself," which boasted a stunning harp solo from Big Walter Horton (a last-second stand-in for no-show Good Rockin' Charles). The tune itself was an adaptation of a T-Bone Walker tune, "Why Not," that Rogers had played rhythm guitar on when Walker cut it for Atlantic.
By 1957, blues was losing favor at Chess, the label reaping the rewards of rock via Chuck Berry and Bo Diddley. Rogers's platters slowed to a trickle, though his 1959 Chess farewell, "Rock This House," ranked with his most exciting outings (Reggie Boyd's light-fingered guitar wasn't the least of its charms).
Rogers virtually retired from music for a time during the 1960s, operating a West side clothing shop that burned down in the aftermath of Dr. Martin Luther King's tragic assassination. He returned to the studio in 1972 for Leon Russell's Shelter logo, cutting his first LP, Gold-Tailed Bird (with help from the Aces and Freddie King). There were a few more fine albums -- notably Ludella, a 1990 set for Antone's -- but Rogers never fattened his discography nearly as much as some of his contemporaries have. Jimmy's son, Jimmy D. Lane, played rhythm guitar in his dad's band and fronts a combo of his own on the side. Rogers died December 19, 1997. At the time of his death, he was working on an all-star project featuring contributions from Eric Clapton, Taj Mahal, Robert Plant & Jimmy Page, and Mick Jagger & Keith Richards; upon its completion, the disc was issued posthumously in early 1999 under the title Blues, Blues, Blues. ---Bill Dahl, AllMusic Review
download (mp3 @VBR kbs):
yandex mediafire hostuje uloz.to solidfiles global.files workupload
Zmieniony (Piątek, 30 Kwiecień 2021 20:55)