Jimmy Rogers - The Complete Chess Recordings (1997)
Jimmy Rogers - The Complete Chess Recordings (1997)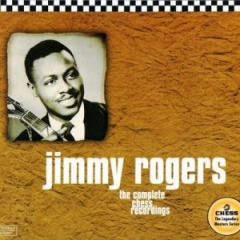 CD1 1950-1956

01. That's All Right (2:49)
02. Luedella (2:52)
03. Goin' Away Baby (2:43)
04. Today, Today Blues (3:09)
05. I Used To Have A woman (3:08)
06. The World's In A tangle (2:56)
07. She Loves Another Man (2:54)                  play
08. Money, Marbles And Chalk (3:18)
09. Hard Working Man (3:19)
10. Chance To Love (3:19)
11. My Little Machine (3:10)
12. Back Door Friend (3:11)
13. Crying Shame (2:48)
14. Mistreated Baby (3:29)
15. The Last Time (2:43)
16. What's The Matter? (3:15)
17. Out On The Road (2:52)
18. Left Me With A Broken Heart (2:56)
19. Act Like You Love Me (3:01)
20. Blues All Day Long (Blues Leave Me Alone) (3:04)
21. Chicago Bound (2:40)
22. Sloppy Drunk (3:02)                           play
23. You're The One (first version) (2:35)
24. You're The One (2:31)
25. If It Ain't Me (Who Are You Thinking Of) (2:03)

CD2 1956-1959

01. Walking My Myself (2:48)
02. I Can't Believe (2:46)
03. One Kiss (2:44)
04. What Have I Done (2:43)
05. My Baby Don't Love Me No More (2:21)           play
06. Trace Of You (2:31)
07. Don't You Know My Baby (2:31)
08. Don't Turn Me Down (2:16)
09. Looka Here (2:50)
10. This Has Never Been (4:28)
11. Rock This House (2:49)
12. My Last Meal (3:07)
13. You Don't Know (2:42)
14. Can't Keep From Worrying (2:29)
15. Luedella (alternate) (2:42)
16. Act Like You Love Me (alternate) (2:57)
17. What Have I Done (alternate) (2:25)
18. My Baby Don't Love Me No More (alternate) (2:16)
19. Trace Of You (alternate) (2:34)
20. Don't You Know My Baby (alternate) (2:27)
21. Don't Turn Me Down (alternate) (2:16)
22. This Has never been (alternate) (3:28)
23. Rock This House (alternate) (2:52)               play
24. My Last Meal (alternate) (2:23)
25. You Don't Know (alternate) (1:47)
26. Can't Keep From Worrying (alternate) (2:30)

Backing Vocals – Margaret Whitfield
Bass – Big Crawford*, Willie Dixon
Drums – A. J. Gladney, Elgin Edmonds, Francis Clay, George Hunter, Odie Payne, S.P. Leary
Guitar – Po' Bob Woodfork, Fred Robinson, Jody Williams, Little Walter, Luther Tucker,
 Mighty Joe Young, Muddy Waters, Reggie Boyd, Robert Lockwood Jr.
Harmonica – Little Walter, Walter Horton
Piano – Eddie Ware, Henry Gray, Johnny Jones, Otis Spann
Tenor Saxophone – Ernest Cotton, J.T. Brown

USA released in April 1997 as part of their 50th Anniversary celebrations "The Complete Chess Recordings" is a 2CD set containing 51 tracks. It gathers up the A&B-sides of 13 singles between 1950 and 1957, 11 songs from the 1976 2LP Chess retrospective "Jimmy Rogers" and then tags on 14 previously unreleased tracks (1 on Disc 1, 13 on Disc 2).
Willie Dixon and/or Leonard and Phil Chess produced the original recordings in Chicago and top engineer ERICK LABSON has remastered the first generation tapes for this release (has over 900 credits to his name and has handled huge swathes of the Chess catalogue). Given the notorious limitations of the original recordings, the sound quality of the remaster is typically excellent - except on "Don't Turn Me Down" which was dubbed from disc.
Like his Muddy Waters Band contemporary, Little Walter, some of Jimmy Rogers' best work was done before he went solo. After "Luedella" broke in 1956, Rogers had already become yet another star in the galaxy that was launched by Waters' seminal band. Although the two Chess "Muddy Waters: His Best" would serve as the ideal introduction for both Rogers and Little Walter, I think this disk would be a good buy for anyone interested in Rogers guitar style or anyone that might be interested in hearing the Muddy Waters Band without Muddy Waters on lead vocals. Recommended, but not essential though the craftsmaship is, of course, superb and influential throughout.
download (mp3 @320 kbs):
yandex mediafire ulozto solidfiles global-files
Zmieniony (Środa, 03 Marzec 2021 18:06)