Lonnie Brooks - 30 Most Slow Blues (Part 1) (2017)
Lonnie Brooks - 30 Most Slow Blues (Part 1) (2017)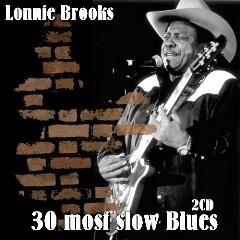 01. Let's Talk It Over
02. A Man's Got To To What A Man's Got To Do
03. Backbone Man
04. A Little More Time
05. Feast Or Famine
06. Sweet Little Angel
07. Breakfast In Bed
08. Family Rules
09. Shakin' Little Mama
10. Things I Used To Do
11. Born With The Blues
12. Hideaway
13. Worked Up Woman
14. Alimony
15. Boomerang
16. Crazy About You Baby
17. In the Dark
18. Mother Nature
19. Reconsider Baby
20. Big Leg Woman
21. Cold Lonely Nights
22. Greasy Man
23. Hoodoo She Do
24. I Ain't Superstitious
25. Mr. Somebody
26. Skid Row
27. Born In Louisiana
28. You Know What My Body Needs
29. Quit My Baby
30. Stake My Claim 

Having forged a unique Louisiana/Chicago blues synthesis unlike anyone else's on the competitive Windy City scene, charismatic guitarist Lonnie Brooks long reigned as one of the town's top bluesmen. A masterful showman, the good-natured Brooks put on a show equal to his recordings (and that's saying a lot, considering there are four-plus decades of wax to choose from).
Born Lee Baker, Jr. in Louisiana, Brooks took his time when choosing his vocation; he didn't play guitar seriously until he was in his early twenties and living in Port Arthur, Texas. Rapidly assimilating the licks of B.B. King and Long John Hunter, he landed a gig with zydeco pioneer Clifton Chenier (not a bad way to break into the business) before inaugurating his own recording career in 1957 with the influential swamp pop ballad "Family Rules" for Eddie Shuler's Lake Charles, Louisiana-based Goldband Records. The young rock & roller -- then billed as Guitar Junior -- enjoyed more regional success on Goldband with the rocking dance number "The Crawl" (covered much later by the Fabulous Thunderbirds). Mercury also issued two 45s by Guitar Junior.
When Sam Cooke offered the young rocker a chance to accompany him to Chicago, he gladly accepted. But two problems faced him once he arrived: there was another Guitar Junior in town (precipitating the birth of Lonnie Brooks), and the bayou blues that so enthralled Gulf Coast crowds didn't cut it up north. Scattered session work (he played on Jimmy Reed's Vee-Jay classic "Big Boss Man") and a series of R&B-oriented 45s for Midas, USA, Chirrup, and Chess ensued during the '60s, as Brooks learned a new style of blues. The Guitar Junior sobriquet was briefly dusted off in 1969 for his Capitol album debut, Broke & Hungry, but its lack of success buried the alias for good.
By the late '70s, Brooks was gaining a deserved reputation as an exceptionally dynamic Chicago bluesman with a fresh perspective. He cut four outstanding sides for Alligator's first batch of Living Chicago Blues anthologies in 1978 that quickly led to his own Alligator debut LP, Bayou Lightning, the next year. Five more albums of his own for the firm and extensive touring cemented Brooks' standing as a Chicago blues giant. Son Ronnie Baker Brooks is a chip off the proverbial block, playing rhythm guitar in his old man's band and duetting on "Like Father, Like Son" on Lonnie's 1991 album, Satisfaction Guaranteed. Brooks' long association with Alligator Records continued into the late '90s with the release of Roadhouse Rules in 1996, which focused more on R&B than down-home blues, and Lone Star Shootout in 1999. The disc featured Brooks with fellow guitar slingers Long John Hunter and Phillip Walker playing together and solo in varied combinations of blues power. Lonnie Brooks died in Chicago on April 1, 2017 at the age of 83. ---Bill Dahl, allmusic.com
download (mp3 @320 kbs):
Zmieniony (Piątek, 09 Kwiecień 2021 21:15)