Maria Muldaur – Steady Love (2011)
Maria Muldaur – Steady Love (2011)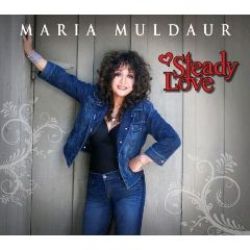 01 – I'll Be Glad
02 – Why Are People Like That
03 – Soulful Dress								play
04 – Blues Go Walking							play
05 – I Done Made It Up in My Mind
06 – Walk by Faith
07 – As an Eagle Stirreth in Her Nest
08 – Rain Down Tears
09 – Get You Next to Me
10 – Steady Love
11 – Don't Ever Let Nobody Drag Your Spirit Down
12 – Please Send Me Someone to Love
13 – I Am Not Alone

Maria Muldaur 	(Adaptation, Arranger, Producer)
Shane Theriot (guitar); 
Chris Burns (Hammond B3, Piano);
David Torkanowsky (keyboards); 
Cranston Clements, Shane Theriot (Guitar);
Johnny Allen, Paul Olguin (bass);
Kenny Blevins, Dave Tucker (drums); 
Ian Smith (Trumpet);
Yolanda "Peb" Windsay, Jolinda Kiki Phillips, Shannon Powell, Jenni Muldaur (background vocals).

The sounds of New Orleans have always been in Maria Muldaur's blood and catalog. Dr. John appeared on her first solo album back in 1974 and she arguably hit a career high point on her first full-fledged love letter to the city, 1992's Louisiana Love Call. She returns to the Crescent City for this 2011 release, employing veteran New Orleans keyboardist Dave Torkanowsky as musical director and "facilitator" and returning to the swampy "Bluesiana music" sound that includes heavy doses of gospel and blues along with touches of jazz, soul, and funk. This is a major shift from her past two acoustic jug band releases and plays to her sultry strengths as a vocalist who can convincingly sing any style of music she feels passionate about. Muldaur revisits a few tracks she has previously recorded (an earlier version of "As an Eagle Stirreth in Her Nest" was included on 1976's Sweet Harmony) but with a band that features guitarist Shane Theriot and Subdudes bassist Johnny Allen, they and the rest of the handpicked material boil with fresh enthusiasm.
The hourlong, 13-track disc finds the singer interpreting some signature songs from the history of New Orleans and other gems such as Sugar Pie DeSanto's frisky Chess nugget "Soulful Dress" and a slow, stunning version of Percy Mayfield's "Send Me Someone to Love," the latter being the only song here not cut in New Orleans. Muldaur's voice has grown huskier over the years, all the better to dig into the gospel tunes that ground this set. Female backing singers including her daughter Jenni on harmonies help bring the religion on "I Done Made It Up in My Mind." The closing "I Am Not Alone" features its writer, Rick Vito, on slide guitar and strips down the sound, allowing Muldaur to hum and croon her spiritual convictions atop a snakelike churchy groove. She's just as convincing on a jumpy cover of Elvin Bishop's "I'll Be Glad" and the funk of Bobby Charles' classic "Why Are People Like That?," leaving room for the musicians to do their thing without hogging the spotlight. It's that indescribable vibe, perhaps aided by recording in New Orleans, that provides this album with its continuity and consistency. Add a batch of terrific tunes from somewhat unexpected sources (Austin's Stephen Bruton and two from Greg Brown) and a sympathetic mix from another area veteran in John Porter, and the result is a late-career stunner for an Americana singer who has never disappointed her fans despite, or perhaps because of, her diverse musical palette. That eclecticism works best within a context, though, which makes this return to New Orleans another high-water mark in Muldaur's impressive career. --- Hal Horowitz, allmusic.com
download (mp3 @VBR kbs):
yandex mediafire uloz.to solidfiles workupload
Zmieniony (Piątek, 07 Maj 2021 15:23)